It's a cool morning in late April. Snow has only recently melted from the steep side slopes at Cacapon Resort State Park in Berkeley Springs, West Virginia. The hardwood canopy is still bare save for a handful of early-season redbud blossoms. Hints of green peek through the sandstone-choked understory. Spring is on its way here at Cacapon and with it comes the highly anticipated completion of the park's signature trail, a new hand-built, black diamond gravity trail called "Thunderstruck."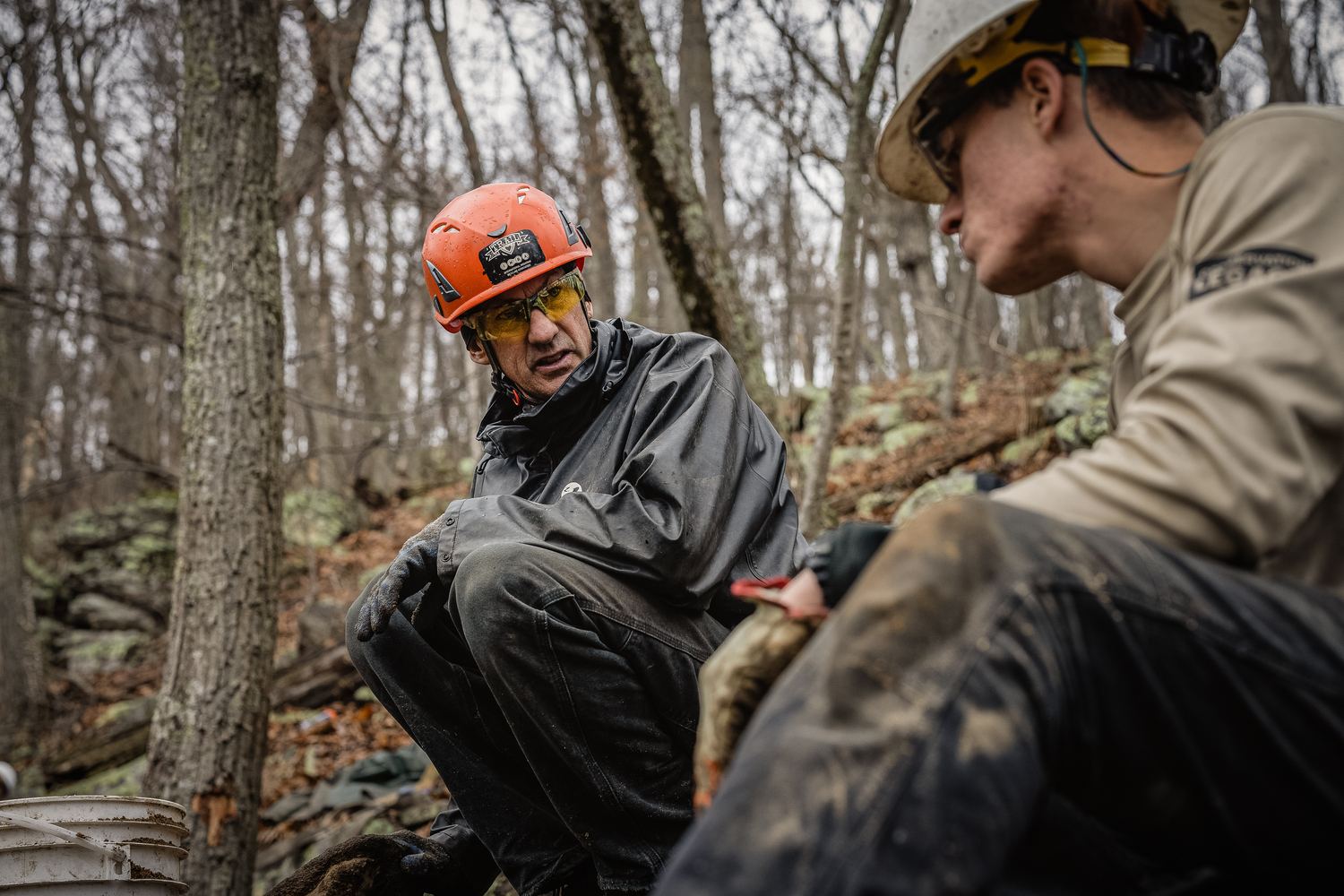 "This particular trail is…going back to our roots of mountain biking," says IMBA Trail Solutions Community Engagement Specialist Joey Klein. "Right now globally there's a big push for machine-built flow [and] jump trails. It seems like all of our black diamond stuff is about getting in the air. [Thunderstruck] will have some of that and a lot of bike-specific features but it's more about going back to our roots which are narrow, handbuilt, rocky, technical trails."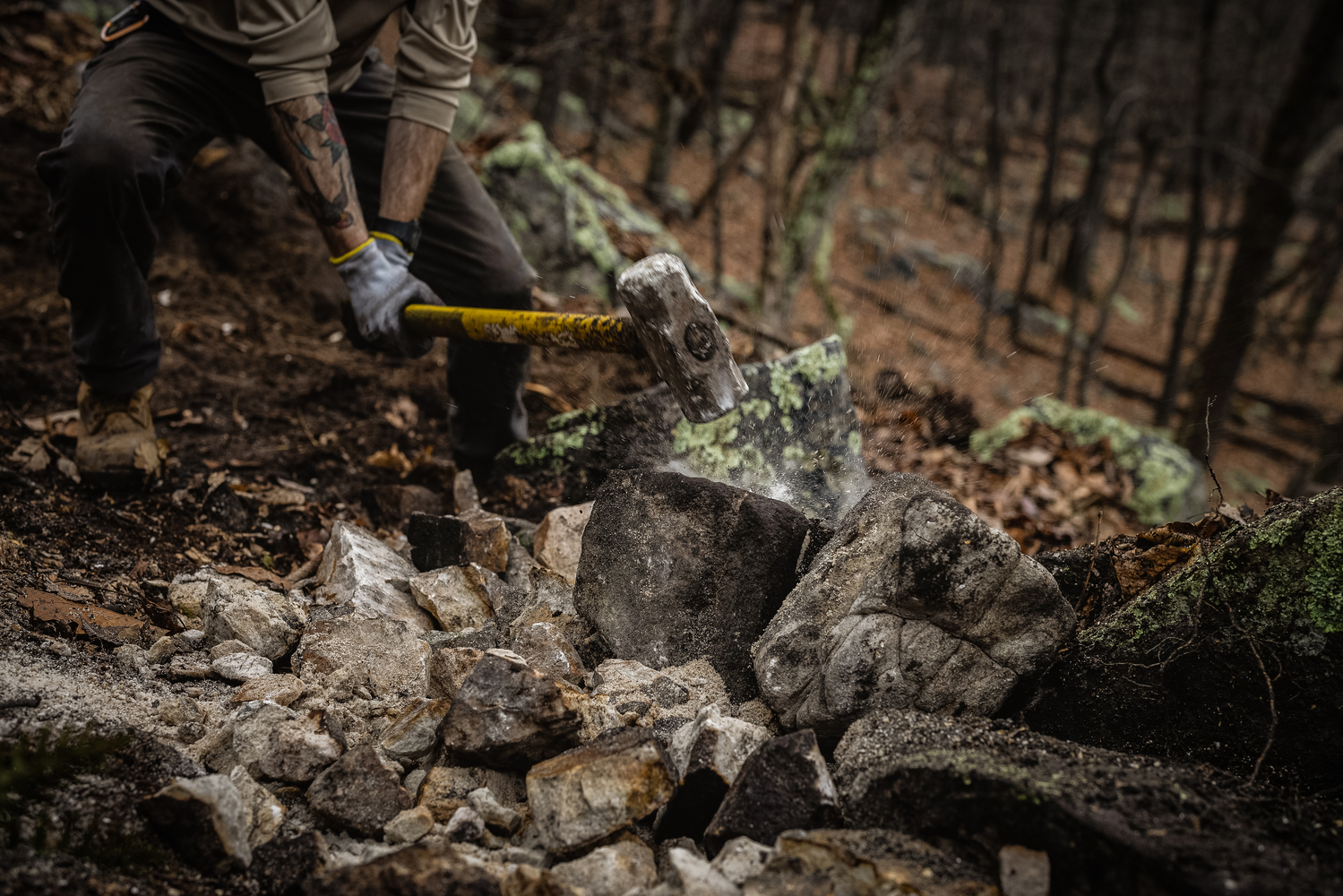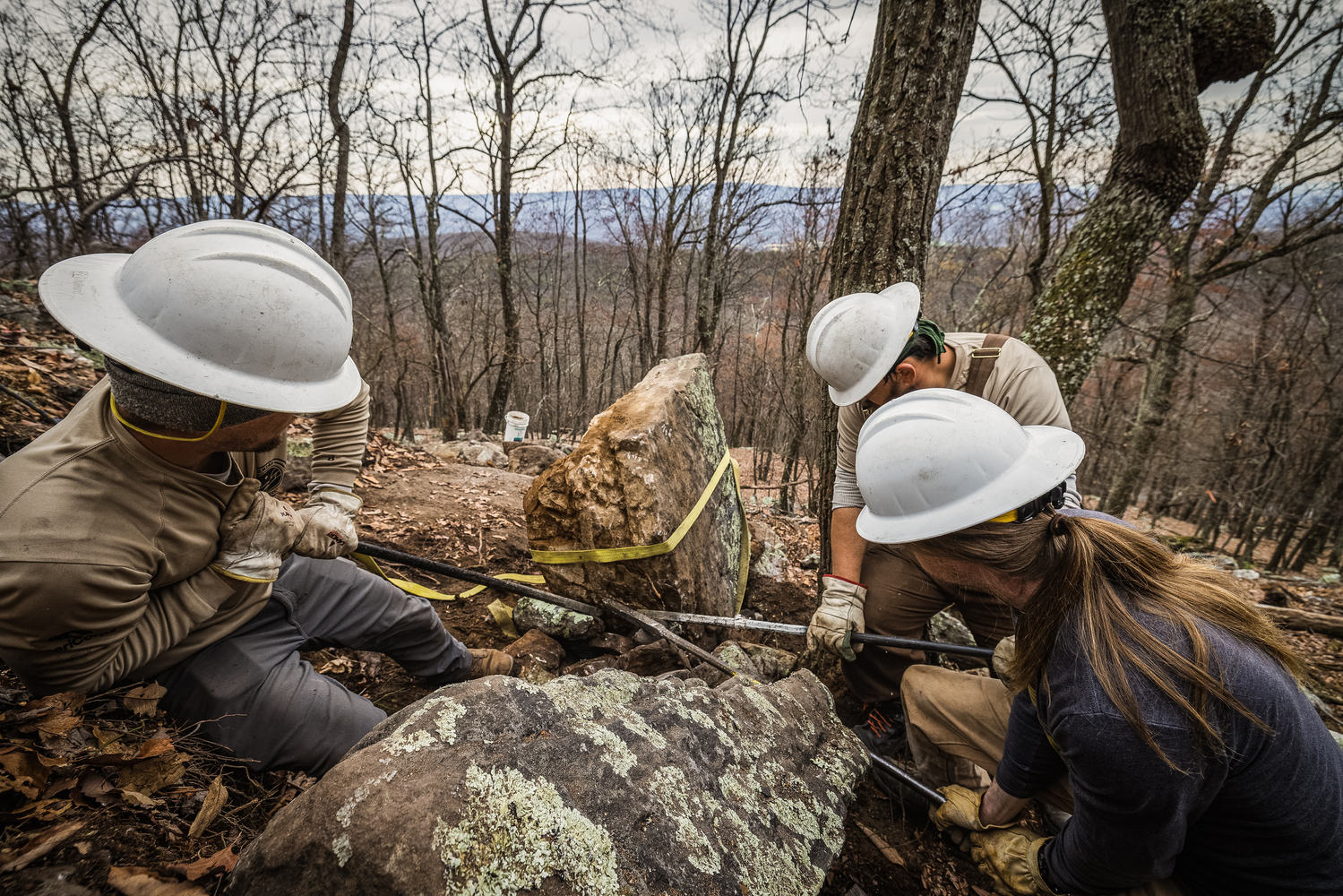 For Cacapon though, Thunderstruck is more than a return to old-school singletrack: it's an ode to the park's history. In 1934 during the height of the Great Depression, the Civilian Conservation Corps (CCC) established Camp Morgan at the present-day site of the park's main picnic area. Over the course of seven years, CCC crew members constructed 27 miles of trails and roads in the park as well as several cabins, recreational structures, and a 12-room inn.
| | |
| --- | --- |
| |    |
In 1941, the CCC shut down Camp Morgan due to the United States' involvement in World War II. For decades, trail construction at Cacapon largely languished. But in 2019, a group of mountain bikers under the guidance of local trail champion Mark Hoyle decided to bring their beloved backyard trail system up to speed. Through the cooperation of major stakeholders like Cacapon Resort State Park, the Cacapon Resort State Park Foundation, IMBA, and Morgan County Commission, Cacapon's mountain bike community has successfully secured millions of dollars for trail construction from funding sources such as the Federal Highway Administration's Recreational Trails Program (RTP) and IMBA's Trail Accelerator Grants (TAG). Thunderstruck is just one of many trails that will be constructed in the coming years and will eventually be part of a trail system that is home to more than 45 miles of purpose-built singletrack.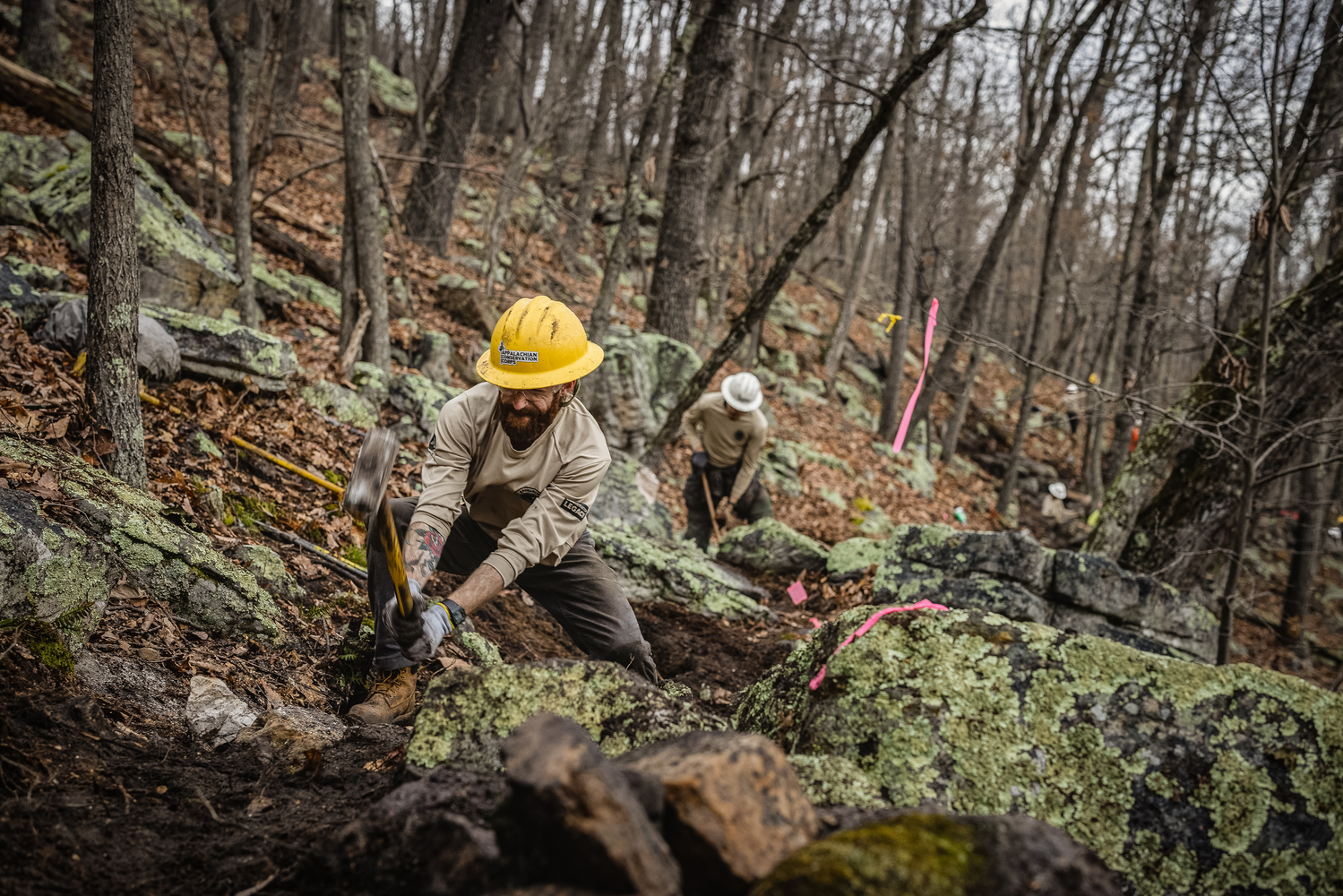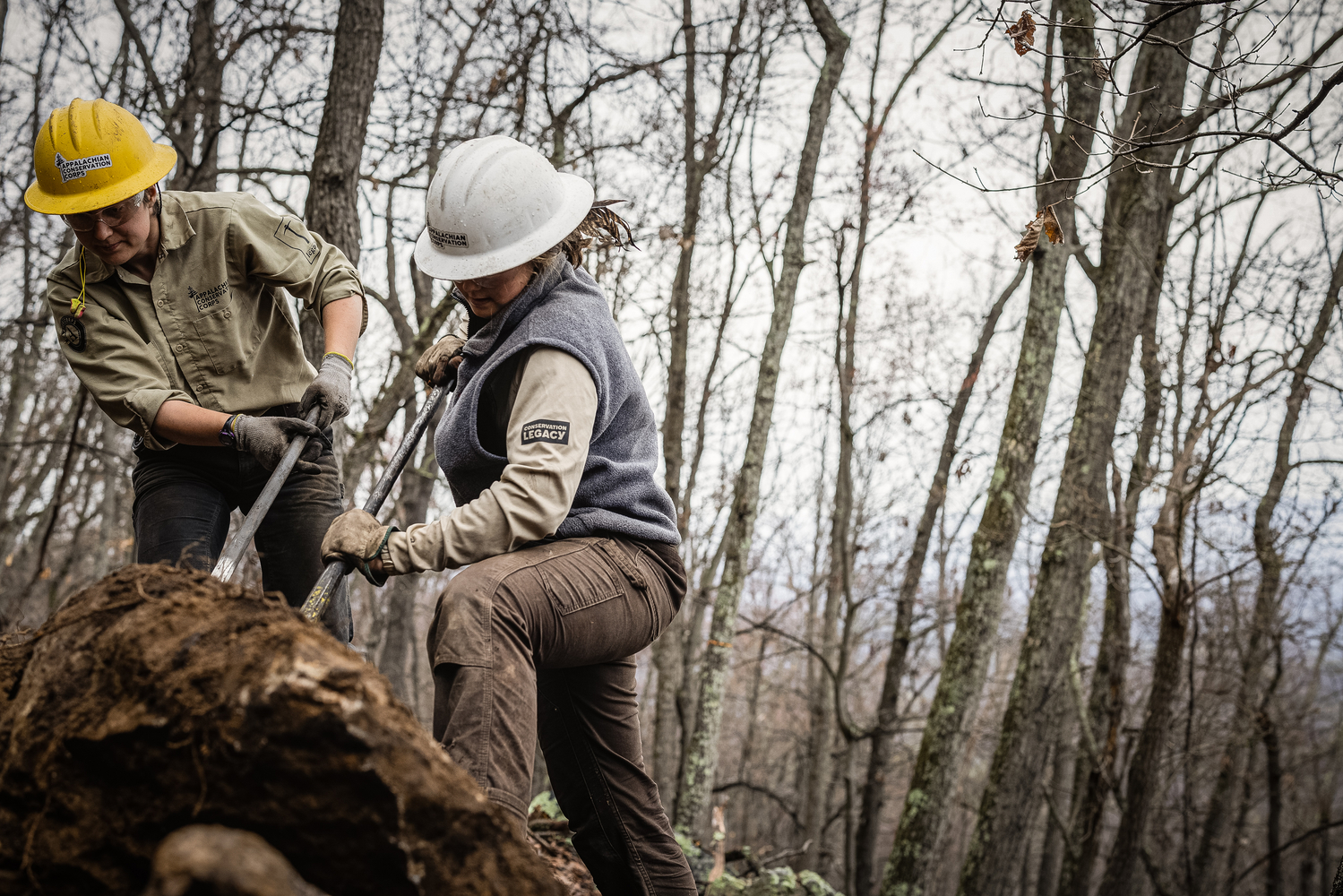 To honor the park's CCC legacy, IMBA staff are working with the Appalachian Conservation Corps (ACC) to construct the handbuilt portion of the 1.5-mile black diamond trail. The partnership is an opportunity for IMBA to provide hands-on training for the next generation of trail builders. IMBA and ACC crews have spent the past three months at Cacapon wrestling bullet-hard sandstone boulders in the snow, sleet, and rain, an often slow and backbreaking process, but the resulting rock-armored trail is as much a work of art as it is a rowdy descent. "Some of the rock work is just stunning and it really beckons back to the CCC origins of this park," says Cacapon Resort State Park Foundation board member Mark Hoyle. "You see the old trails with these amazing staircases and hand-stacked rocks that were done way back during that era and this is just building upon that heritage. It's really exciting." Want to learn more about what IMBA is working on at Cacapon (and how we're getting it done)? 
Read Part Two of this series here, and Part Three here. 

Thunderstruck opened to the public in September 2022. Enjoy!