Trail Accelerator Grants
To grow the quantity and quality of mountain bike trail communities, we need to accelerate the pace of trail building. Trail Accelerator grants provide a jump-start to communities that have the interest and political support to develop trail systems but need assistance to get projects up and running. A Trail Accelerator grant offers awardees professional trail planning and consultation services to launch their trail development efforts, which can often leverage additional investment from local, regional, and national partners.
Bringing More Trails Close to Home
The 2023 grant cycle closed on August 31. The next round will take place in summer 2024. For help in preparing your best application, check out the Applicant Toolkit.
Need More Information?
Scroll below for more information and our FAQ. We also hosted a public webinar in 2021 to answer questions about the grant process and inspire trail champions to apply. You can watch a recording of it here. 
Email Marty Caivano with any questions not answered below. 
Bringing More Trails Close to Home
118 projects, 42 grants awarded, $577,000 leveraged to become $12.8 million for local trails.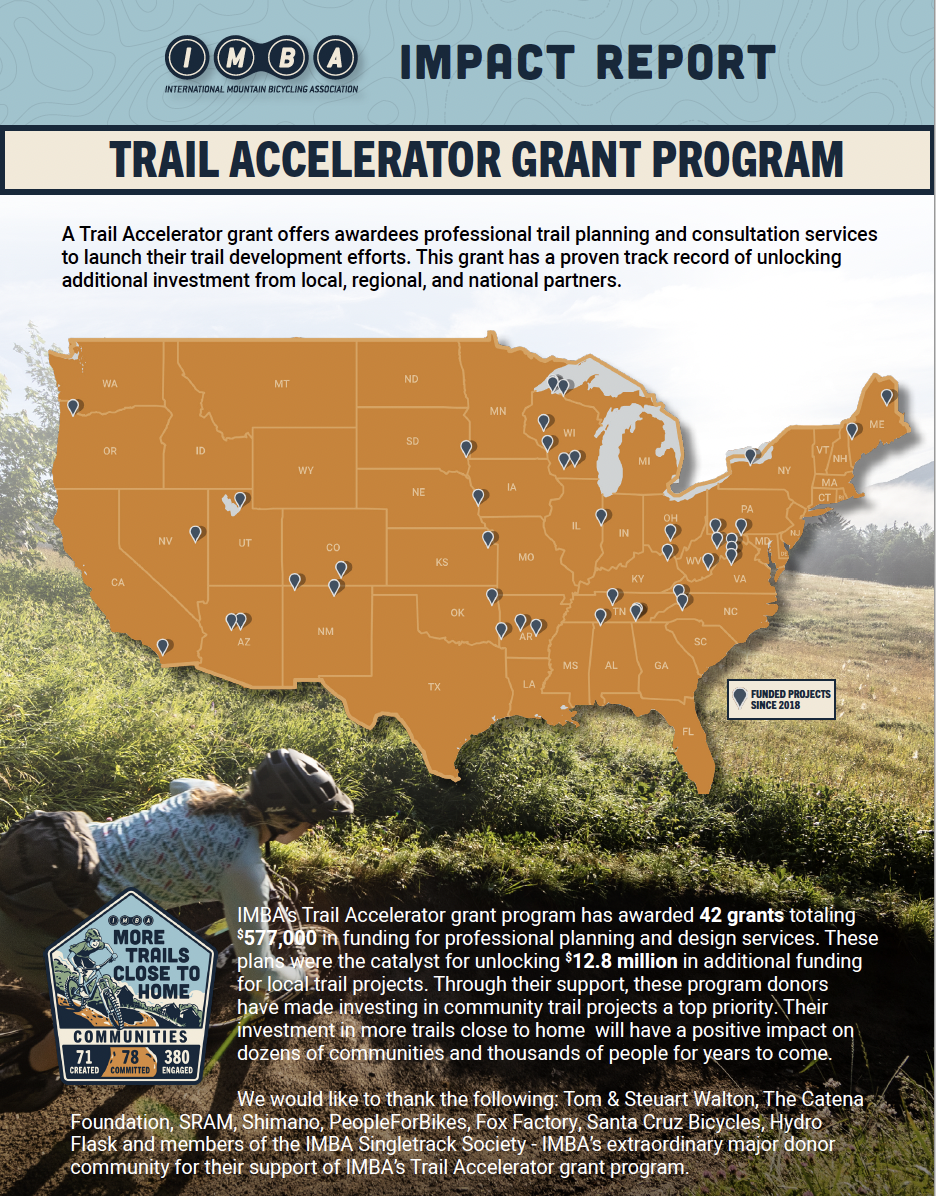 IMBA Trail Accelerator Grants In Detail
Grants awards typically range from $5,000-$30,000, this is a one-to-one matching grant. For example, if you are awarded a $5,000 grant, you are required to match that with $5,000. If you are awarded a $30,000 grant, you are required to match that with $30,000. To determine the specific grant amounts, finalists will receive a call from IMBA Trail Solutions staff to discuss the scope of work, associated tasks, and define the final deliverables of the potential Trail Accelerator Grant project. This phone call does not indicate that a grant has been awarded. For grant awardees, the agreed-upon trail project process can be different for each site based on the desired outcomes and will be clearly documented in a contract between the applicant and IMBA. Project deliverables may include trails and facility concept plan reports, map graphics, field visit based trail design, and trail advocate education.
What Types of Projects Will Be Considered?
Projects that serve mountain bikers as the primary users, though multi-purpose human-powered trail uses are viable as well.

Projects that will result in a visible and substantial increase in access, improved mountain bike experiences, and greater community benefit.

Projects where the Trail Accelerator grant stands to leverage additional resources to ensure the success of the project.

Projects that promote community development, volunteer recruitment, new rider development, youth riding, and engaging marginalized community members. Higher preference will be given to projects that demonstrate a focus on diversity, equity, and inclusion. 

A declined request does not imply that the project is not needed or valued. Those who do not receive a grant award may apply again in subsequent rounds.
Who Can Apply?
Local, municipal, state, or federal government agencies, and 501(c)(3) nonprofits that actively manage parks and trails may apply. This can include land managers, chambers of commerce/economic development departments, community health organizations, land trusts/conservancies, etc.

Mountain bike clubs and IMBA Local partners with the capacity to match and manage a grant of this scale are eligible to apply. The organization applying must be able to provide the matching funds.

Projects which are primarily based on private land must be fully open to the public and free of charge.

Private organizations including ski resorts, HOAs, or property developers are not eligible to apply.

Religious organizations for religious purposes, private foundations, and political causes/candidates/legislative lobbying groups are not eligible to apply.
Applying for a Grant
Each grant is an award of in-kind professional services from the IMBA Trail Solutions team (with assistance from qualified subcontractors as needed) and requires a one-to-one cash match.
Applications will be accepted over a two-month period when the next application period is announced.

All communities interested in applying for a Trail Accelerator grant must submit a completed application. Incomplete applications will not be accepted.

Calls will be scheduled with leading applicants to further discuss their proposals. If selected for a call, please do not consider this as approval for a grant.

Each awardee will be assigned a Trail Solutions project manager who will coordinate the project tasks, site visit(s) and deliverables (written report, maps, etc.). 

All awardees will be required to announce the receipt of the grant in a formal press release, on social media outlets, and on the site of the trail project (if applicable) as agency policy permits. 

Due to volume, we cannot give specific feedback on declined proposals.
Frequently Asked Questions
Why go through a planning process? I just want to start building trails.
Just like you wouldn't build a house without an architectural plan, trails need plans, too. A good plan will save you money and mistakes by identifying opportunities and constraints, making the best use of the land, and clearly defining the scope of what you want to do.

A professional plan is the key to setting foundational next steps in implementing a successful project. From a good plan, smart design follows, and from good design, quality construction goes much more smoothly.

A professional plan is also critical for support, both politically and financially. Once decision makers and funders see a quality trail plan, they are much more inclined to get behind your ideas. Your plan documents are also more likely to impress other granting agencies and get the funding you need to move forward.
What if I don't know a lot about trail development?
No problem! We are happy to provide the expertise. Our staff can guide you through the application at any point, and if you're awarded, we'll help you from start to finish through the planning and design process.
How do I figure out my project budget, and therefore what my half of the match should be?
Every project is unique, based on many factors: the size of the land parcel, the difficulty of the terrain, the level of detail needed in the plan, permitting requirements, and so on. We will discuss your project with you as part of the application process, so that together we can work through the project tasks and what they will cost. These grants typically range from $5,000 to $30,000.
What kind of plans are possible through the grant?
Each project is different, but options could include:
Assessments of multiple properties to analyze suitability for trail development and priorities among available parcels.

Concept plans and maps that lay out the desired experiences and outcomes, from large-scale to small site layout on a given property. May include some generalized trail corridors and/or bike-optimized facility concepts; can also indicate preferred phasing and construction approach.

Design documents that lay out more detailed trail corridors and alignments; may include specifics on trail features and experiences.
When you say you prioritize projects that focus on diversity, equity and inclusion, what are some examples? 
Projects that improve access for:
Youth programs, NICA teams, women's programs

Adaptive riders

Populations/neighborhoods that currently have no access to trails/under served.

Populations with health challenges

Any community that has no trails at all
If my project is awarded a grant, what happens next?
We work with you to define the final project scope and deliverables, and identify the best time for us to complete desktop tasks, fieldwork, and deliverables. There isn't a strict or set timeline, but rather what works best for the project, local climate and other factors.
Click here to download the TAG applicant toolkit.
Apply
You must create an account and be logged in to apply for the Trail Accelerator grant. Applications can be saved as drafts and returned to at a later time. Create an Account Here. 
Trail Accelerator Grant Sponsors
Questions about Trail Accelerator Grant? Connect with us!
"Communities all over the country are embarking on trail projects, and many of them reach out to IMBA and Trail Solutions for help. My role is dedicated to guiding them through the process— connecting them with resources and helping them break through barriers to get those projects going as quickly as possible."
Meet our team
Marty Caivano
Community Engagement Coordinator