September 2019 project update: Prepped to Launch in La Crosse

Plans are in motion for a new trail system in La Crosse, Wisconsin. The project, supported through IMBA's Trail Accelerator grant awarded to the Grandma's Gateway area in fall 2018, is another step closer to construction. Initial planning outlined three zones of trail development that will be built in phases over the coming years. Field flagging, design details, trail experience narratives, and bid specifications have been completed for 6 miles of trail in Zone 1. This zone will provide access from nearby neighborhoods to multiuse trails for users of all abilities. Zone 2 will focus on improved mountain bike trail connections to and from Upper Hixon, and lays out trails specifically for intermediate and advanced riders. With a more remote feeling, Zone 3 will offer a backcountry experience with pockets of bike-optimized gravity trails. Riders will have easy entry to a beautiful, natural escape with new trails just outside the front door. Special thanks goes out to the City of La Crosse Parks Department for their partnership with Outdoor Recreation Alliance and their support of this project.
​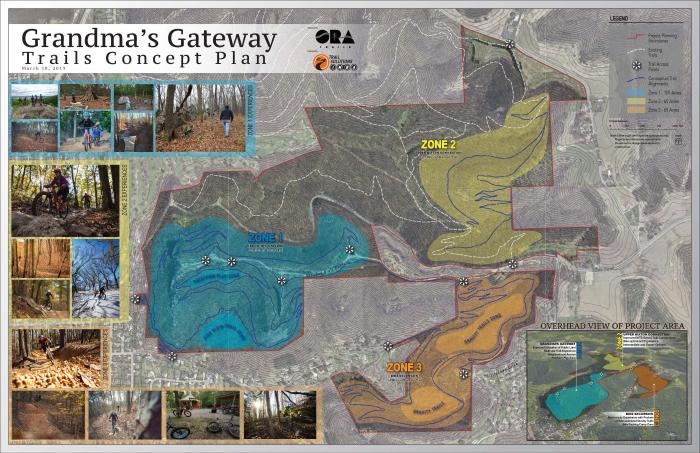 ---
From March 2019: Over 100 years ago, Ellen Hixon dreamed of doing "something that will perpetually add to the happiness of all" who live in La Crosse. With the majestic bluff that overlooked the area under threat of destruction, this visionary woman donated a significant amount of her own money and rallied others to join her to preserve the bluff and surrounding woods so that La Crosse residents could "forever enjoy the delights of pastures and woods and hills."

Since 1912, the Hixon Forest and Grandad Bluff have provided the people of La Crosse an easy escape from their busy lives to a natural refuge in the heart of the city. Now, with the help of an IMBA Trail Accelerator grant and the tireless work of the Outdoor Recreation Alliance of the 7 Rivers Region, Ellen Hixon will have her own namesake area in the park, a multi-use bike and pedestrian trail system called Grandma's Gateway.

IMBA's Trail Accelerator grant is a competitive grant offering for communities to begin building better places to ride. The Outdoor Recreation Alliance (ORA), an advocate group focused on building diverse, sustainable shared-use trails in the La Crosse area, has received $15,000 for the Grandma's Gateway concept plan. ORA has already built great places to ride in the region, and its success in getting people of all ages out and enjoying trails motivated them to do more. They reached out to IMBA in the hopes of connecting the the trails and bike parks they've already built and refurbishing a part of the landscape that needed some love.

Though the Hixon Forest has been a playground for La Crosse residents and visitors for over a century, ORA recognized that the area needed a little spiffing up to keep Grandma's dream sparkly bright. Random, unauthorized trails criss-cross the woods; debris and glass thrown off the top of the bluff litter the ground below; invasive species tangle the landscape; and a dangerously narrow, paved road that accesses the top of the bluff doesn't allow safe travel for hikers, bikers, or other non-motorized traffic.

IMBA Trail Solutions has planned a new trail system that will encourage healthy and safe recreation while providing inclusive and equal access for users of diverse interests and abilities. After meeting with local stakeholders and neighbors, IMBA designed an initial concept plan for trails on about 200 acres of public land with multiple neighborhood access points.

"The initial phase of this project will connect the neighboring community to Grandad Bluff with multiuse and mountain bike-optimized trails including sustainable trail options from the bottom to the top. Below the bluff top, on an adjacent landform bench, we are looking to develop a family-friendly zone for unstructured nature-based play areas combined with bike skills development features. Lower down on the site, a flow trail zone will be easily accessed by riders of all ages," says Mike Repyak, IMBA Trail Solutions director of planning and design. "When you create a well-planned, modern trail system that's inviting to everyone, it encourages healthy recreation and helps discourage unwanted activity."

With everything from family-friendly hiking paths to purpose-built bike trails, the network will provide access for biking, hiking, and trail running, along with winter snowshoeing and fat biking. A shared-use trail will provide dedicated trail access to the top of the bluff, allowing users to traverse the 600 feet of elevation out of harm's way.

Aligning with IMBA's mission to build more trails close to home, Grandma's Gateway will connect directly to neighborhoods and schools in La Crosse and the nearby town of Shelby, as well as to Hixon Forest Park and Upper Hixon Park, which includes eight miles of shared-use trails and a pump track.

Much of the credit for this extended network of trails and parks goes to ORA, who recently celebrated the grand opening of their first machine-built flow trails at Upper Hixon Park and constructed a pump track and bicycle playground at Lueth Park. They envision creating 50 miles of trail in five years.

With IMBA's professional trail planning and consultation services underway, and ORA with shovels at the ready, Grandma's Gateway should be moving dirt by spring 2020.