More Trails on the Wasatch Front
The Bonneville Shoreline Trail Advancement Act would further the long-distance dream for Utah's famed Bonneville Shoreline Trail, while increasing opportunities for more trails close to home in Utah's growing Salt Lake Valley.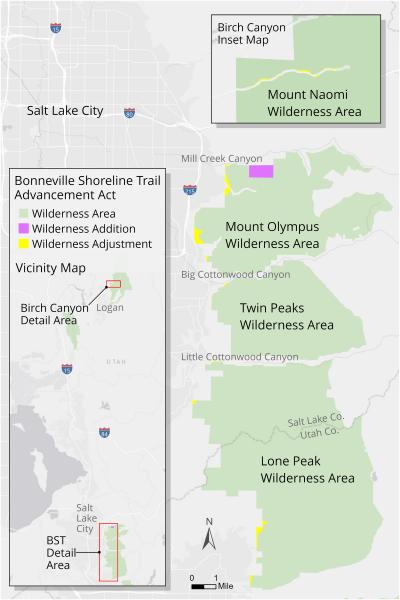 ​
Creating more spectacular mountain biking in Utah's Wasatch Mountains requires more connectivity for multi-use trails. The Bonneville Shoreline Trail Advancement Act adjusts land management boundaries to create this connectivity. The bill was introduced in the House by Representative Curtis (R-UT) and in the Senate by Senator Romney (R-UT) in July 2020.
"The International Mountain Bicycling Association is excited to support the Bonneville Shore Trail Advancement Act introduced by Congressman John Curtis (R-UT). The Congressman and his office has been a staunch supporter of outdoor recreation and public lands protection, and this legislation will meet both of those standards while establishing connectivity and promoting healthy, trail-based recreation adjacent to major population centers along the Wasatch Front. We look forward to working with the Congressman and our friends in Utah on this important legislation." — IMBA Executive Director David Wiens
"The Bonneville Shoreline Trail has the potential to be both a beautiful recreational asset for Utah residents and a tool for teaching us about ancient Lake Bonneville and Utah's fascinating geologic history. I'm very pleased to see the Bonneville Shoreline Trail Advancement Act, which is the next step in the process of developing this beautiful trail." — Utah Governor Gary Herbert
Local and Long-Distance Riding
The Bonneville Shoreline Trail (BST) is a regional multi-use concept trail that will stretch 280 miles from the Idaho border to Nephi, Utah. Currently more than 90 miles of the trail is built. The trail follows the shores of ancient Lake Bonneville along the west slopes of the Wasatch Range and the east slopes of the Oquirrh Range through six Utah counties in the Salt Lake Valley, home to 75% of the state's residents. Better connections along the trail would give locals and regional enthusiasts alike more places to ride.
Local Leaders
This legislation has been realized through partnerships with local volunteer trail organizations.
"Trails Utah is delighted to join forces with Congressman Curtis, IMBA and local organizations in the effort to secure a shared-use future for Northern Utah's iconic Bonneville Shoreline Trail. The Bonneville Shoreline Trail Advancement Act can maximize recreational opportunities for outdoor enthusiasts—including mountain bikers—along the populous Wasatch Front. We are enormously grateful to Congressman John Curtis for his support of this bill and look forward to being a part of the effort to build a sustainable and enjoyable Bonneville Shoreline Trail in the years to come." — Trails Utah Executive Director Sarah Bennett
"The Salt Lake Valley Trail Society enthusiastically supports the Bonneville Shoreline Trail Advancement Act as an opportunity to provide accessible outdoor recreation for a wide variety of trail users. Hikers, cyclists, families, and adaptive athletes will be sure to be recreating in a more sustainable fashion as the sections of the Bonneville Shoreline Trail facilitated by the Act are built out and authorized for local recreation. We hope Utahans join us in supporting this bill and the recreation and community-building opportunities local trails create." — Salt Lake Valley Trails Society Executive Director Kevin Dwyer
Shaping the Bonneville Shoreline Trail
Small segments of overlapping Wilderness designations prohibit biking on parts of the trail, preventing the full vision for a multi-use trail that connects dozens of Utah communities. Many of these Wilderness sections neighbor what are now urban areas, but realigning the trail outside of Wilderness is not viable due to land management boundaries, private land and steep, rocky terrain. The Bonneville Shoreline Trail Advancement Act would release 326 acres of Wilderness divided over more than 20 locations, to accommodate trail connections and sustainable trail development near population centers. The bill designates 326 acres of contiguous new wilderness in Mill Creek Canyon.
"The Utah High School Cycling League has nearly 2,000 registered student-athletes and coaches living within ten minutes of the trailheads connecting to the Bonneville Shoreline Trail. As a league, our vision is to enable Utah teens to strengthen body, mind and character through the life-long sport of cycling. We have witnessed first hand how mountain biking has strengthened families and communities. The culture of our league and mountain biking in general is one of inclusivity and respect. We fully endorse the efforts of IMBA and other local associations striving to implement the Bonneville Shoreline Trail Advancement Act." — Utah High School Cycling League League Director Dallen Atack
"This legislation balances creating new recreational opportunities with protecting the environment. With a rapidly increasing population, Salt Lake and Utah Counties are in need of more widely accessible opportunities to hike, bike, and get outdoors. This legislation will do this in a responsible manner and help pave the way for all Utahns to enjoy this world class trail." — U.S. Representative John Curtis (R-UT)
Media
Coverage of the Bonneville Shoreline Trail Advancement Act.
Supporters
The Bonneville Shoreline Trail Advancement Act has the support of Utah Governor Gary Herbert as well as several local mayors and municipalities adjacent to the trail. Outdoor Alliance, PeopleforBikes, Trust for Public Lands, and several local and regional trails organizations support the bill. More than a dozen Utah businesses and dozens more bike and outdoor businesses have signed letters of support for this legislation.
All webpage photos courtesy of Sarah Bennett with Trails Utah