Part one of a three-part series on Utah's Bonneville Shoreline Trail
Something we often hear when talking to IMBA Local partners is that some trail users are surprised to learn how much work goes into building a trail. It's as if people expect singletrack to magically appear. Although it would be nice if fairies could just sprinkle magic trail dust to conjure jumps and berms, this obviously is not the case. The journey of turning dirt to trail is a long one, with the process starting way before one can even break ground.
The Bonneville Shoreline Trail (BST) is one such trail with a long, ongoing journey and with numerous groups and individuals helping every step of the way. IMBA is part of this journey, putting trails on the ground, pushing for legislation to advance the BST, and supporting Trail Champions who are working towards its completion.
This three-part blog series will take you on the BST journey through the lens of community members, trail builders, and IMBA staff who are advocating for the advancement of the trail. We hope this series gives you a better understanding of the work that goes into getting trails on the ground and helps you reimagine what is possible for your community.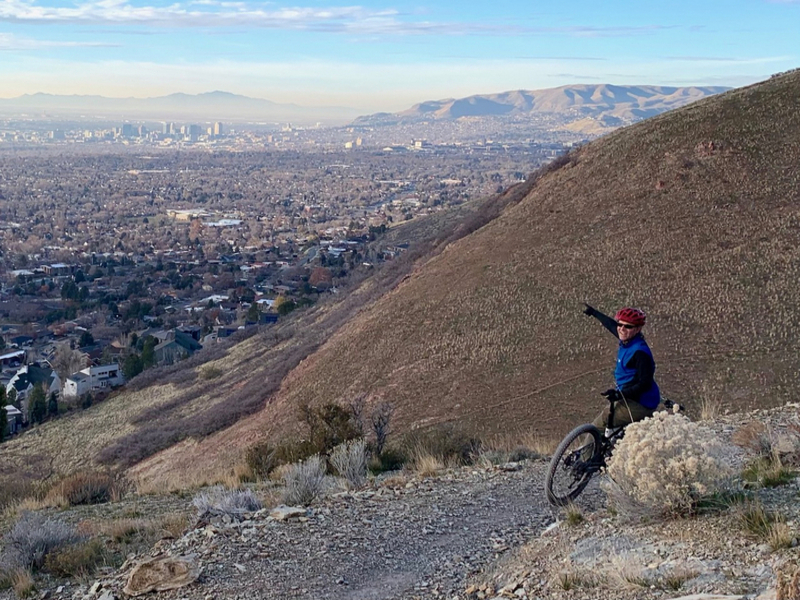 A vision
Named after Lake Bonneville, which once covered much of what is now western Utah and extended into present-day Idaho and Nevada, the BST is a regional multi-use concept trail that will stretch 280 miles from the Idaho border to Nephi, Utah. The trail follows the shores of the ancient lake along the west slopes of the Wasatch Range and the east slopes of the Oquirrh Range. It is in many ways the epitome of more trails close to home, passing six Utah counties in the Salt Lake Valley and potentially serving as a backyard trail to over one million residents.
Like many mountain bike trails, the concept of the BST came about as a response to a need in the community. In the 1980s, a group of outdoor recreationists wanted to preserve a mountain biking and pedestrian pathway that connected Emigration Canyon and Dry Canyon. 
More than three decades later, there are dozens of organizations and hundreds of individuals working to complete the BST. John Knoblock, Chairperson of the Bonneville Shoreline Trail Committee (BSTC) and Sarah Bennett, Executive Director of Trails Utah represent two of those groups.
"Part of it was just the desire to have a great trail. Part of it was also to draw a line across the hillside between the urban and wildland interface to prevent residential creep up the hillside forever. The trail was a reason for the municipalities of Salt Lake City to purchase some of those lands and protect them in perpetuity for recreation," said Knoblock.
Designation and recognition
It took a lot of contacting people to get buy-in from stakeholders and get the project started. After grassroots organizing and negotiations with State Park management and other parties involved, recreationists were granted access to the entirety of the pathway. Soon after, Salt Lake City and eventually other neighboring counties adopted the BST as a formal trail system.
One of the efforts that really helped attract more attention and resources to the BST was the trail's designation as a Millennium Legacy Trail in 1999. This designation allowed the BST to be recognized by the federal government, to be included in recreation plans, and to receive more funding.
"They really had some foresight in getting the trail recognized as a Millennium Trail. There are only two trails in the state that are recognized at a national level, and the Bonneville Shoreline Trail is one of them. So all of the municipalities and counties that touch on the Bonneville Shoreline Trail have the trail in all of their recreation plans," explained Bennett.
The designation also made the BST a priority for surrounding communities.
"That's huge. For all of these little communities that we work with, the Bonneville Shoreline Trail is pretty high up there in terms of things that they want to work towards as far as space and trails so that's been really great," added Bennett.
Relationships and trust
When asked what they would advise communities across the country that are doing similar work or just about to embark on their trail journey, Knoblock and Bennett mentioned the importance of knowing your allies, having a plan, and building relationships.
"One of the pieces that has helped along the way is there's a number of organizations up and down the alignment of the Bonneville Shoreline Trail. So there's not only the governmental agencies, counties, and cities that have helped push along the trail, but also non-profits. They have all helped to keep the momentum going," said Knoblock.
"You gotta start somewhere and you gotta show that you can actually get things done and get them done right. Get whatever jurisdictional agency to formally adopt a plan and be an active participant. Be a good and knowledgeable participant. Get to know within your jurisdiction who the land managers are, and sometimes there's multiple and they're overlapping. You can't leave anyone out. You need to know who all the various players are," he added.
Bennett also stressed the importance of building trust with the people you work with. 
"We've been at it so long that we developed the relationships at the city and county level, at the forest service. We're on a first name basis with most of those people. Over the years, it ripened into a relationship that has really allowed us to write grants, go after monies, get plans together that everybody is on board with," she said.
Knoblock added laughing, "You oughta have their name and number in your phone. Then you get to that level where you can call them and they'll say 'Hi, John' because my name is in their phone too. If you call them up and they're like, 'who are you,' then it's going to be a lot tougher to get things done."
And if that is not enough to convince people to get onboard, a trail experience might.
"Oh yeah we've gone hiking and mountain biking with some of the folks. Getting them out on the ground before things are gonna happen. You can get some folks out for a ride down a new trail, and then they go, 'oh this is actually good,'" said Knoblock.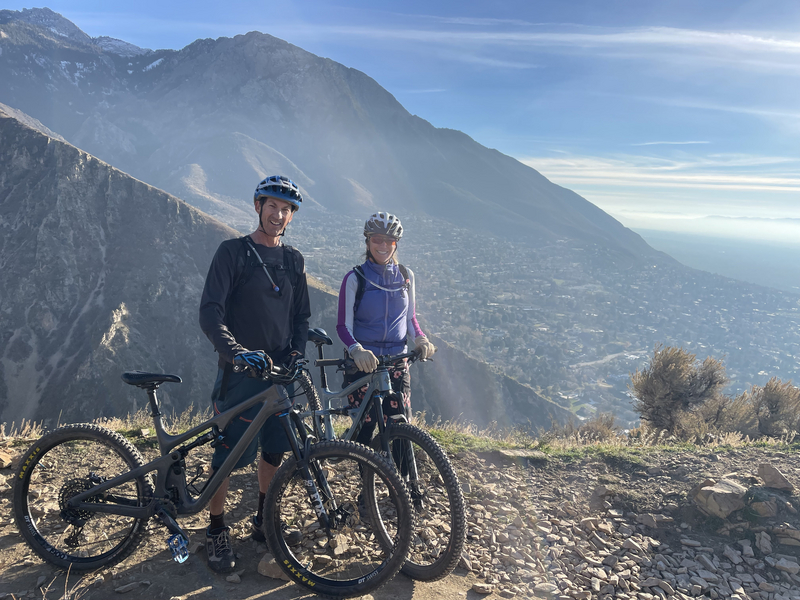 Passion and energy
The BSTC, Trails Utah, and a number of other groups are instrumental in the construction of the BST. The day-to-day work involves a lot of planning and coordinating. It takes an average of three years from the time a section of trail is envisioned to when they can break ground.
"I'm super passionate about letting all our partners know how much time each of them spends and track our time. So people will really get a good idea of how much time and effort it takes to get a trail to the point where you're ready to do construction," said Bennett.
While these Trail Champions may not have any magic trail dust, their energy and enthusiasm keeps the project going and helps get more trails close to home.
"This year we have completed a section of the Bonneville Shoreline Trail that is just incredibly beautiful. The neighbors love it and we kind of feel like there's this great energy that's starting to happen out there where people are realizing the benefit of having a trail in their neighborhood," said Bennett.
To date, more than 100 miles of the BST have been completed. Other recent updates include new kiosks which display maps with color-coded trails based on management designation and distances between major junctions. The kiosks also have reminders to help make an enjoyable experience for all trail users, and a land acknowledgment recognizing that the Foothills Natural Area are ancestral Utah tribal lands of the Ute, Paiute, Goshute, Dine'/Navajo, and Shoshoni nations. #
--
Part two explores how Trail Champions are helping move the Bonneville Shoreline from dirt to trail