Mountain bikers, planners, municipal government officials, and bike advocates gathered in Bentonville, Arkansas to reimagine what trails could be like in their local communities.
Participants from 15 states and Mexico met at the IMBA Trail Labs from October 18 to 21 to learn about planning, building, and promoting mountain bike trails. Trail Labs offered classroom-style sessions where experts shared their knowledge on trail building and outdoor recreation, as well as tours of bike facilities in the area.
"We are thrilled to have with us not only mountain bikers but also representatives from parks and recreation, local government, and tourism and economic development. We cannot wait to see how participants will use the knowledge and inspiration from Trail Labs to advance trails in their respective communities," said Kent McNeill, IMBA CEO.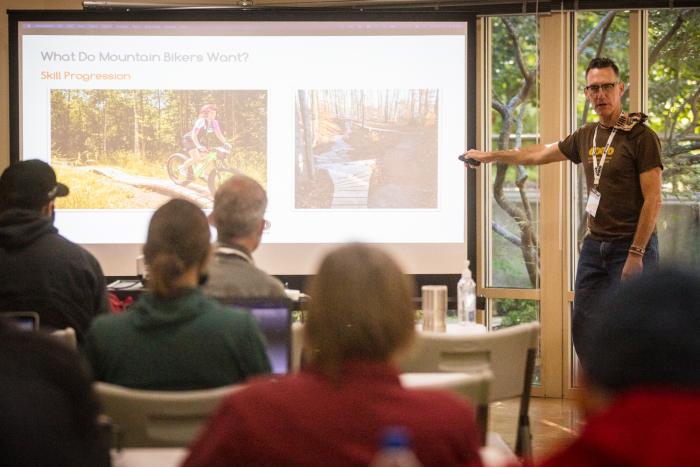 The first day of workshops explored the fundamentals of trails including finding support and funding. Guest speakers included Danny Twilley of West Virginia University, David Wright of Bentonville Parks & Recreation, Kalene Griffith of Visit Bentonville, and Erin Rushing, Executive Director of NWA Trailblazers.
The group then visited Thaden School, an educational institution that incorporates a bike program into their curriculum, and ended the day with a walking tour of the All American Trail.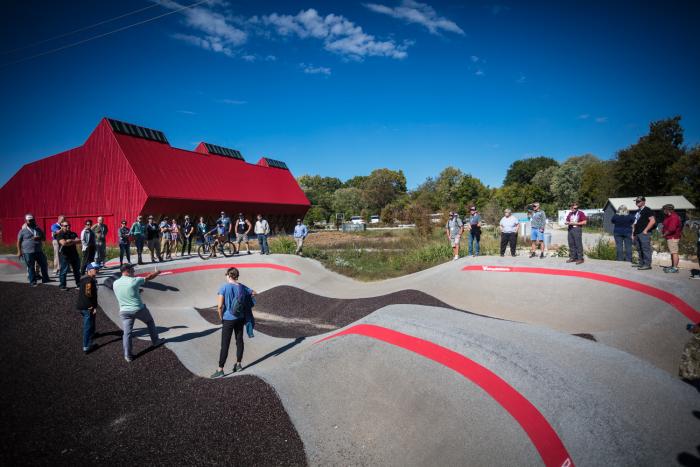 Day two explored how to plan, build, and activate trails, and included a tour of the Coler Bike Preserve. Later in the day, Gary Vernon of the Walton Family Foundation spoke about the history of the local trail systems and how Bentonville became the Mountain Biking Capital of the World.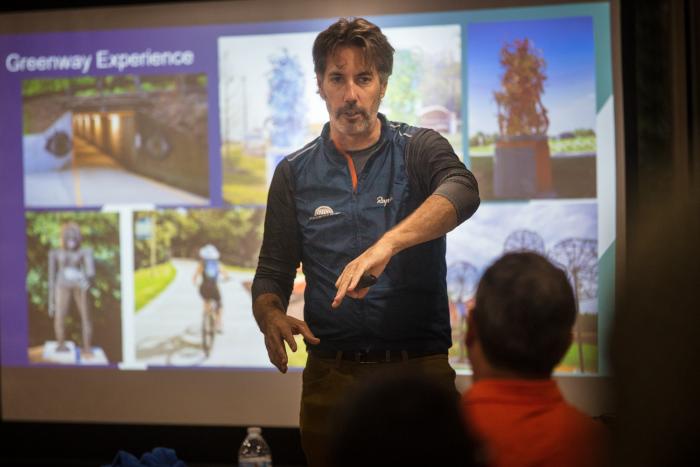 Reimagining Trails
For some participants, Trail Labs was a venue to learn best practices not only of Northwest Arkansas but also of other communities represented in the workshops.
"What we need are good examples of trails and what is possible, that's why we are here," shared Nacho Gomez, a Project Manager for Contadero Trail Builders in Mexico.
"The context is quite different in Mexico, but the benefits of what we do are pretty much the same. IMBA Trail Labs is a place where we can use our imagination and the acquired knowledge and put that together to create this vision," said Gomez.
For others, Trail Labs was a venue to reflect on the strengths of their local communities and how they can continue providing meaningful outdoor experiences.
According to Chris Tilden who works in public health in Lawrence, Kansas, Trail Labs allowed him to evaluate what his community has and how they can build on that to improve the health of citizens in Lawrence.
"Being here helped our team assess where we are and what next steps might be as we try to plan, implement, and measure the effectiveness of a system that promotes active transportation and recreation," said Tilden.
"We have a local working group focused on how to enhance built environment in order to increase the rate of physical activity and improve the health of our community. We have some strong elements. I think one of our next steps is to think about how to create connectivity in our system and how to create experiences for all levels of users," he explained.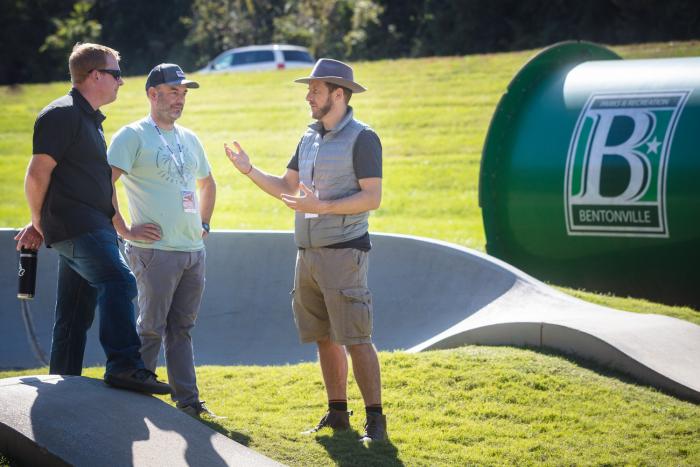 Building Trails Closer to Home
As Trail Labs drew to a close, Danny Twilley advised participants to incorporate the uniqueness of their local community into the trail experience. "Don't go home and build Bentonville. Build trails that make sense to your community."
Gomez envisions trails to be an avenue for sharing Mexico's culture with mountain bike tourists and preserving the country's history.
"We have a project that allows you to ride your bike through the mountains of Oaxaca, to see the cultural aspects of food and local history. That is very special. That is unique," he said.
"There are also the stories that local people tell. Some of these stories have been around for hundreds of years and they are getting lost. Stories are not being told to new ears so they are being forgotten. It may be a different context from the US where we are learning about trails. But in the end, it's all about letting people know about the benefits of building better trails," said Gomez.
Tilden also shared how he plans to use what he experienced in Bentonville as inspiration for future facilities in Lawrence. "Some of the infrastructure that we saw on school grounds and public parks were mechanisms to create opportunity for young people and people with mobility limitations. I think there are real opportunities that we have learned that will help us think about next steps at home."