IMBA Trail Labs
In 2018, IMBA will host two, in-depth and hands-on workshops designed to catalyze the next generation of great places to ride mountain bikes. Trail Labs attendees will learn what it takes to create a model trail community and return home with a substantive plan for how to make it happen. Beautiful Bentonville, Arkansas, a silver-level IMBA Ride Center, will play host to this year's Trail Labs.
Want to create a great place to ride? We can help.
IMBA Trail Labs are two-day intensive workshops during which IMBA staff and local experts and stakeholders lead participants through the recipe for a model community trail system: planning, design, building, activation, promotion and measuring success. Attendees will also get a firsthand look at components of an intentional and diverse mountain bike trails community.
People who should attend are land managers, tourism and recreation professionals, community officials and local trail organizations. In addition to providing you with the knowledge you need to get started making great trails happen locally, we will also help you identify the specific next steps needed to bring more trails to your own backyards.
Scholarships will be available for those representing "trail deserts" — places with little to no trails or mountain biking — particularly where there are opportunities to affect greater diversity, equity and inclusion. More information on scholarship opportunities coming soon.
The first Trail Lab will be held June 20–22, 2018 with the second following in October. Following the three hosted in Bentonville, future Trail Labs will branch out to other communities across the country in 2019.

Why NW Arkansas?
Arkansas is home to three IMBA Ride Centers (including Bentonville) and five IMBA EPICS. Not only do the Ozarks provide a beautiful landscape for creating trails, multiple cities and towns have embraced integrating mountain bike trail systems into their communities in ways that serve as models for locations nationwide. In addition to amazing and varied singletrack and bike parks, there are additional amenities and paved bike path connectors that make Arkansas a special place to live and visit as a mountain biker. 
What to expect: a sample schedule
Day one theme: The recipe for a model community trail system
Planning sessions
Community planning and coordination
Building a dream team of experts and specialists
Developing the plan
Finding the funding
Design sessions
Developing the desired mountain biking experience
Understanding what mountain bikers want
Phasing in your plan
Signage and risk management
Building sessions
Finalizing the design and balancing desires with reality
Construction contracting
Crafting procedural documentation
Engaging professional help
Afternoon tour of various mountain biking facilities, followed by an optional group ride and dinner on your own.
Day two theme: If you built it, will they come?
Activation sessions
Creating a plan for sustainability
Developing a programming strategy to take full advantage of the trails
Celebrating the grand opening
Adding natural-surface trail elements for spice
Activating and engaging partners
Developing new riders (skills clinics)
Promotion sessions
Getting community support for the project
Developing maps and websites
Hosting events, festivals and races
Measurement sessions
Evaluating the impact of the trail facility
Trail counters and on-site surveys
Tracking volunteer hours
Data collection and management
Using data to improve the trail system
Afternoon tour of various mountain biking facilities, followed by a 1.5-hour planning session where each attendee will draft a plan for their community's trail project. Plans must utilize the six core ingredients (plan, design, build, activate, promote, measure).
Sign up
The inaugural IMBA Trail Labs takes place June 20-22 in Bentonville, AR, during IMBA's Dirty 30--a celebration of 30 years of mountain biking and the people who make it happen. The cost to attend is $300, which includes all registration fees, breakfast and lunch, shuttles for field workshops and evening festivities. When registration opens, we will make a public announcement and add the link, below, with additional details. 
Register now!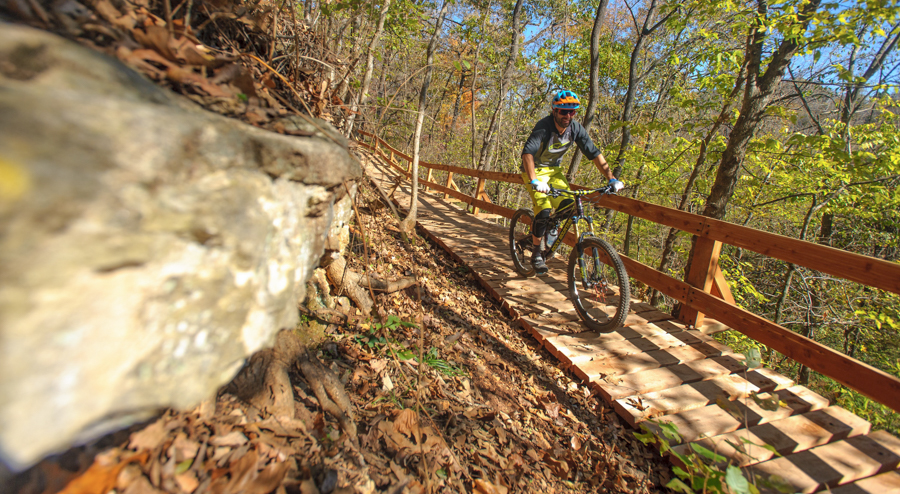 Enjoy Bentonville, Arkansas
TRAVEL
Northwest Arkansas Regional Airport, Bentonville
Tulsa International Airport, Oklahoma
Springfield National Airport, Missouri 
Do not fly into Little Rock, AR, if you can avoid it. It's a much longer drive than the other options. 
Greyhound Shuttles
From Springfield, MO, and Tulsa, OK, to Bentonville/Rogers, AR
From $30.00 to $60.00
Book on the Greyhound website
EAT & DRINK
Bentonville is a great destination for foodies; the Wall Street Journal named Bentonville as one of its up-and-coming culinary scenes in 2014. Menus change as the harvest changes. Farm-to-table culture is a big part of Bentonville's unique offerings. 
EXPLORE
Enjoy a revitalized downtown square, historic areas, world-class art museums, and an abundance of paved-path and single track bicycling options. Explore all that Bentonville has to offer.