While palming a healthy core of Ouachita novaculite (aka "Arkansas Stone"), Joey Klein informed me that a hunk this size would've gone for a lot "back in the day." I turned the smooth, deep gray stone in my hand, making note of its sharp edges and irregular shape. I'm a native Arkansan, but I never knew the same stone my family used for sharpening their implements was harvested in a mountain range just south of our home. "It's no wonder the Native Americans loved it here," Joey noted as both our gazes followed the undulating slope of the holler, freshly adorned with blue flags.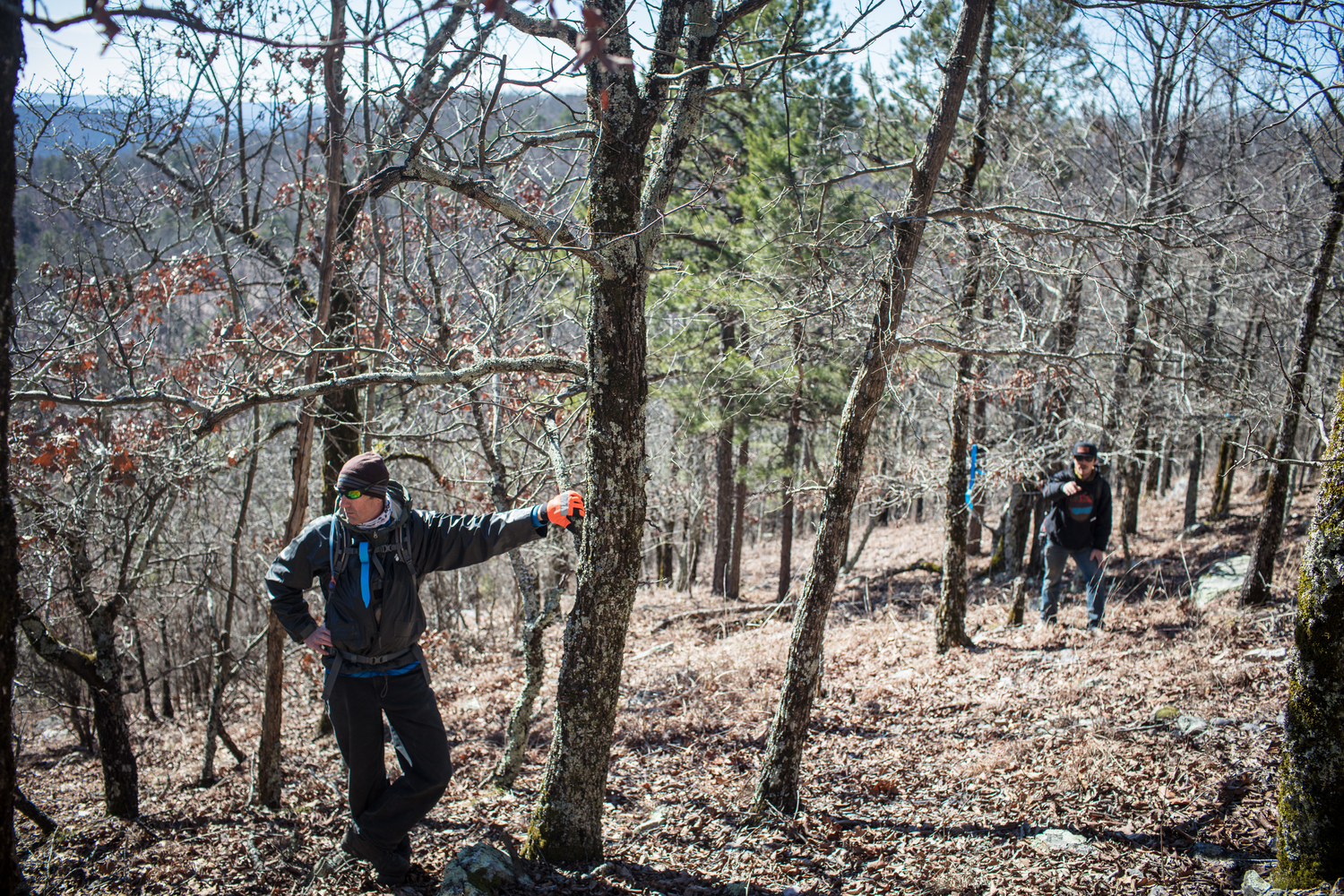 For decades, resources like quartz and novaculite deposits, vast acreages of rolling mountains, and numerous clear lakes have naturally drawn people to settle in the Ouachita region of Arkansas. Horse racing, baseball spring training, thermal waters, boating, hiking and biking have brought tourists specifically to Hot Springs, Arkansas. "The surrounding area has been known as a destination for mountain biking for a long time," said Jake Meredith, Northwoods Trail Specialist. "The Womble Trail, in particular, has been drawing people since the early '90s as well as the Lake Ouachita Vista Trail and Ouachita Trail just north of us." These three IMBA EPICs are long-distance, point-to-point trails that attract riders with ample experience and a love for the classic, gnarly, remote nature of mountain biking. But these EPICs aren't for everyone. How do we continue growing the sport and attracting new riders? Through more trails close to home.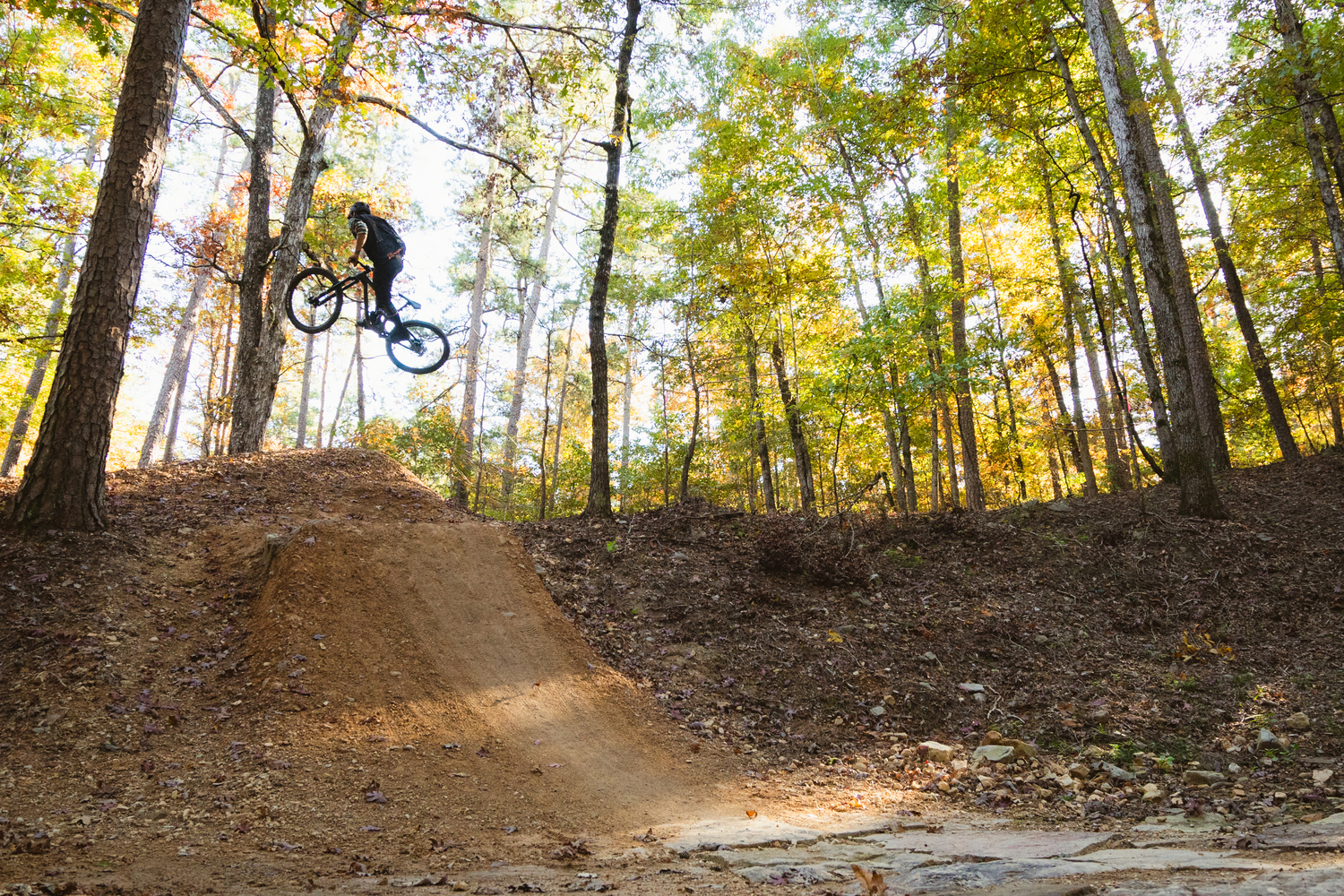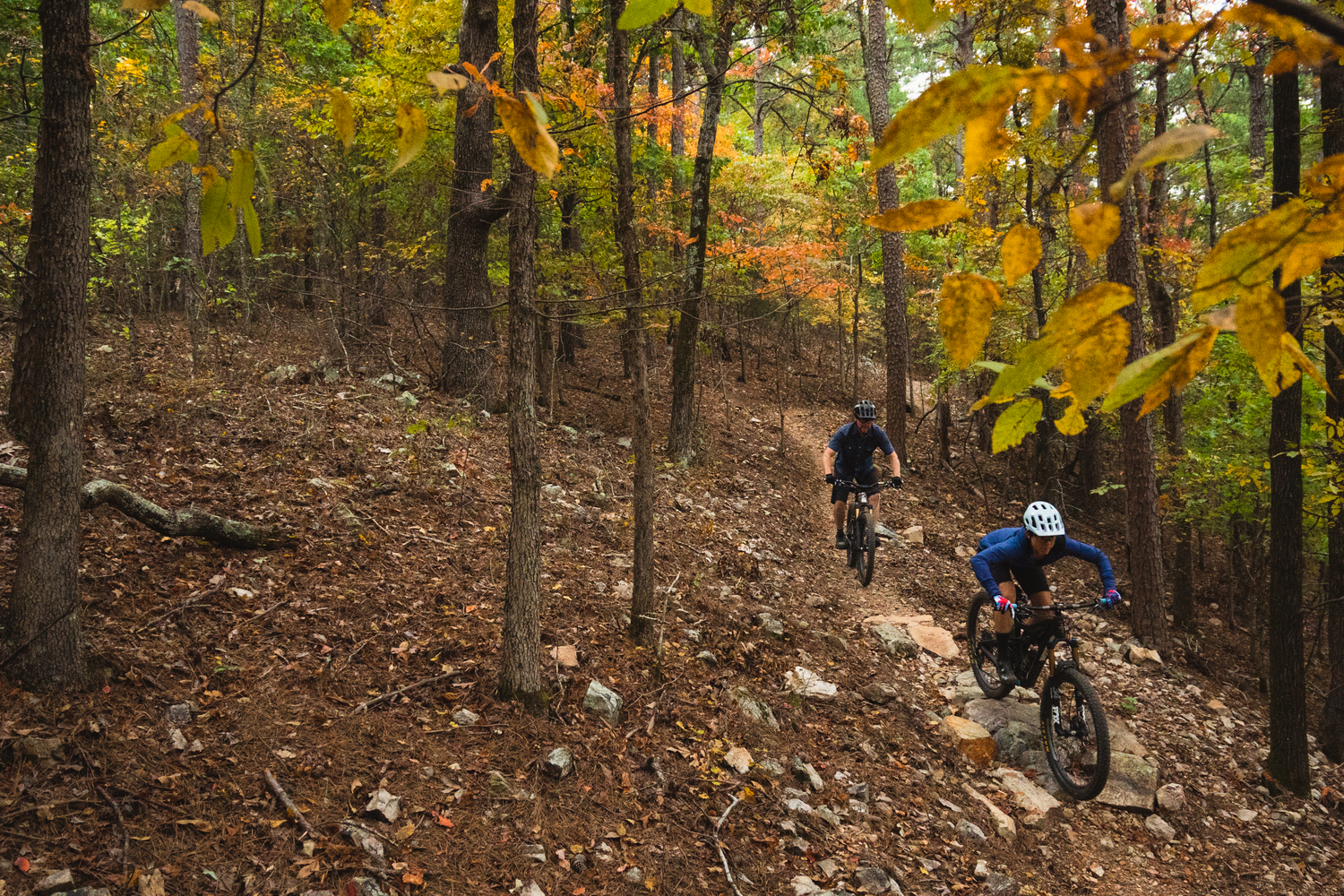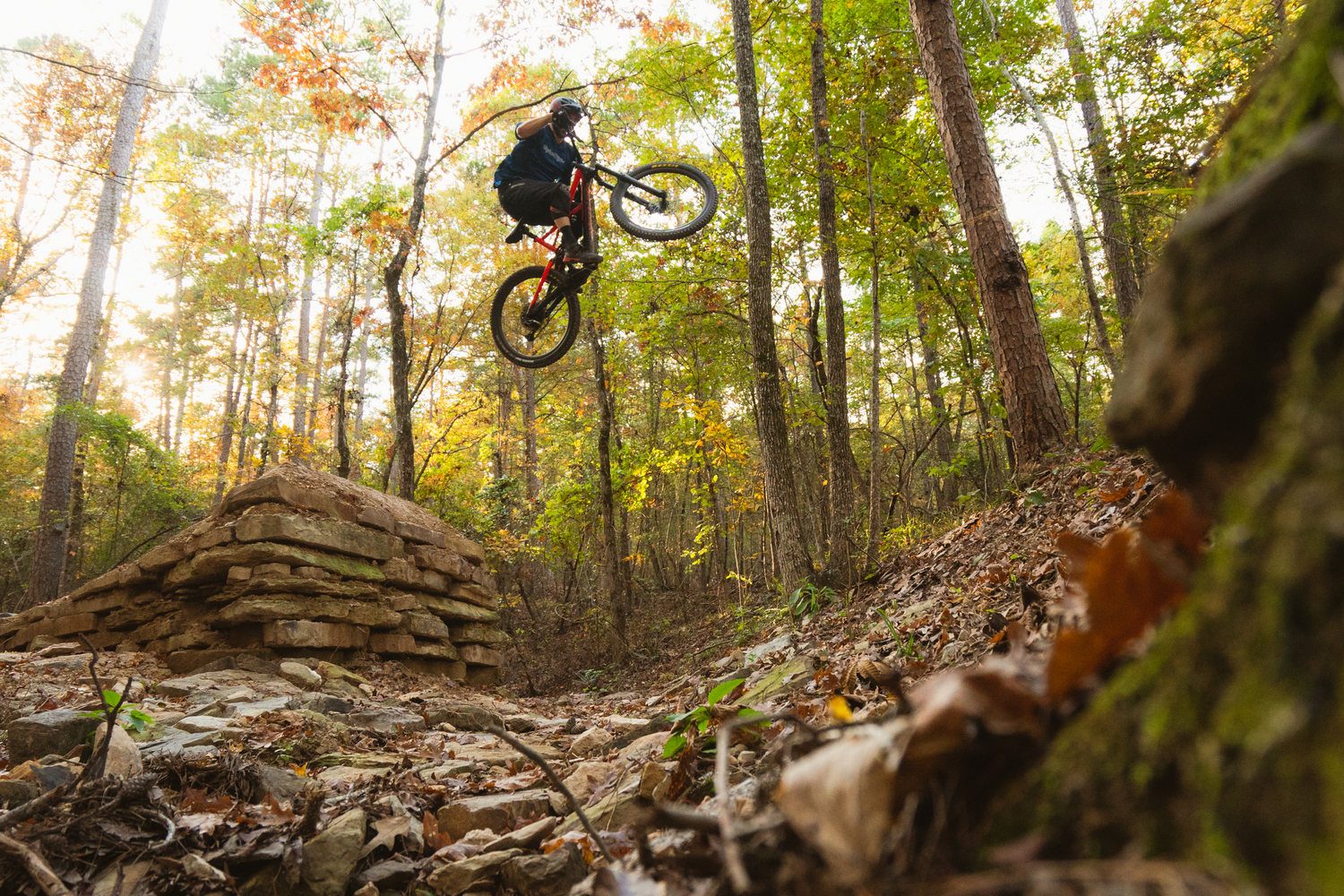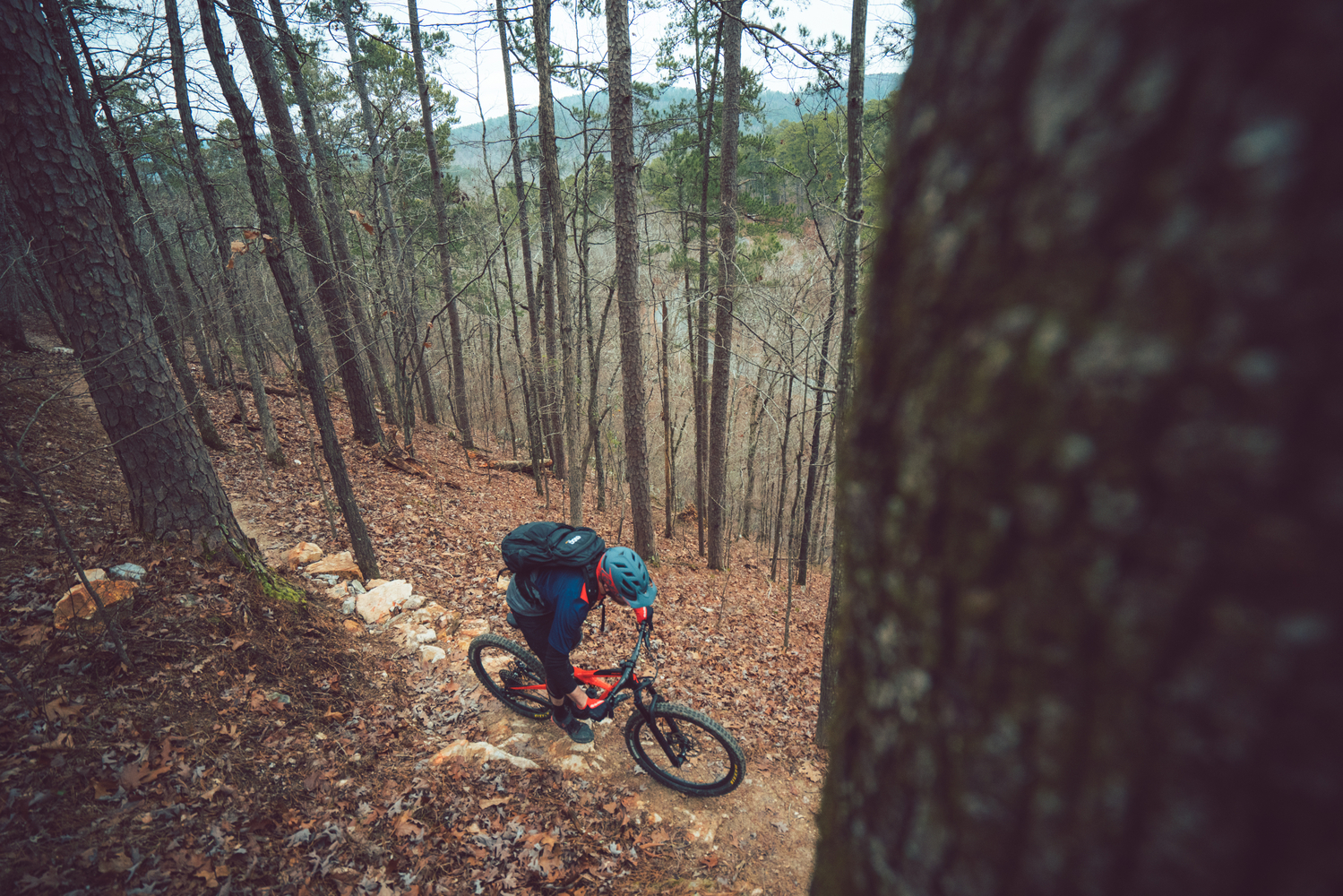 Beloved today by Arkansans and regional cyclists, the entire 31.5 mile Northwoods Trail System is situated on a combination of city and county property. It has collected numerous places on "Top 10" lists and held the top spot on Arkansas Outside's crowd-sourced vote for two years in a row. But long before the Spa City hosted this world-class system, much of this property was simply rolling parcels of all but forgotten land.
Before Northwoods, local Hot Springs cyclists cut their teeth on the hand-built trails at Cedar Glades Park. This park was developed on unused land adjacent to the county landfill and due to the landfill shutting down. "To close down a landfill, you need a perimeter," explained AJ Johnson, Cedar Glades Park Director, "and to fulfill that requirement and make a nice place for Garland County residents, Cedar Glades Park came to be." As the park developed, the county received grants and slowly added miles of multi-use trail, resulting in 10 completed miles. AJ Johnson has been the steward of those trails for 12 years. "They didn't want me to add more, just maintain what we had—as we'd get the budget for it, I'd add a bit when I could," said AJ.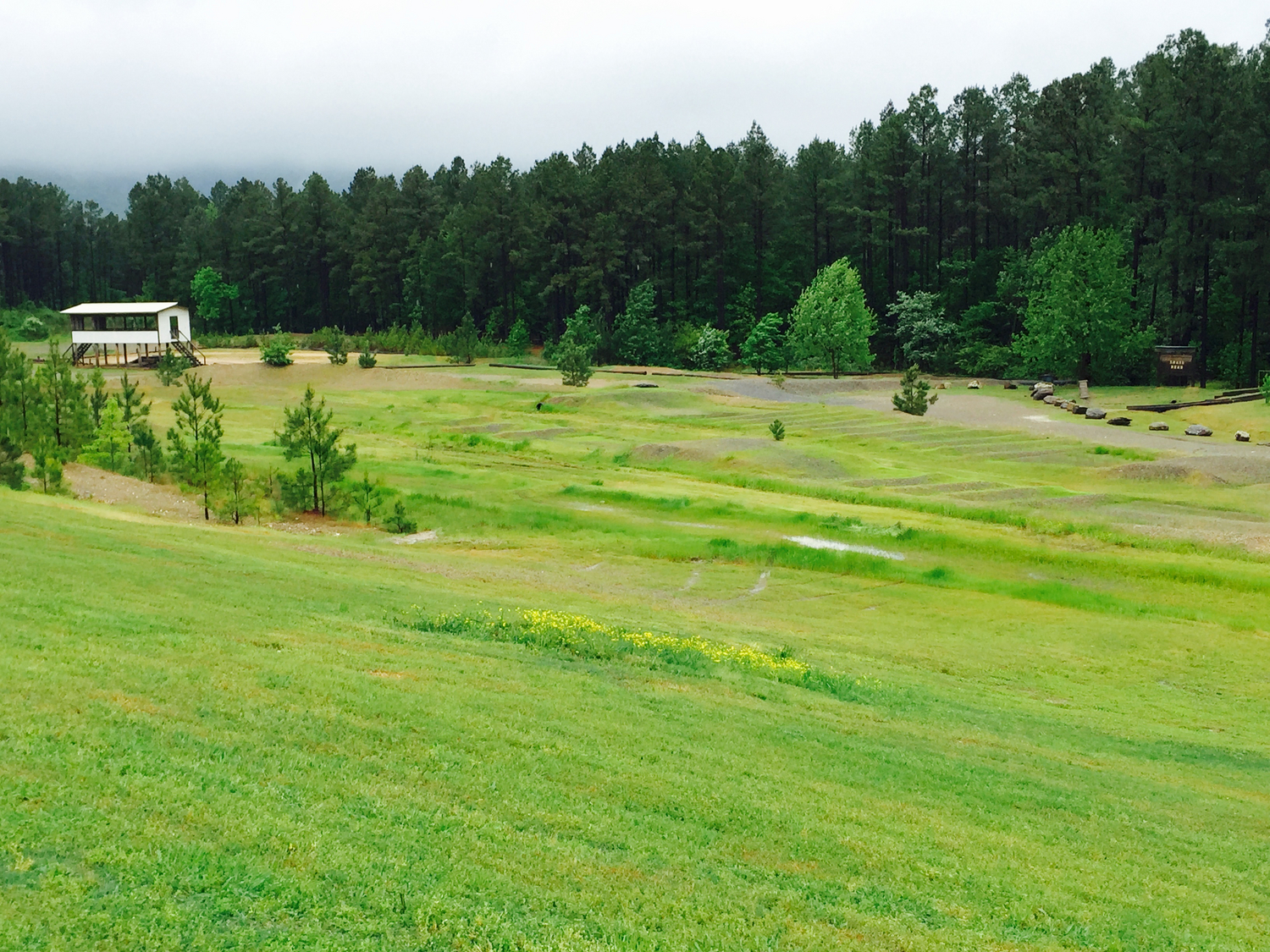 Cedar Glades Park, 2016.
In 2016, Steve Arrison, CEO of Visit Hot Springs, called AJ and asked if the park could use more trails. "Of course I said 'yes' because I'm a trail user as well," said AJ. The Walton Family Foundation, IMBA Trail Solutions' Joey Klein and other key area stakeholders created a regional trails concept plan after touring potential trail sites.
>One area in particular, stood out to Joey. "The Waterworks area had the ideal terrain, rocky ridges, and slopes that wrapped around three near-pristine lakes," said Joey, reflecting. "To me, it seemed like the perfect canvas…minutes away from downtown Hot Springs while still feeling wild and scenic." In the 1920s, Waterworks (now the main trailhead for Northwoods) was a city park featuring picnic grounds, fishing, horseback riding and hiking trails. Post 9/11, this area was closed to the public, like many dams/reservoirs in the United States, and this renewed interest in developing the area as a site for modern recreation felt like the perfect fit.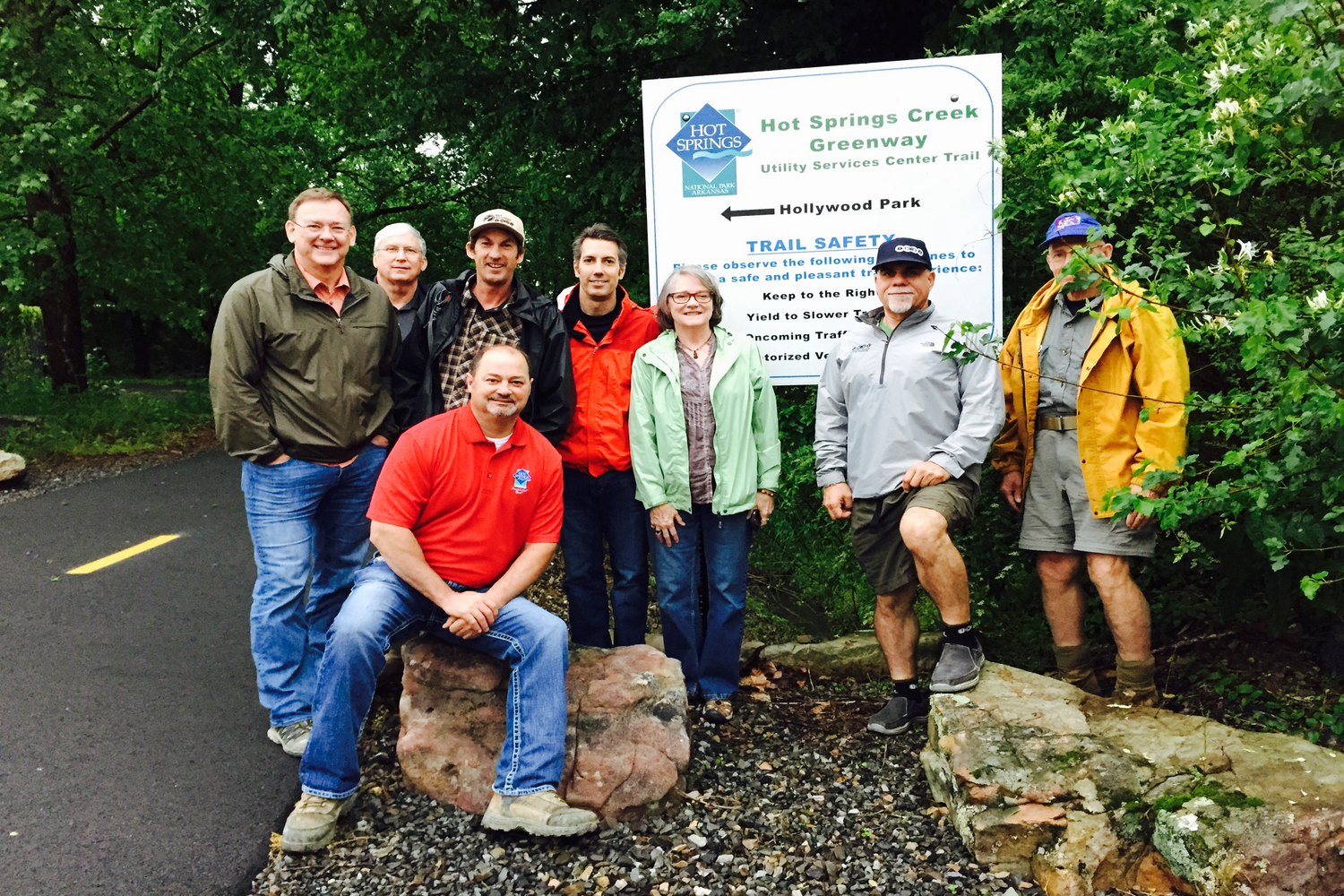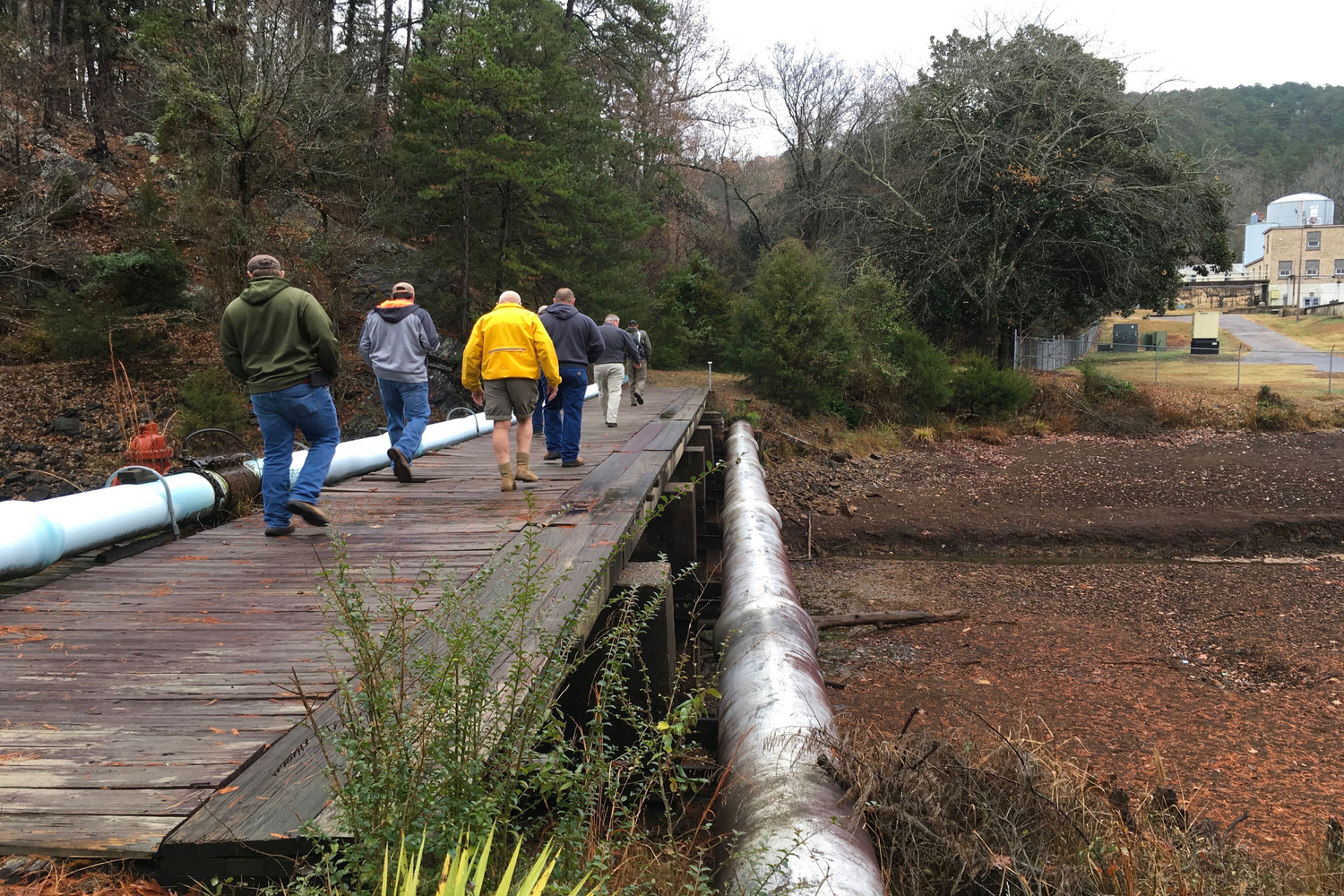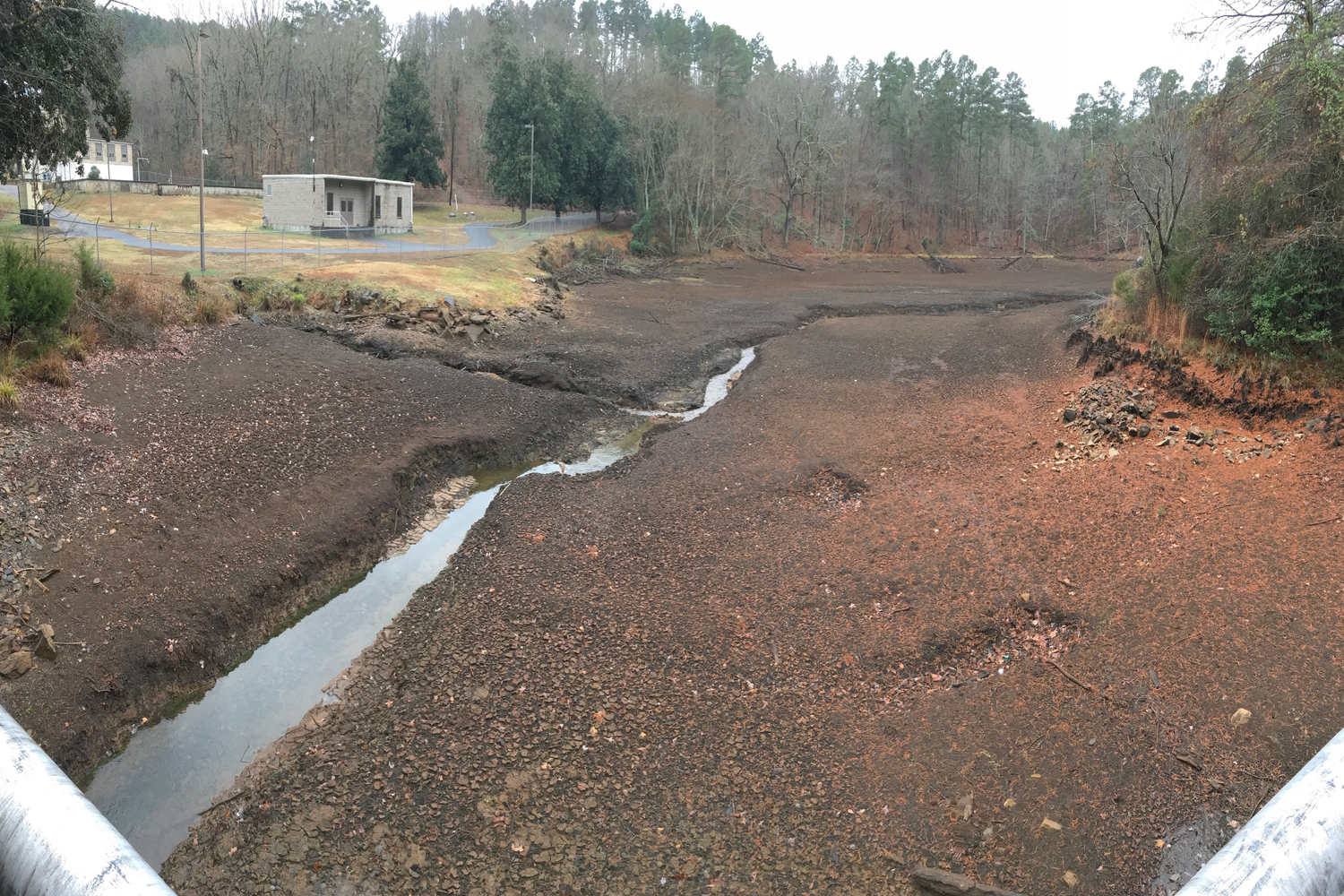 Top: Joey Klein with Gary Vernon of the Walton Family Foundation and Hot Springs stakeholders.
Center: The Waterworks bridge in 2006.
Bottom: Bethel Lake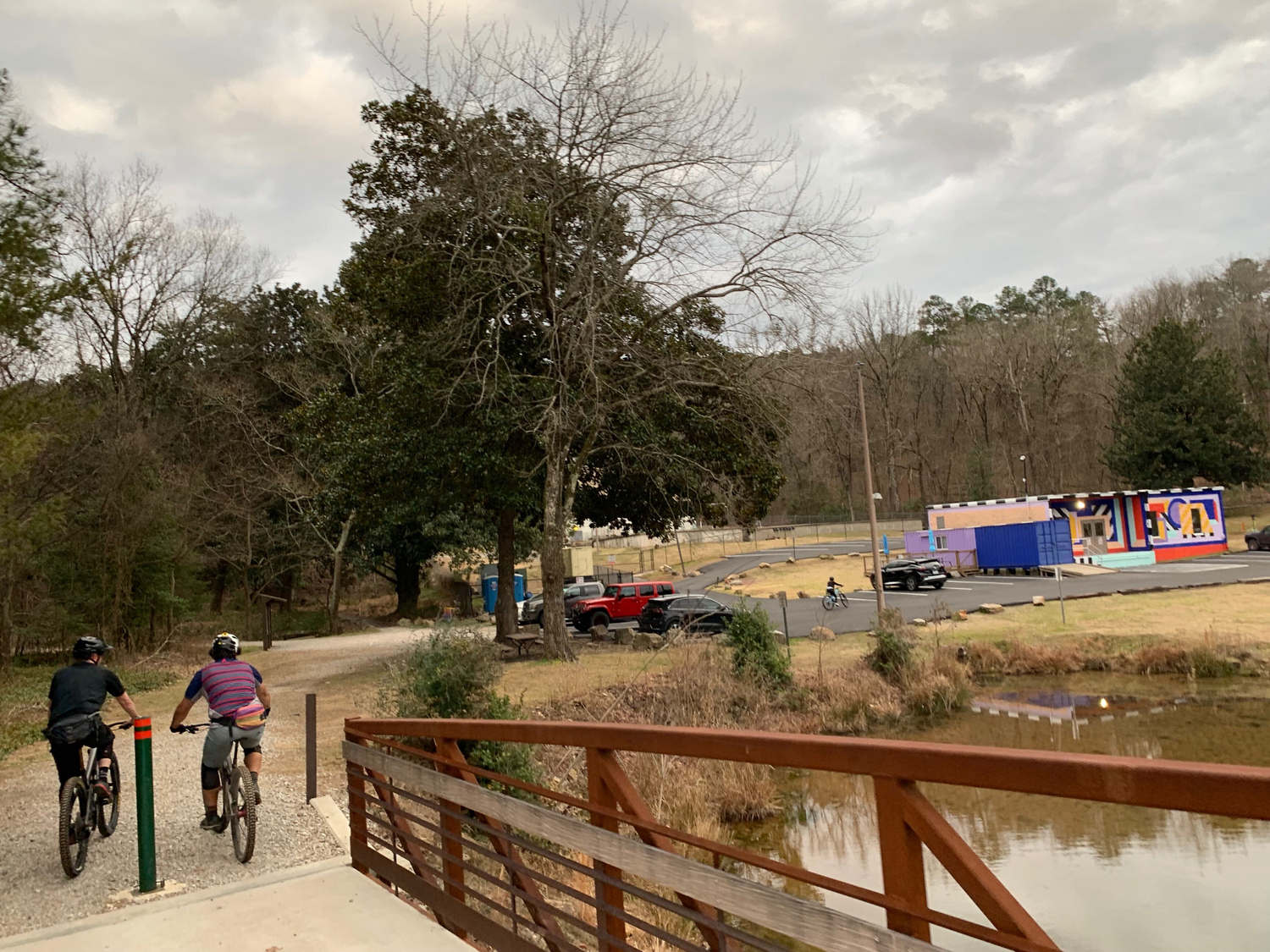 The Waterworks bridge and trailhead, 2022.
Phase I of Northwoods called for 15 miles of progressive trails that spanned the gamut: machine-built jump trails and flow trails, green trails, hand-built technical trails, enduro trails, and cross-country style loops. This diverse mix of trails gave riders the unique opportunity to progress their skills from beginner-friendly riding through to technical terrain, all in one park. To sweeten the situation, Garland County-owned land met up to the city property boundary resulting in Cedar Glades and the future Northwoods Park connecting together easily. "Instantly, because of that connection, we had over 25 miles of trails on the ground [once Northwoods was completed,]" said AJ.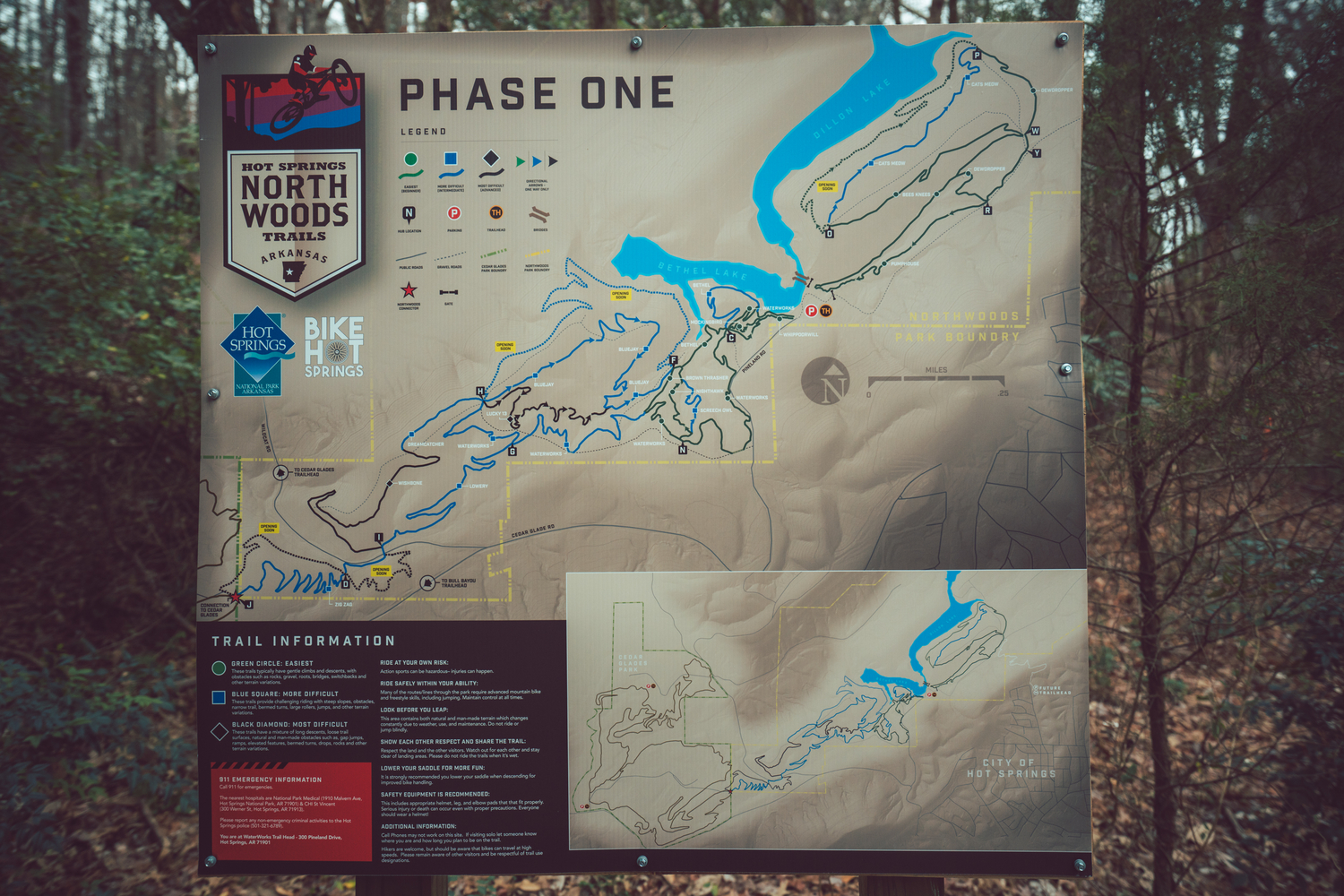 Part II of The Making of Northwoods explores highlights of the construction and the impact of this system on the community and surrounding area.