Assessment of the Effects of Mountain Biking in Marquette, MI
Assessment of the Effects of Mountain Biking in Marquette, MI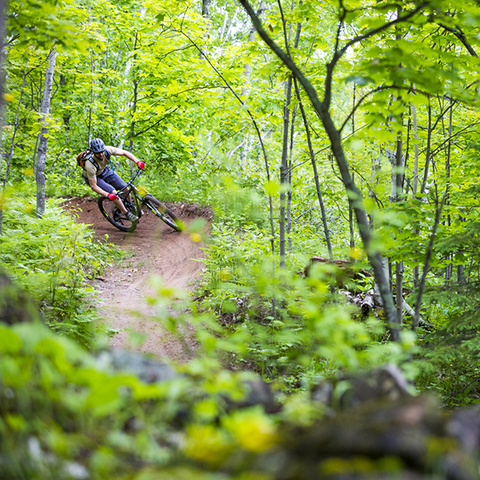 Research
Introduction to the study
Mountain biking is an ecotourism activity that has been growing in popularity across Michigan's Upper Peninsula and particularly in the Marquette area. As interest in mountain biking has increased, a number of individuals and organizations have contributed in developing and expanding the trail systems in and around Marquette. Furthermore, Marquette was noted as one of America's top mountain biking towns, indicating expansion of the industry (Butcher, 2013).
Efforts in developing mountain biking has led Marquette to become named as one of ten ride centers that are internationally recognized by the International Mountain Bicycling Association (IMBA). In July 2014, IMBA declared the trails in Marquette as a Bronze-level ride center, offering a wide range of trails that are suitable for every riding style. The new Bronze-level certification of the Marquette trails makes it an internationally known location where mountain bikers of all skill levels are welcome to ride.
Situated in Michigan's remote Upper Peninsula, Marquette has a history of economic challenges. Individual income is currently dependent on the mining industry, the local hospital and the university, leaving this area with an unemployment rate greater than the national average and over 26% of the population with an annual income of $15,000 or less (Sterlings, 2014). Consider: These local economic challenges have the potential to be alleviated by the development of an ecotourism industry centered on the attractive national environment surrounding Marquette.
Gaining a deeper perspective of how mountain biking has developed as an ecotourism industry in Marquette can lead to understanding how to sustain the sport as a contributor to the local economy. As well, understanding the process used to develop Marquette's mountain biking industry can serve as a model for the development of ecotourism in other parts of Michigan.
Download PDF