What does it mean to respect the land and mountain biking? Being a thoughtful and active trail steward is our definition. As trails become more popular, our respect for the land while mountain biking is imperative. Access to continued great trails is a major benefit of respecting the land and other trail users.
re-spect /rə'spekt/: to consider with high regard, to understand the worth of a thing.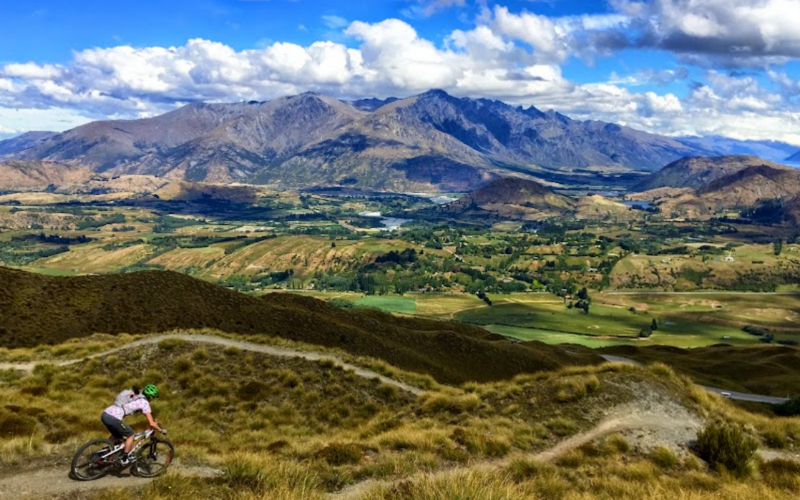 Why We Ride
Not everyone turns to mountain biking for the same reasons. Some are in it for the thrill of the descents, some for the fitness, while others may be in to win it! We want to be outside in the woods with friends and family, making memories. We all have different opinions on what makes for the best ride. This is why it's important to respect the land, embrace our differences, and continue to make mountain biking an inclusive sport for all.
Where Trails Come From
There is a common misconception that tax dollars maintain and build new mountain bike trails. The dirty truth is that people build and maintain trails. These people are passionate professionals and volunteers that spend many hours on trails we love. Planning, developing, advocating, digging and protecting the trails from nature's relentless erosion takes hundreds of hours per mile of singletrack. Time and money are hot commodities so we need to do our best to "spend" them carefully. Respecting the land and the passion invested by your fellow mountain biker is what makes your experience on the bike so unforgettable.
There are Trail Fairies Everywhere
Trails are ever-evolving due to weather, the need for expansion, and to preserve the environment (water, wildlife, etc.) Volunteers are the magical Trail Fairies that build and maintain a lot of our trails on public land. These efforts are a time-consuming puzzle to navigate. Permits, land-use requirements and cooperation between local, state, national and volunteer groups can seem like an uphill battle. Sometimes the path taken to get trails built and keep them ride-ready is difficult and can bring heated discussions. Keep in mind that you may not always know the entire story behind the trail's turns, drainage, reroute, bench cutting or armouring. The trail fairies ensure this important work is completed with the preservation of our trails in mind.
Preserving the Experience by Showing Respect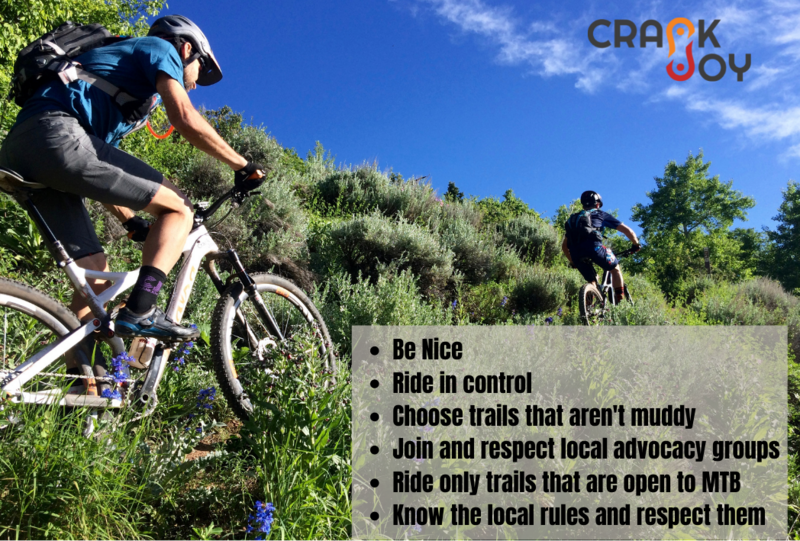 Be nice. Saying "Hello, have a nice day" goes a long way.
Ride in control. Slow down/yield to other users, do not skid. Being startled by bikes is no fun. Slow down with controlled braking and give them plenty of warning. It only takes a few seconds.
Choose appropriate trails or dirt roads when conditions are wet. You accelerate erosion when riding in the wet. Know where to go and when. Be careful with freeze/thaw conditions that can be tricky.
Join your local advocacy efforts! Support your local trail group by becoming a member, volunteering for events, or leading trail work! 
Be respectful of your local advocacy group. Most people advocating and working on the trail are volunteers and trying to do the best they can. Be positive and boost their efforts, even if they are not executing on 100% of your objectives. 
Do NOT cut trails; build new trails or CHANGE trails to suit your desires. You are not the only user, and those turns, rocks, and roots are there for a reason! Go about things the right way to get the work done.
Ride trails that are open to mountain biking. Riding illegal trails impacts our sport and may cause doors to close for future mountain biking trail expansion.
Know the rules. Each riding area has its own rules on unleashed dogs, e-bikes and sometimes the direction of use. Be sure to check out IMBA Ride Vibes  and Leave No Trace Principles.
Become a Trail Steward
You represent mountain bikers as a collective user group every time you ride. "Using" the trails means that you are simply not showing the community of riders nor the land the respect it deserves. Choose instead to be a trail steward: encouraging, respectful and responsible, preserving the enjoyment of your trails for all.
Show integrity as a collective and united group, work together for the love of the land, be nice, say hi and ride responsibly!