"We're on some of the oldest bedrock in the world; this is the Canadian Shield," commented Joe Krawczyk, president of IMBA Local Chapter Marinette Area Mountain Bike Association (MAMBA). "The rock work that's gone into the black [advanced], technical sections [of this trail] is just beautiful." Naturally occurring granite deposits aside, Joe has a lot to be enthusiastic about. The Strong Falls Trail System in Marinette County, Wisconsin has gone from project kickoff, planning and design, to 10.5 miles of trails created in exactly one year. "That's wicked fast," said Mike Repyak, IMBA Trail Solutions' Director of Planning and Design.
Part of a 50-mile master plan throughout 10 distinct experience zones, Strong Falls will connect Goodman and McClintock Parks, two county recreation areas that attract a variety of outdoor enthusiasts to Wisconsin's Northwoods. Previously this area has attracted visitors for its Peshtigo River-fed waterfalls, fishing, class-4 rapids, and miles of forested roads for gravel grinding. However, this "trail desert" will soon be able to call itself a destination for mountain biking - mainly due to motivated partners and collaboration between two professional trail development teams.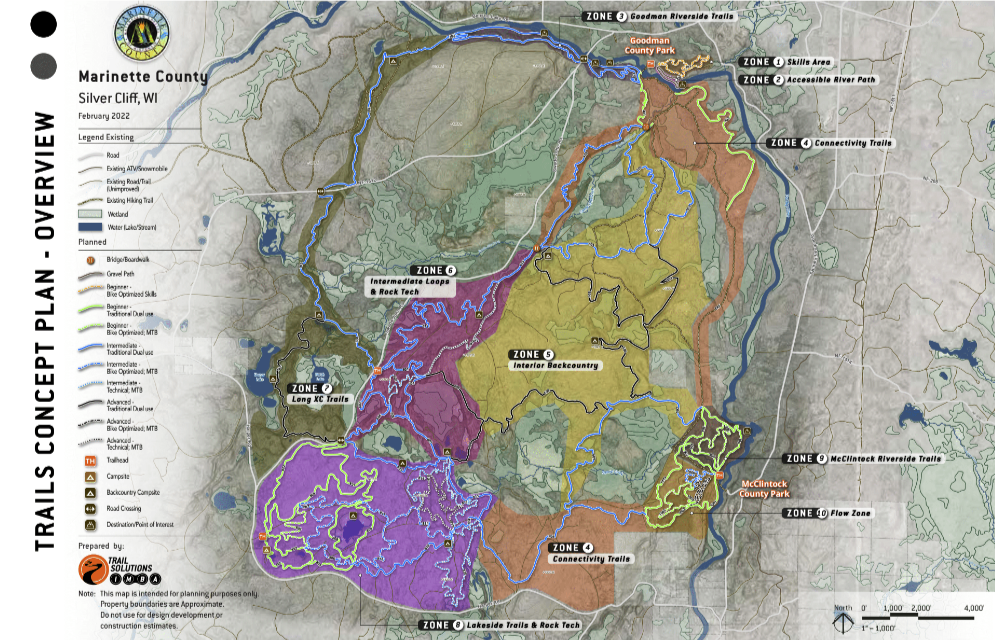 The vision for Strong Falls Trails goes way back for Joe Krawczyk, who lives an hour away from this remote corner of WI. The creation of these trails marks a shift in thinking for the area he's lived in for close to 30 years. Up until 2017-2018, Marinette County was focused on motorized recreation and hunting as a means to activate the Northwoods. "Out of the blue the county administrator called me and wanted to discuss exploring putting in trails for mountain biking in the area," said Joe. 2020 put much of their ideas on hold, but when the American Rescue Plan Act of 2021 was passed, county officials jumped into action.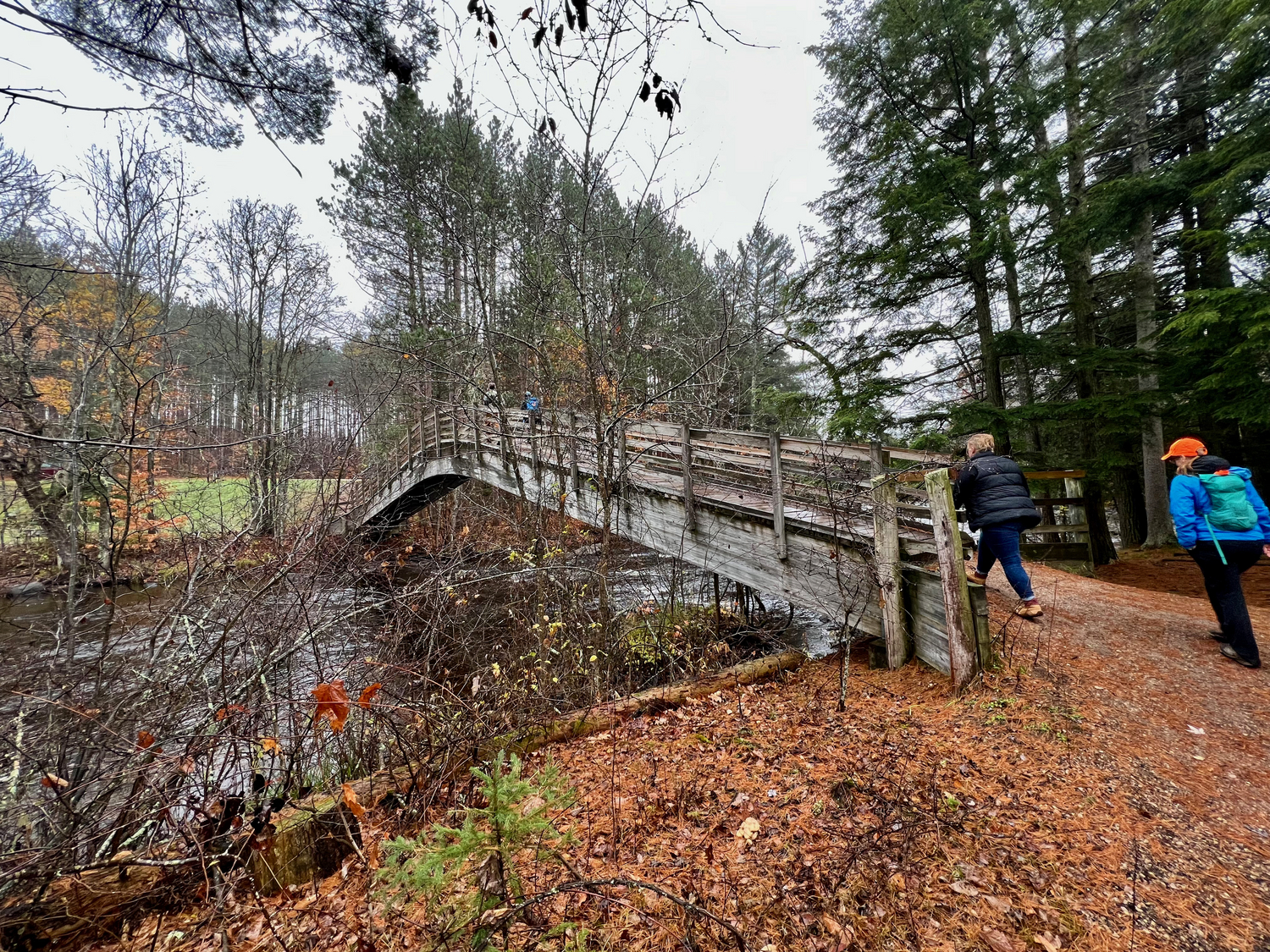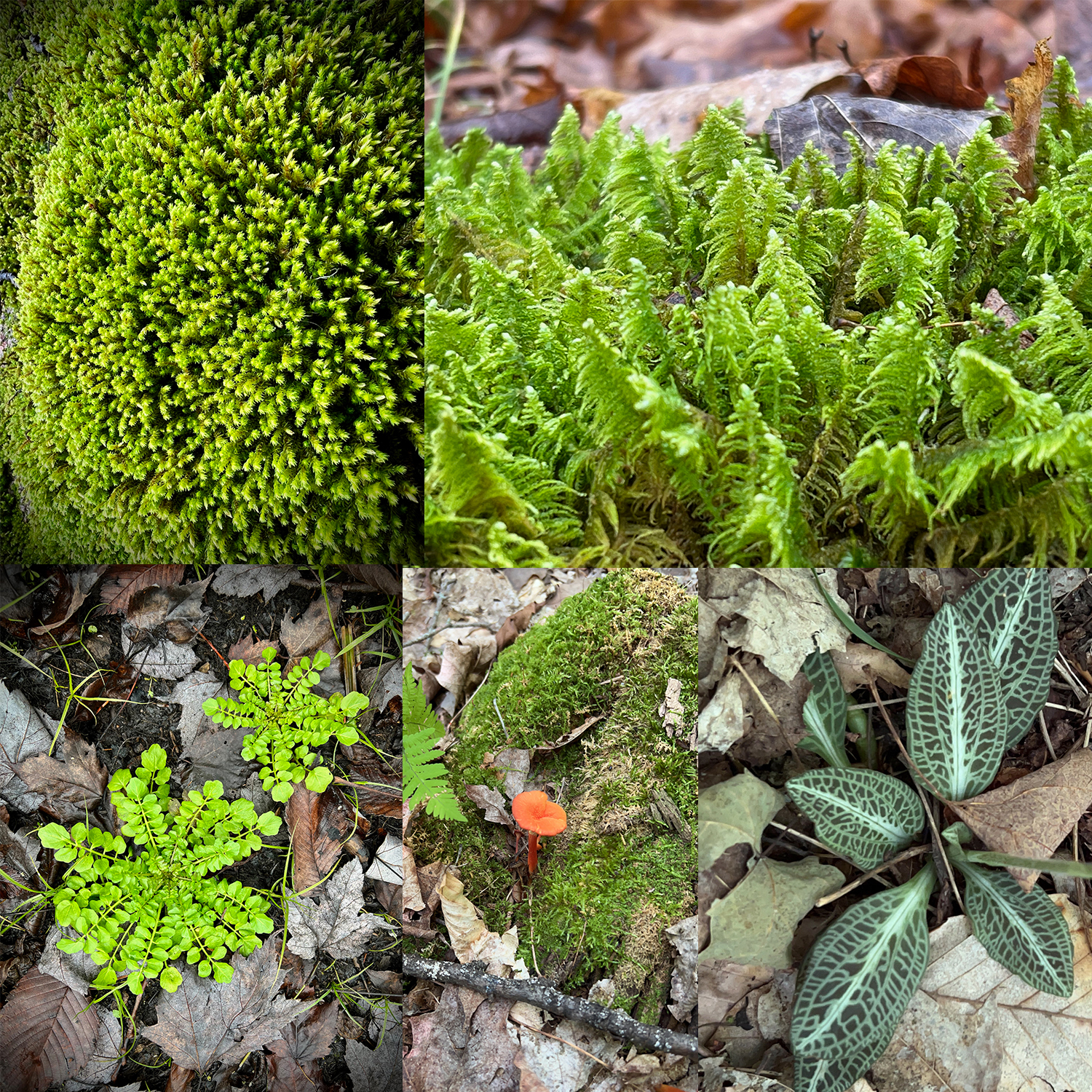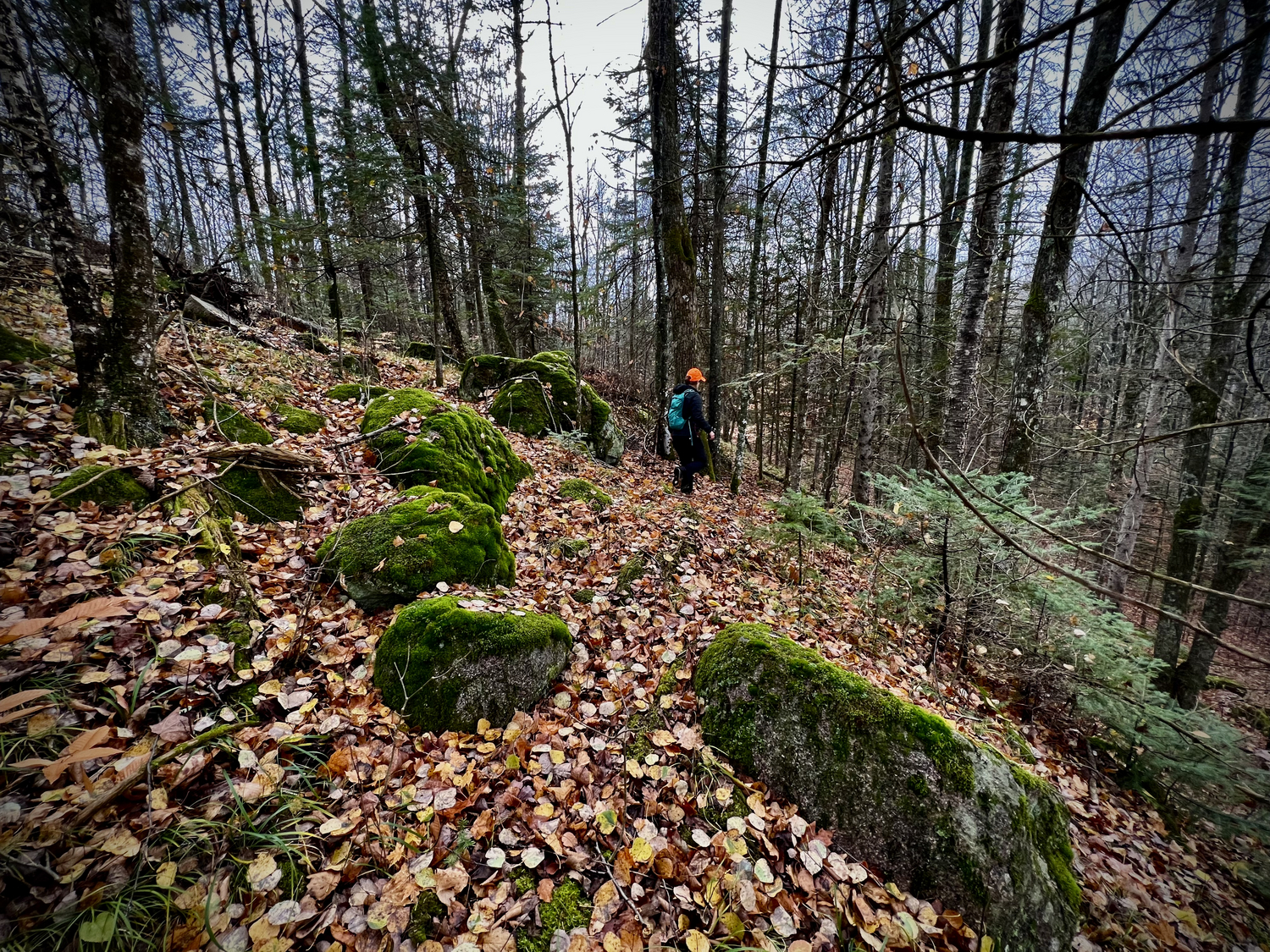 The team identified 5,000 acres between Goodman and McClintock Parks for trail development and connectivity. These two parks, already equipped with CCC-era cabins and picnic areas, would serve as activation anchors for the future trail system. "You'll find yourself pedaling through smooth-flowing hills of mature aspen and oak stands, and riding technical and tessellated rocky runs," said Matthew Shruck, Assistant Facilities and Parks Director for Marinette County. "As you make your way between elevation and marshy lowland areas, you'll lose count of all the trailside boulders left behind by the glaciers that made the whole scene possible." County officials and MAMBA wanted to put together a plan that would attract riders of all skill levels, make use of the numerous granite deposits that pepper this undeveloped forest landscape, and create a true destination.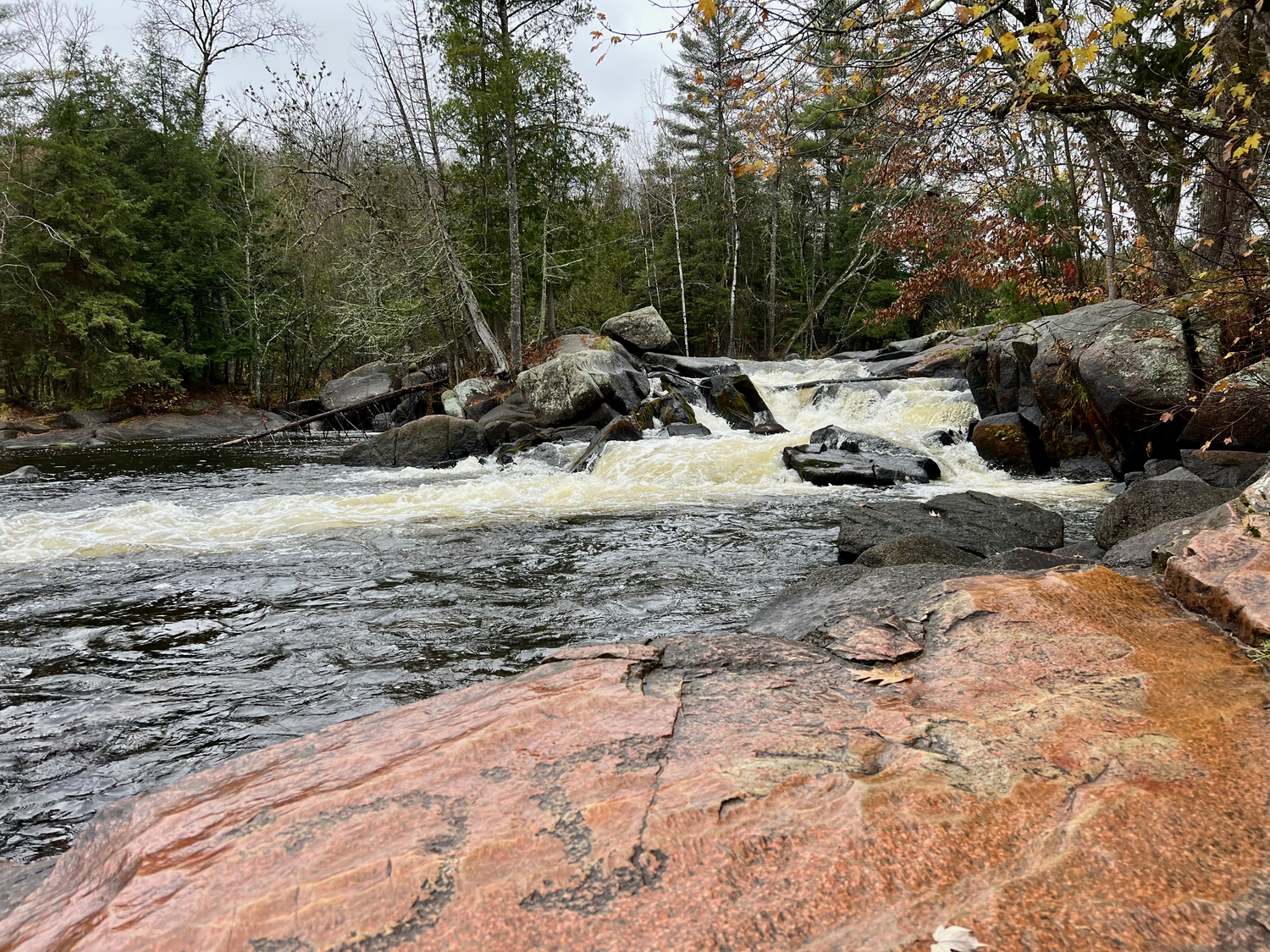 This enthusiasm spilled over to the planning teams of IMBA Trail Solutions and Rock Solid Trail Contracting who were contracted by Marinette County to develop the concept plan, complete the field design, and construct the first phase of trails. By combining the largest trail planning and design organization in the country with one of the largest professional trail construction firms, the county hit a home run to get quality trails on the ground efficiently and quickly. "Rock Solid's partnership with IMBA TS goes back to the early days of Copper Harbor Trails Club and Aaron Rogers' [president of Rock Solid] work with IMBA TS over the years," said Kyle McGurk, Project Manager for Rock Solid Trail Contracting. "By working together on projects, working to standardize terminology, methods and practices over time, we can as a collective trail community grow to better serve the advancement of trails for more people in more communities."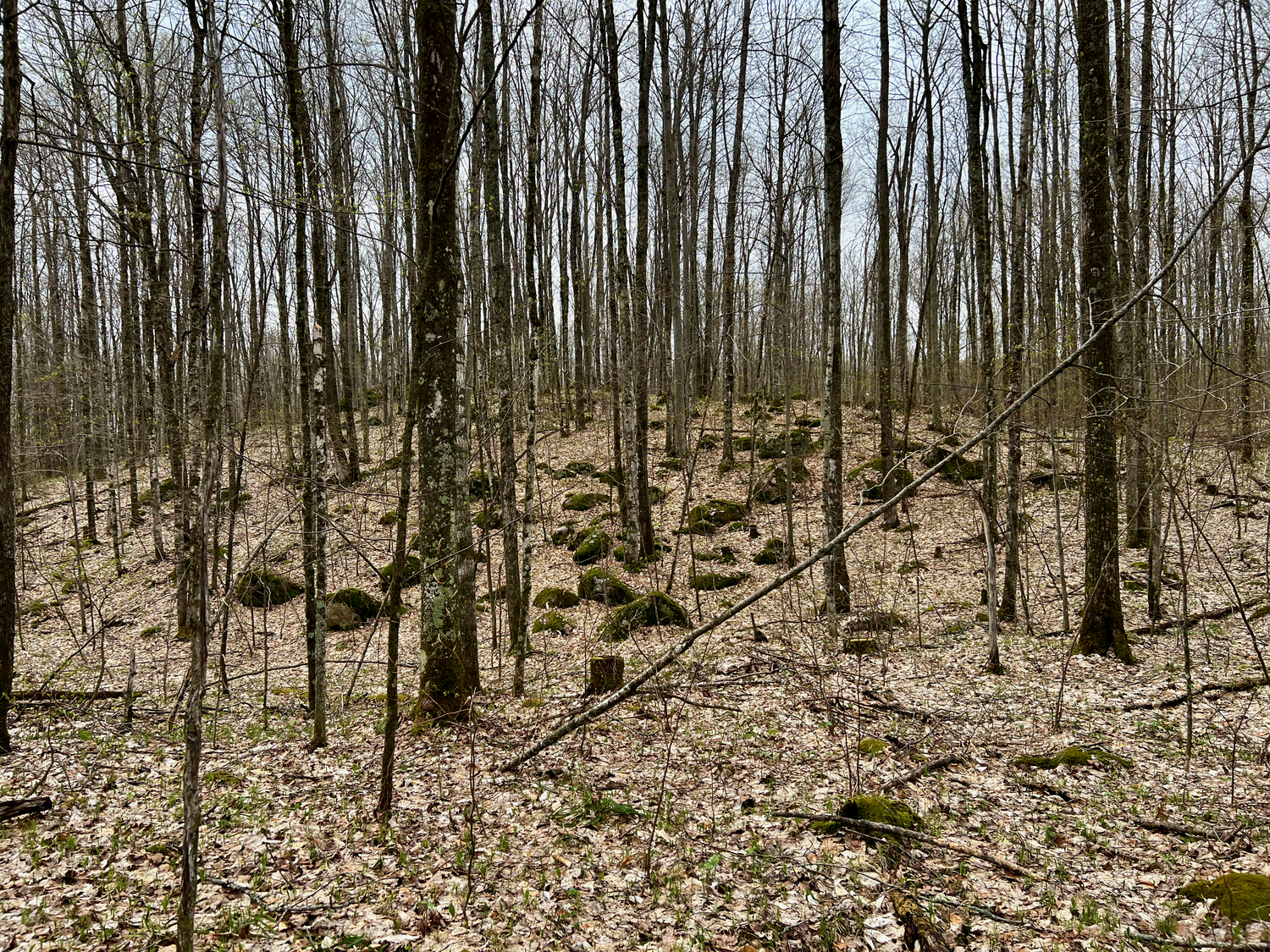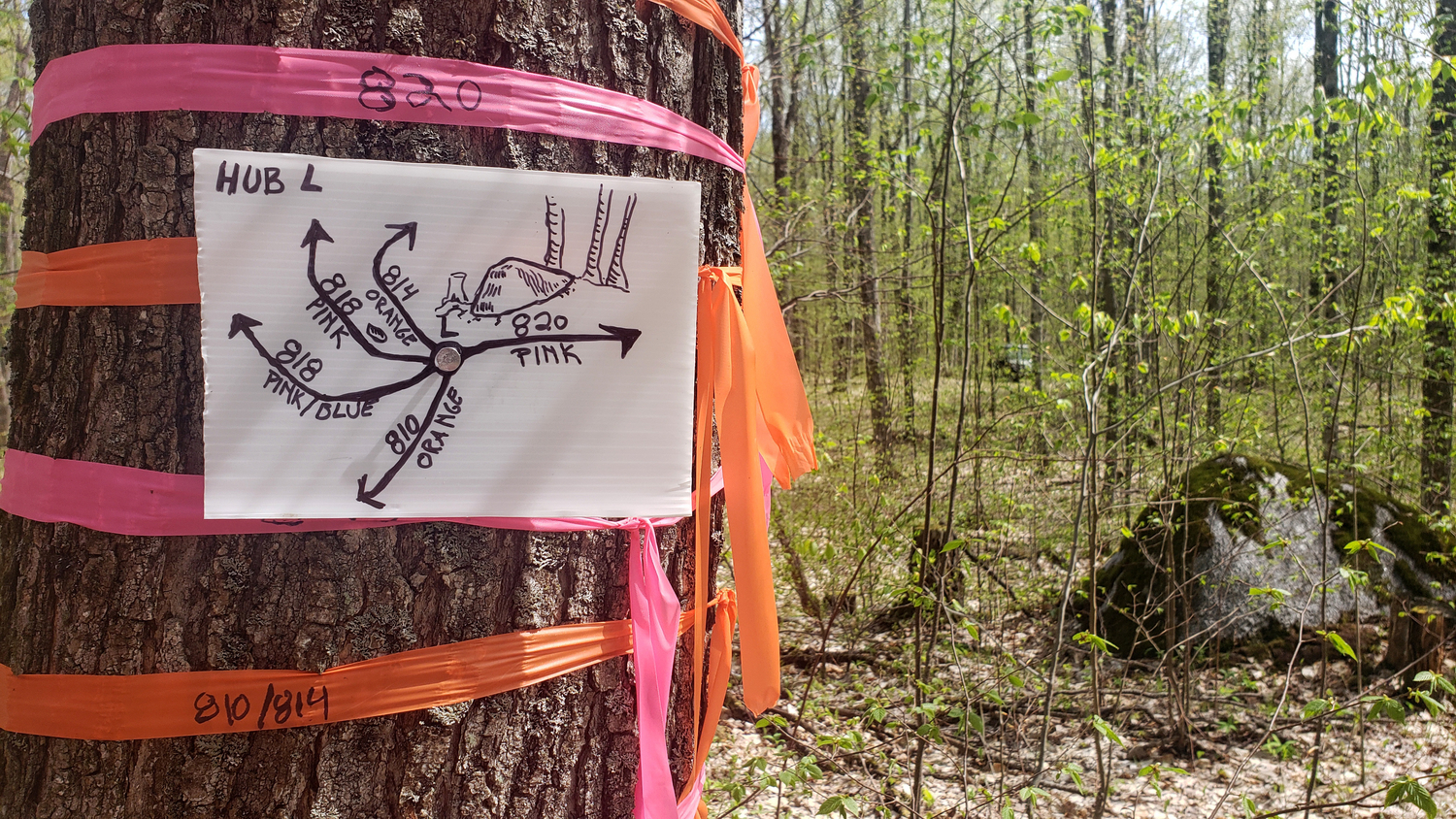 IMBA Trail Solutions' Mike Repyak hit the ground alongside IMBA Trail Solutions planners in October of 2021 to launch a concept plan in collaboration with county officials and MAMBA. "Every corner of the property is stunningly beautiful; around each hillside, we traversed glacial terrain littered with glacial erratics while viewing the river, waterfalls, and lakes from many different vantage points," said Mike. "The existing parks are gateways to this special landscape that have been managed for forest health and recreation. Working on this canvas was exciting and at times challenging, but that is what we like knowing that the trail layout will make for engaging trail experiences for a range of park visitors."
By mid-February 2022 the full 50-mile concept plan was signed off on and by May, the IMBA Trail Solutions and Rock Solid teams combined to design over 30 miles of the plan's trails in four identified zones. "A well-staffed field design effort is typically two qualified field designers. By combining forces, we were able to approach flagging multiple phases of trail by six field designers in just one week of fieldwork," said Kyle. Aside from increased footwork efforts, IMBA Trail Solutions also brought a depth of experience in permitting that ensured a timely environmental review and approval process to accelerate the shovel-ready timeline. In July, both Rock Solid and IMBA Trail Solutions had combined four build teams on the ground at the same time, resulting in 10.5 miles of flowy beginner and intermediate trails and rocky technical intermediate and advanced trails by the end of October. Wicked fast, indeed.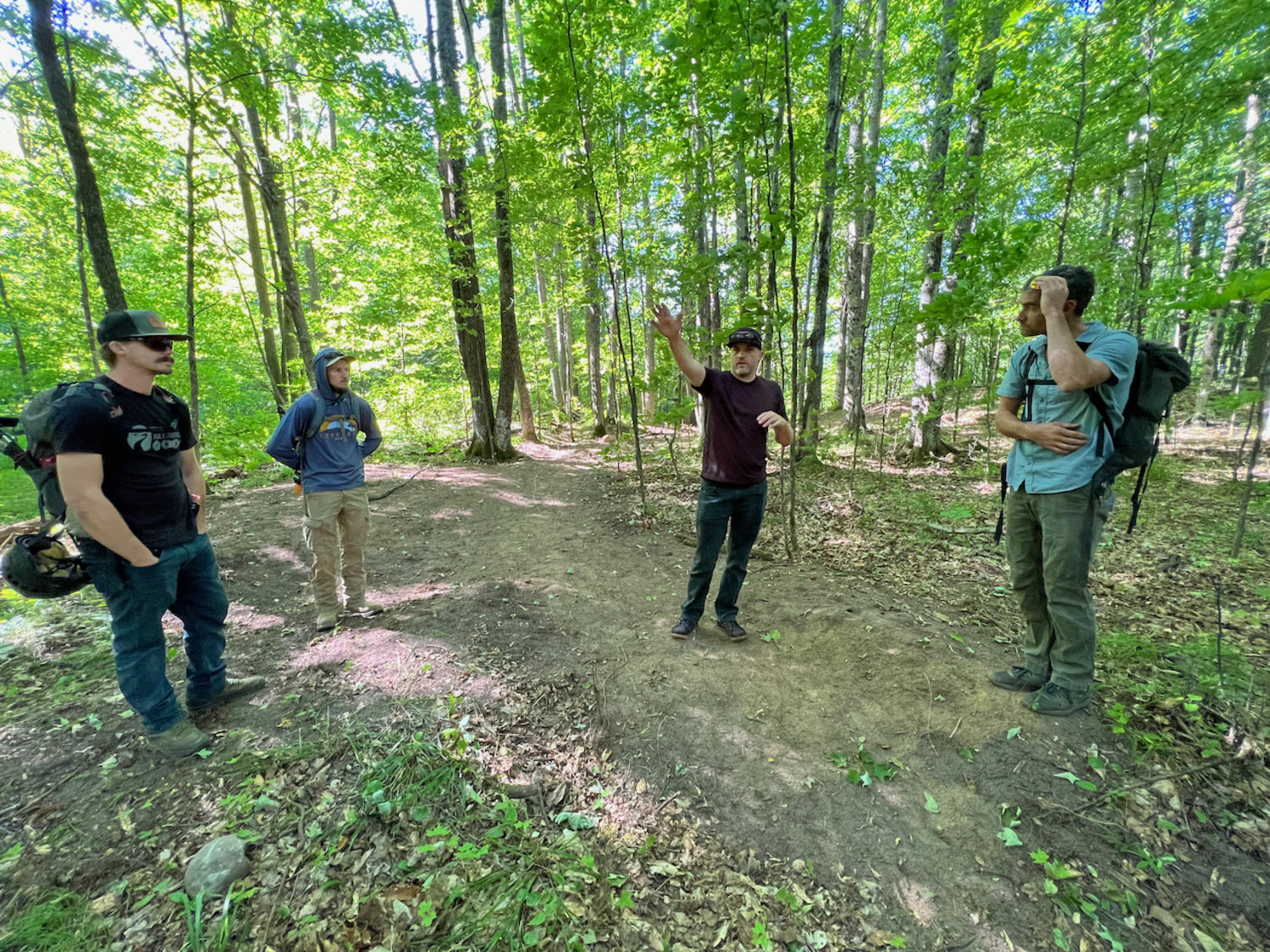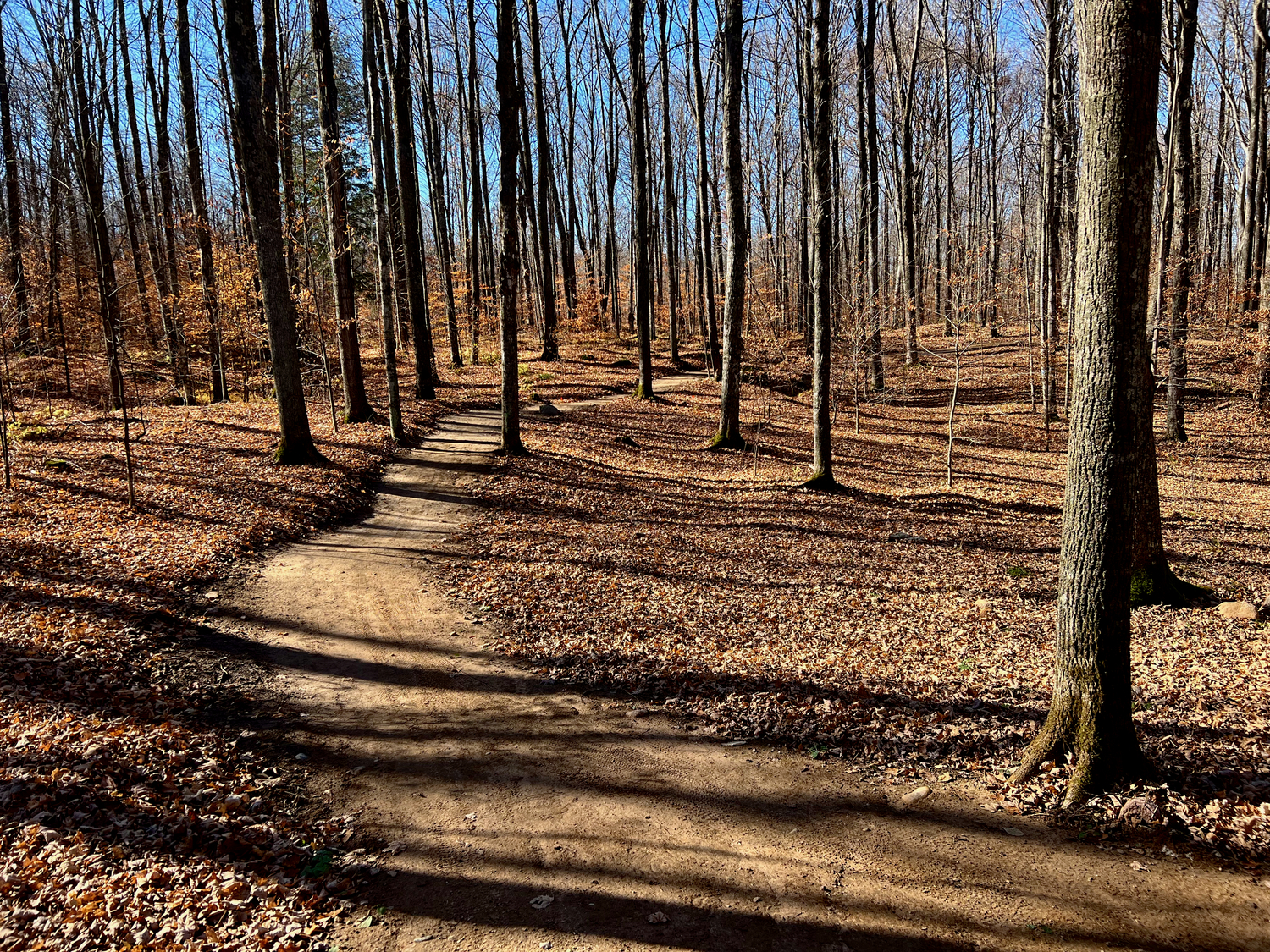 As the build crews finished up, IMBA Trail Solutions led a Trail Building School with Marinette County officials and members of MAMBA. Volunteers came out of the woodwork to learn and dig. "Out of the 12 volunteers that came, I knew two of them," said Joe. "The response to these trails being developed is really, really good." This organized dirt time together resulted in the system's name: Strong Falls Trails after the renowned waterfall (Strong Falls) in Goodman Park.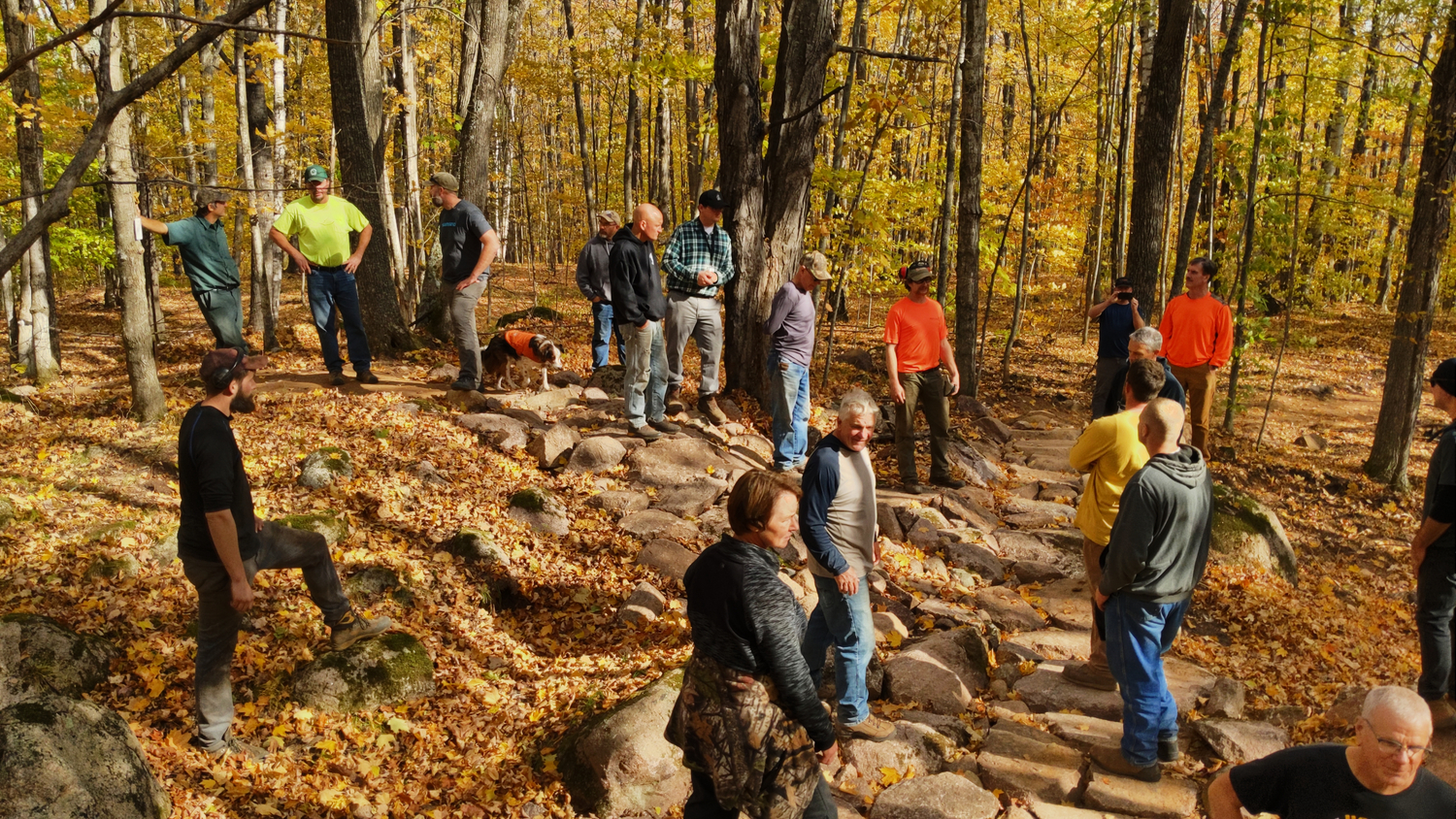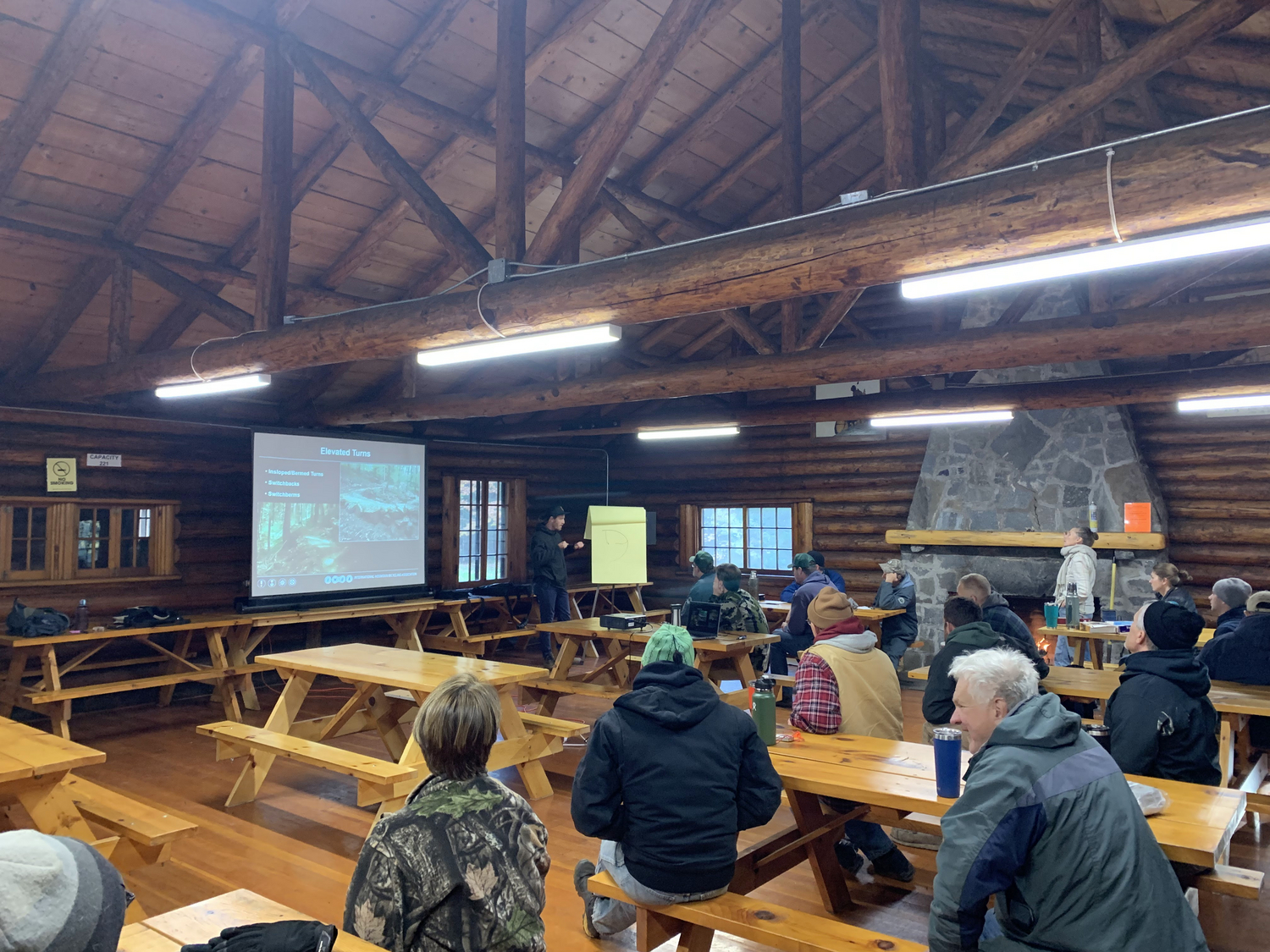 Thanks to these motivated partners, visiting and local riders will soon be able to enjoy this progressive system packed with lake views, overlooks and the lucky foraged wild ramps, morel or fiddlehead fern trailside. Currently, the Strong Falls Trail System is under snow, but come Spring 2023, these first 11 miles will be open to the public!