Nearly 150 women descended on the bicycle-loving town of Bentonville in northwest Arkansas at the end of March to talk trails, communities and being a champion for both at IMBA's first-ever UPRISING event—a conference created by and for women mountain bikers. 
We recognized that there are a lot of women making a difference in mountain biking where they live, but there are still far fewer of them engaged. Less than 20 percent of IMBA's members are female. Leadership teams at local mountain bike organizations and trail groups are overwhelmingly male-only. 
But we know that when women get activated and involved with something they're passionate about, they do amazing things. We looked at the landscape and realized we could work to get them more engaged, and offer something beyond a bike demo or a skills clinic—of which there are many already being done so well. 
What IMBA does best is education and aggregation of resources. What IMBA does best is catalyze and enable people to be change-makers and advocates in their own communities. With all of that, we set out to create UPRISING.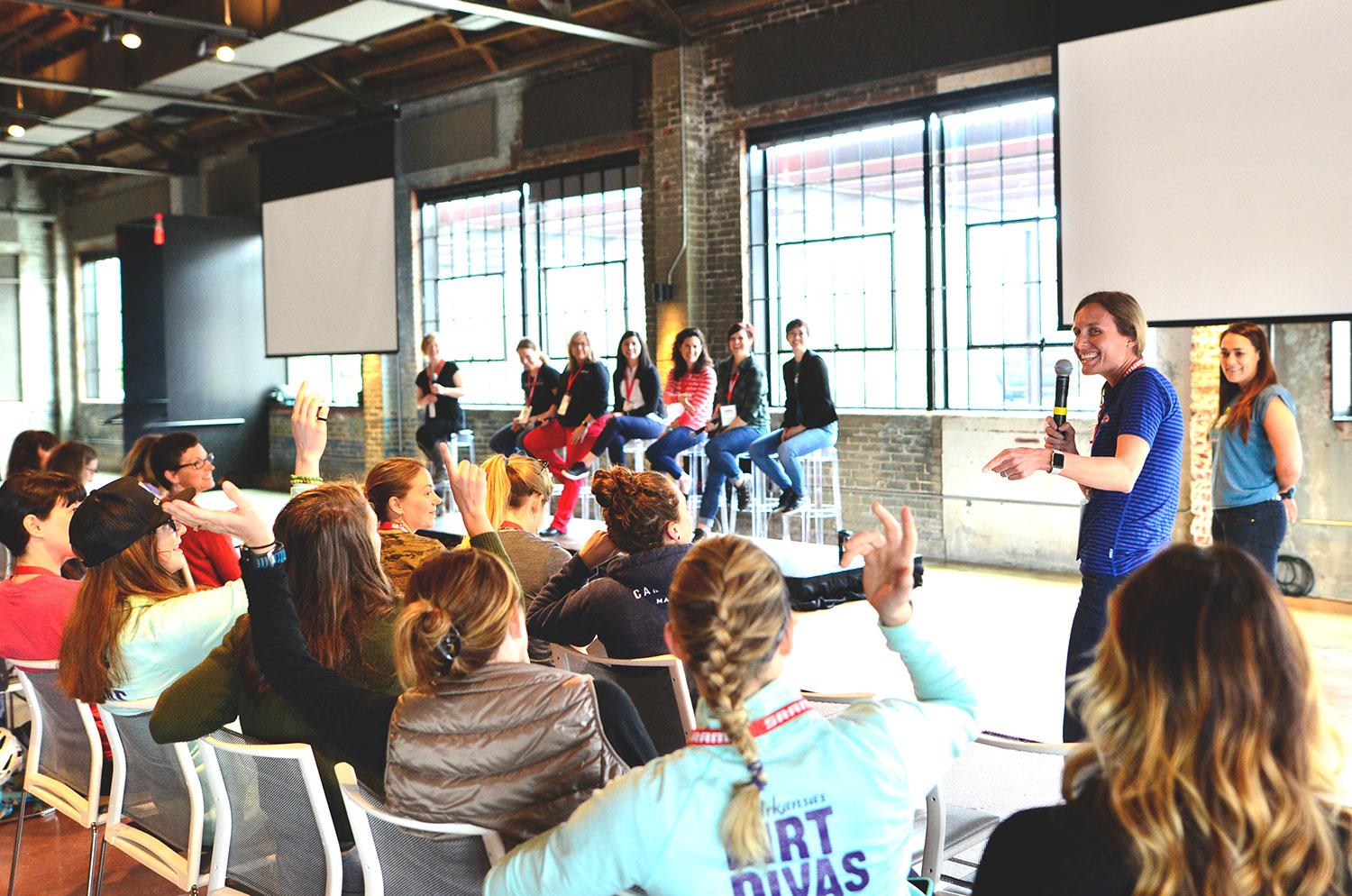 IMBA's female staff brought together some of the most successful women mountain bike advocates in the country to share their ideas and their stories. The themes for the weekend revolved around having a strong vision that can be articulated to a wide range of stakeholders, and a strong support team that can help make that vision a reality. 
Rebecca Rusch launched and emceed a weekend that ranged widely in topics, from marketing strategies, to promoting the value of mountain biking through data, to building a guiding vision for a project, to life as a professional woman trail builder to hosting rides and events with a purpose. Female leaders from IMBA chapters, major bicycle industry companies and successful outdoor-activity-focused nonprofits shared their experiences and offered tips, tricks and templates for the attendees to implement back home. 
The idea for the first UPRISING was to offer a wide range of topics so that attendees could find their thing. We wanted each woman to be sparked by something that she could then develop into a bigger idea using the planning and community-building tools the speakers and fellow attendees provided.
Attendees were encouraged throughout the weekend to write down and hone their vision for mountain biking and more women engagement in their communities, and to discuss, challenge and shape it with the others.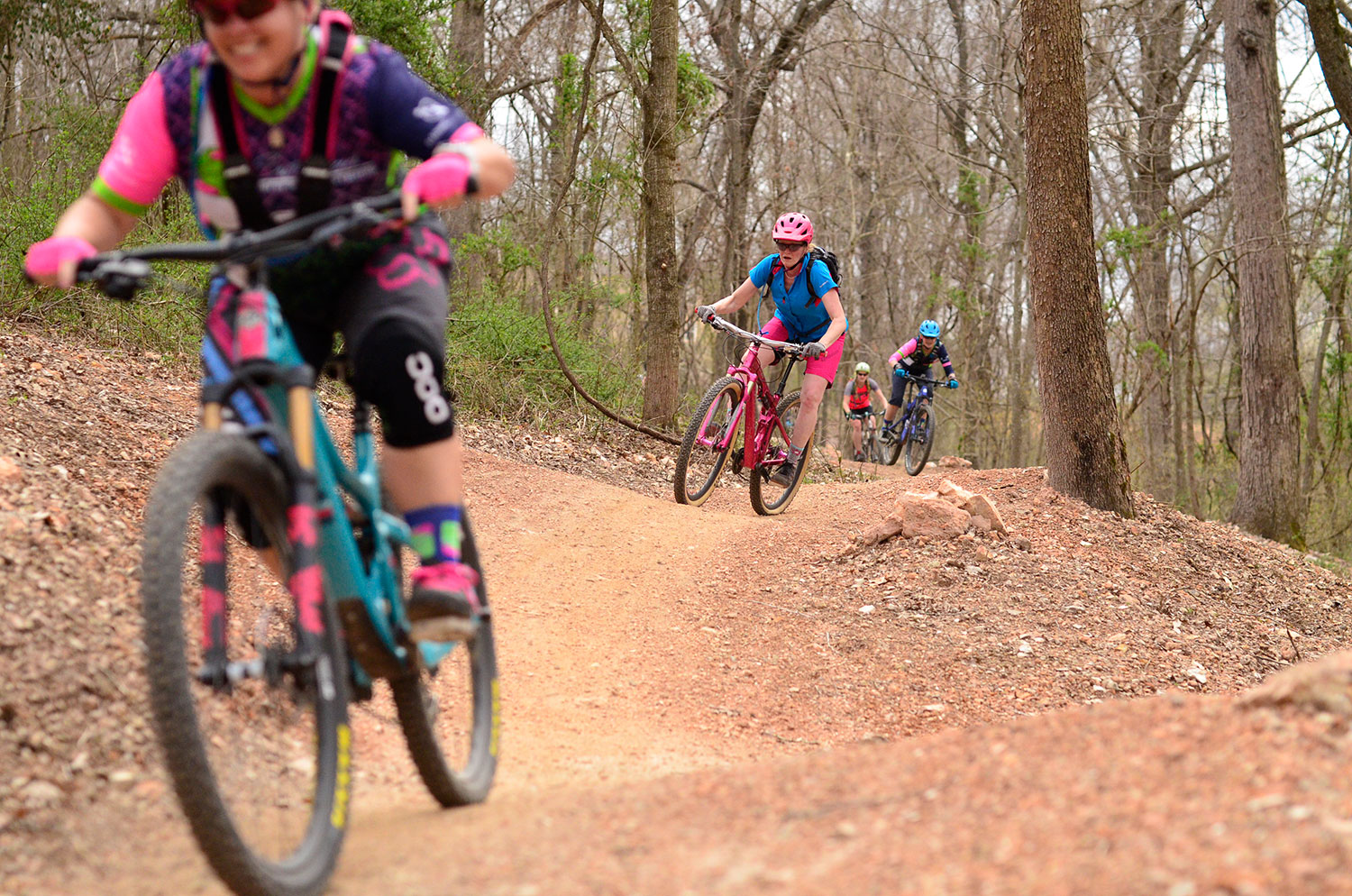 Rusch hosted a screening of her film Blood Road on Friday evening. On Saturday, PeopleForBikes hosted one of its popular Draft Meetup events—a TEDx-style presentation of three-minute great ideas from influential women in the outdoor industry. 
And, of course, we rode bikes every day! IMBA wanted the location to be just as inspiring as the speakers and Bentonville—a silver-level IMBA Ride Center—was an obvious choice. Bentonville is an excellent example of what can be done when people with lofty visions work to integrate trails and riding purposefully into their communities. That, and several of the trail systems are accessible via a short pedal from downtown, which made for easy access when it was time to stretch the legs. 
Group rides were co-hosted by the women of Friends of Arkansas Singletrack (FAST), Arkansas Dirt Divas and the ride leaders of two of the country's most famous women's mountain bike groups—Girls Rock and Girlz Gone Riding out of California—who coached attendees on how to replicate their wild successes. 
THANK YOU to everyone who attended! We had women from New York, Wisconsin, Florida, California, Missouri, Colorado, Texas and elsewhere, including Canada. We look forward to keeping in touch with the attendees, helping them along the way and hearing their success stories in the future.
IMBA will share the UPRISING presentations and speaker content in the coming weeks. For the full lineup of speakers, topics and sponsors, see the event site.
Extra-special thanks to these sponsors: the Walton Family Foundation, Visit Bentonville, SRAM and Bike Rack Brewing. 
Additional event coverage