Perched at nearly 12,500 feet above sea level, the start of the Beavers Loop trail on site of the popular Arapahoe Basin Ski Area outside of Denver, CO glides effortlessly through small scree fields.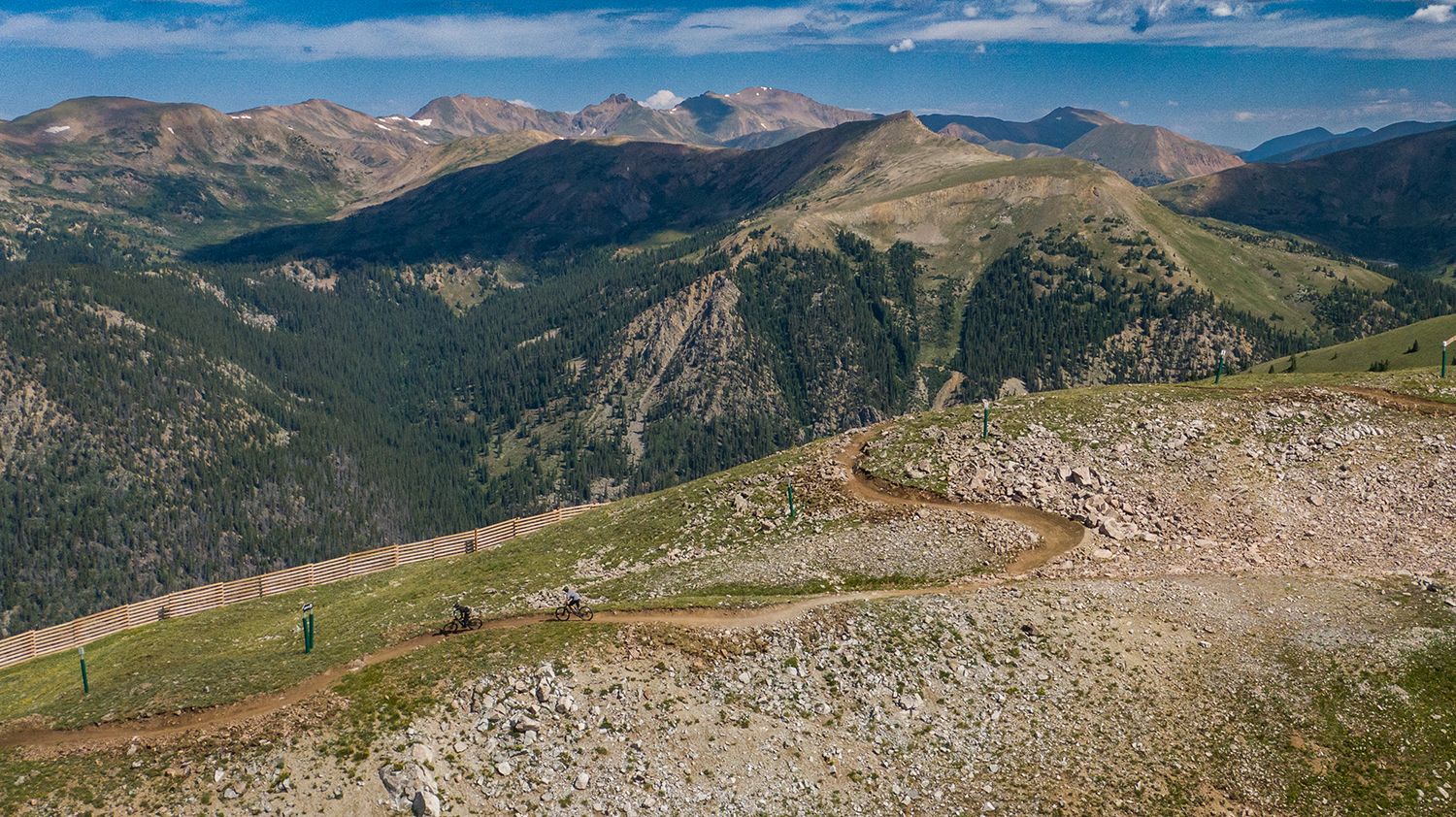 Its switchbacks expertly dodge key tufts of high alpine wildflowers, wildflowers that brace against the relentless winds that blow through the Rockies.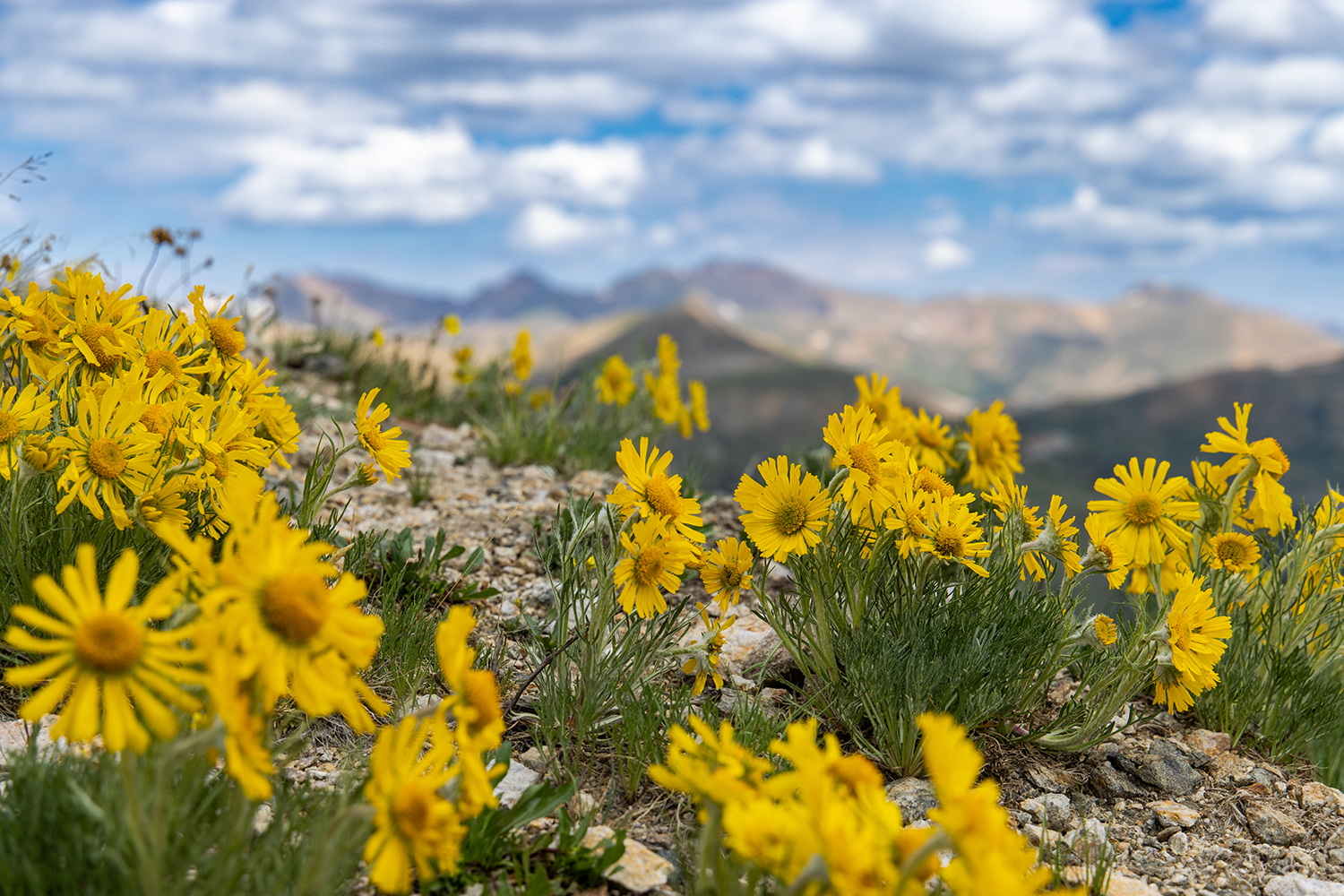 Sometimes, if you listen close, you'll catch the mewing of hidden Pika, the primary "predator" of these wildflowers. Their siren calls echo in random patterns, carried away by the swelling crunch of knobby tires sure to be rolling as this sentence is being completed.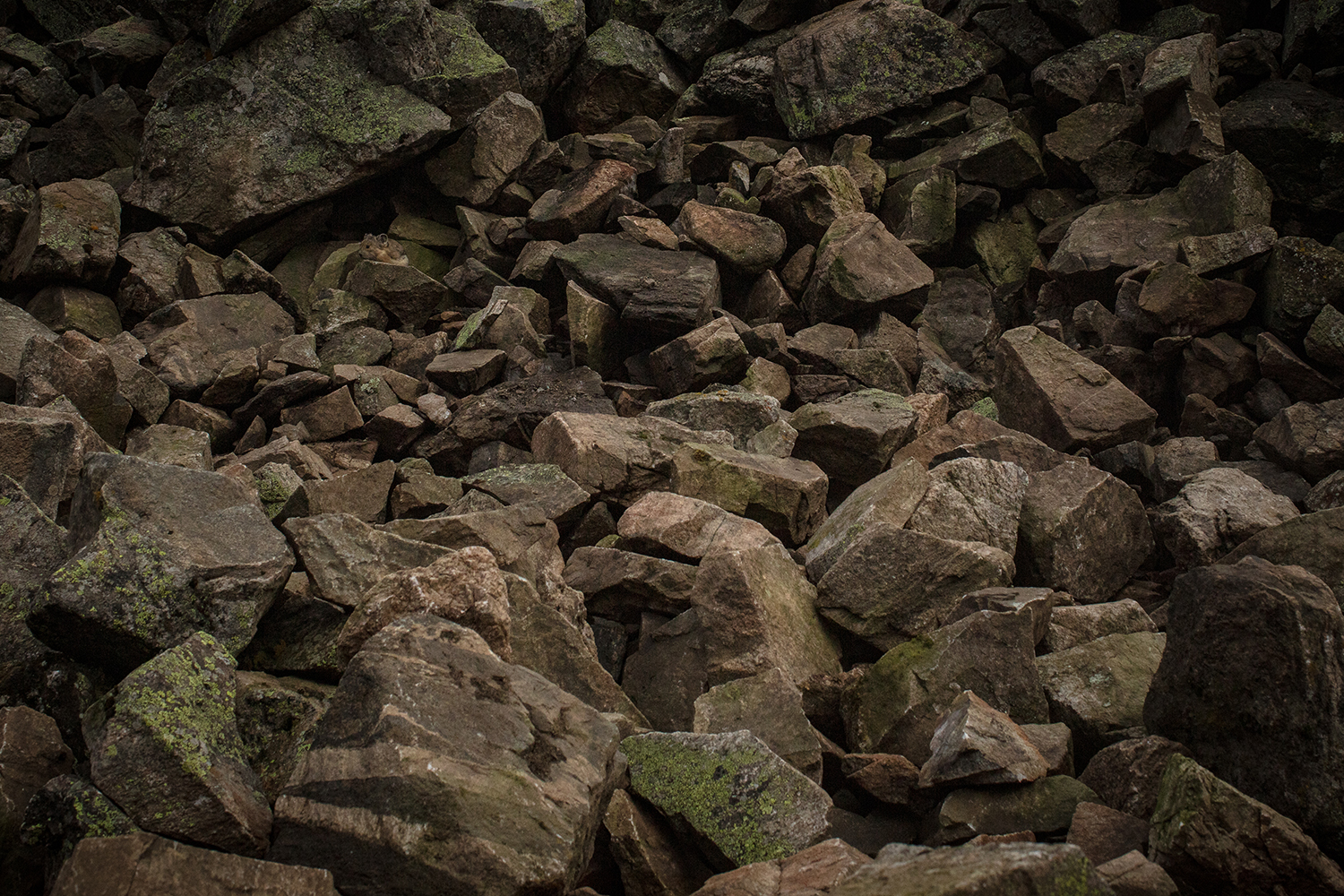 The Beavers Loop, after its completion in Fall 2023 by IMBA Trail Solutions, is now open for bikes.
For generations, mountain bikers have used A-Basin as access to the iconic Lenawee Trail. This signaled to Louis Skowyra, Arapahoe Basin's Director of Mountain Operation, that a built-in usership existed for more mountain bike-specific trails on the mountain. "We decided that we wanted to create trails on the front side that were fun, flowy, modestly technical, and finished at the 6th Alley Bar and Grill," explained Louis.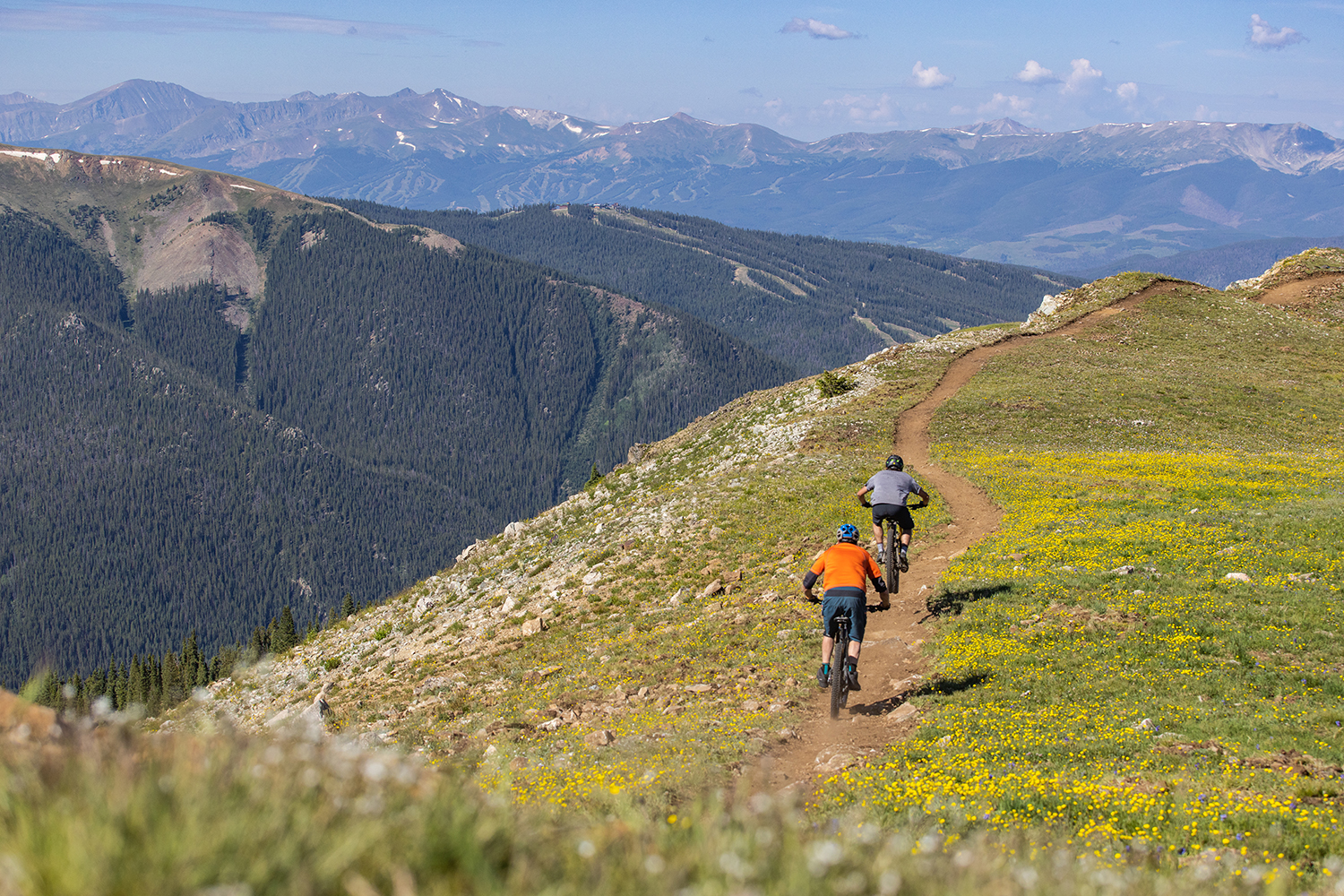 One of the first to see that vision was IMBA's Joey Klein, a former "Atomic Janitor" and patroller at the ski area from 1983-1990. Joey is responsible for countless trail design projects across the world. But his original experiences designing and hand-cutting several trails at nearby Keystone Resort in the mid-90s coupled with his intimate knowledge of Arapahoe Basin made for the perfect recipe to lead the design for The Beavers Loop. Although we mainly find Joey on the road in his trusty blue Toyota Tacoma, he considers A-Basin his home. This affinity for the mountain and his naturally sustainable mindset made way for building in such a delicate environment.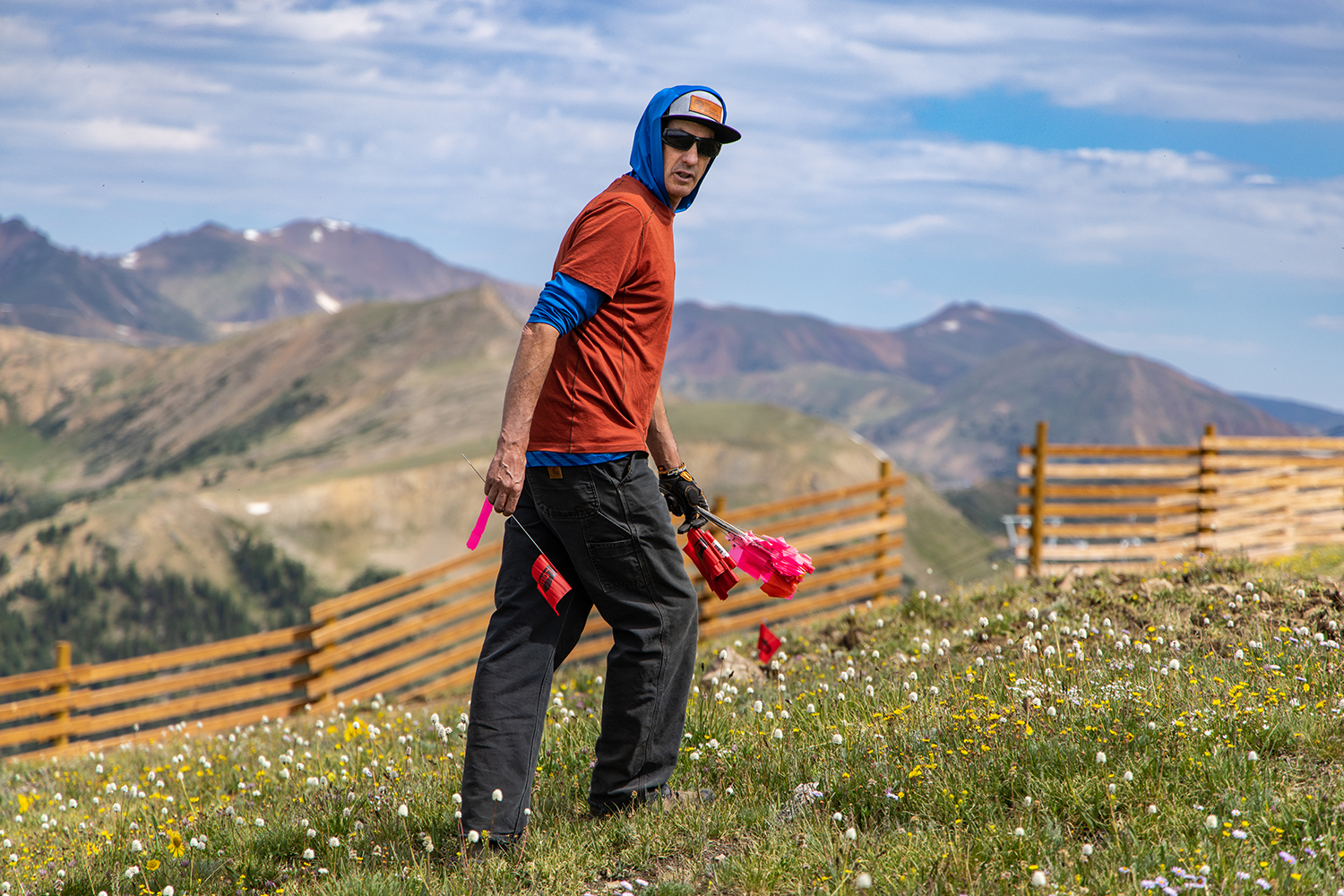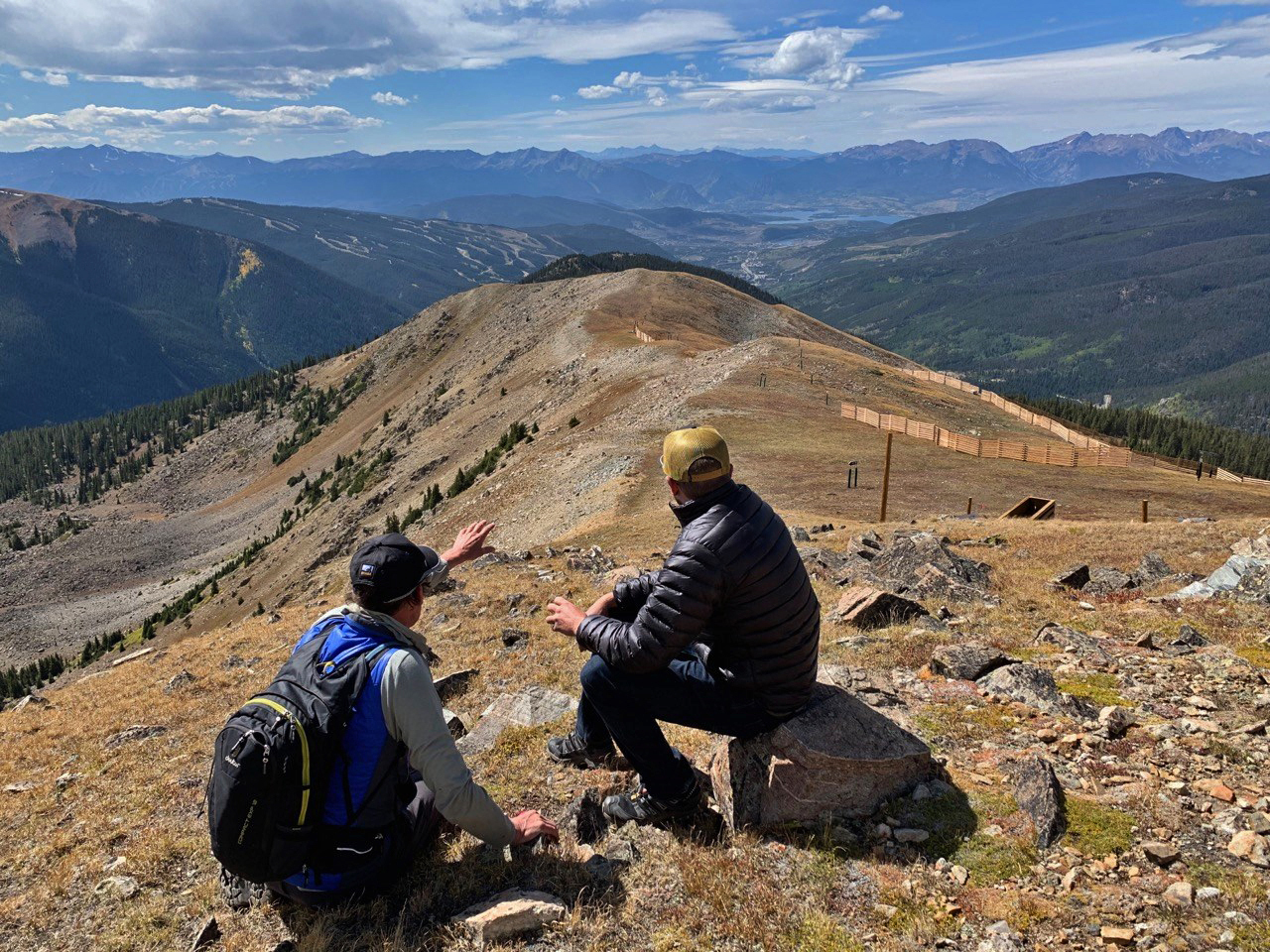 Much of the trail was built by hand, and the machine-built segments were purposely narrow and minimally engineered to preserve the experience. Teams were prepared for long daily commutes to work at high elevations, but they looked forward to the challenge of this high alpine build that included minimizing the "mobe" (moving) of mini excavators and track barrows off-trail and bringing in fuel on two wheels via the trail the day before. "This is for sure the highest machine-built trail for IMBA Trail Solutions," said Josh Olson, IMBA Trail Solutions Director of Construction and Operations, "and it could be claimed that it is the highest built in North America." That point of pride has stuck with the team of builders that have been a part of the construction.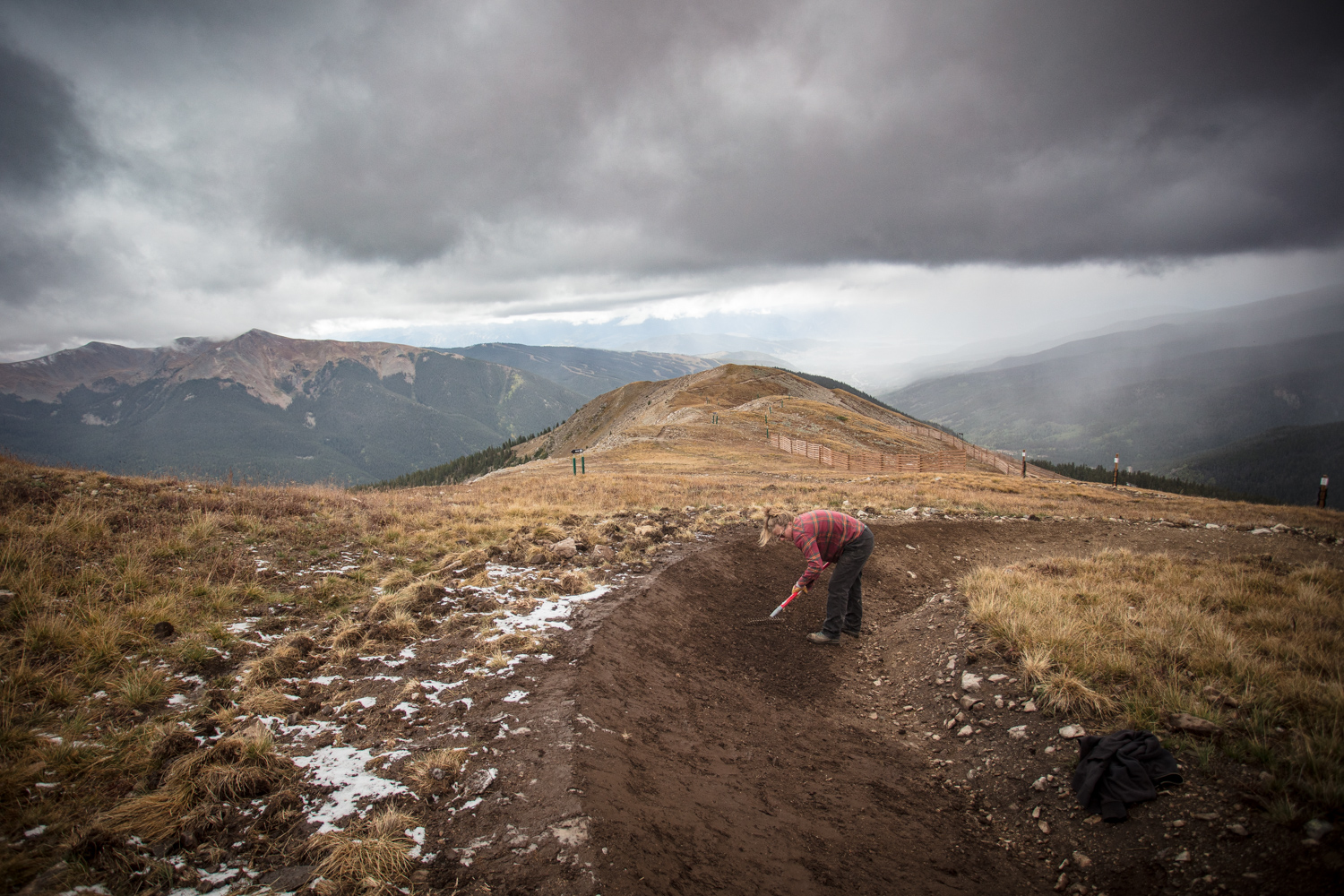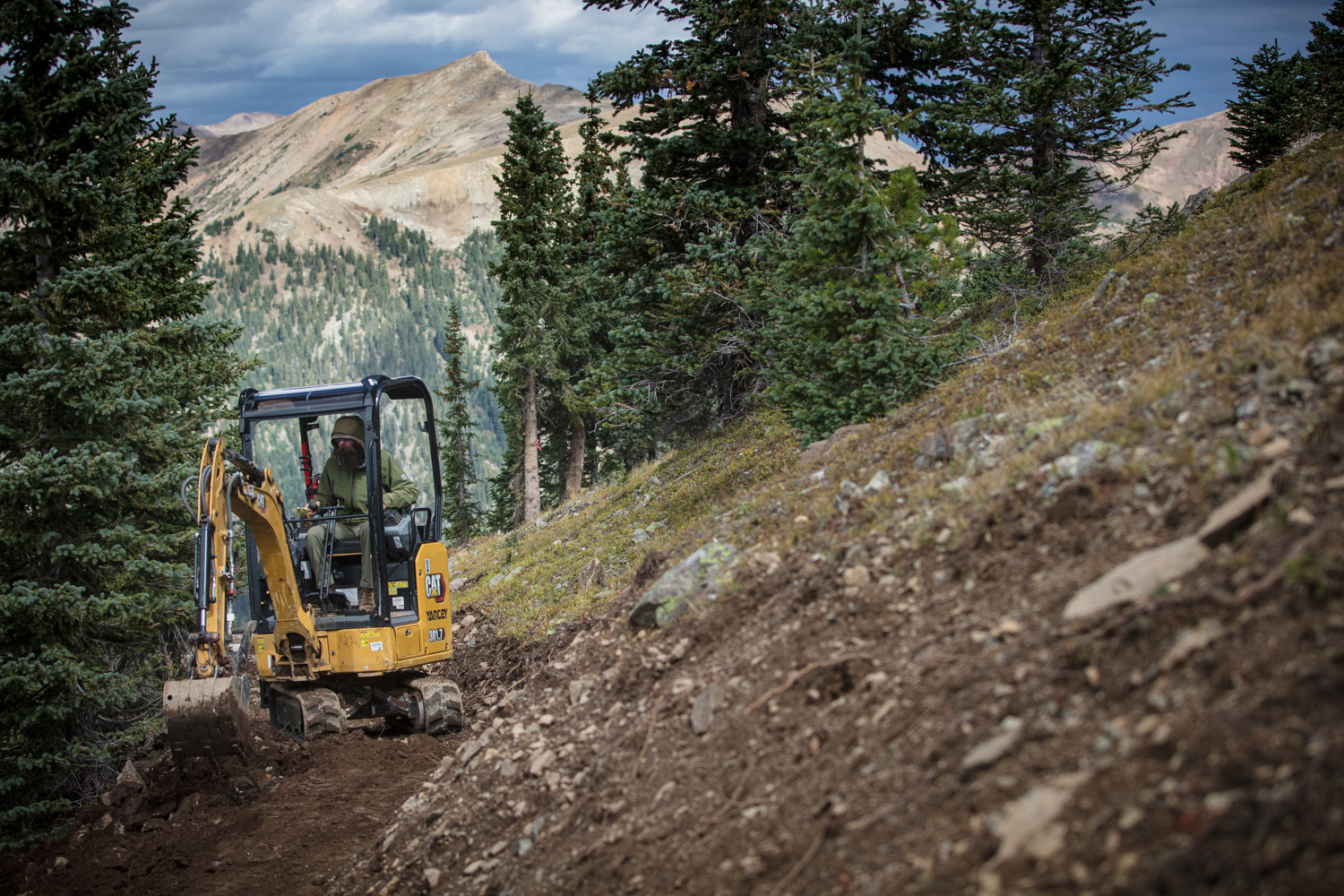 Hand finishing also made for special considerations. The top of the mountain is one of the most delicate and unique places at A-Basin. "Sensitive alpine tundra including rare plants and soils that have taken hundreds of years to develop dominate the landscape," said Trevor Mathes, Arapahoe Basin's Slopes Maintenance Manager and chief trail builder.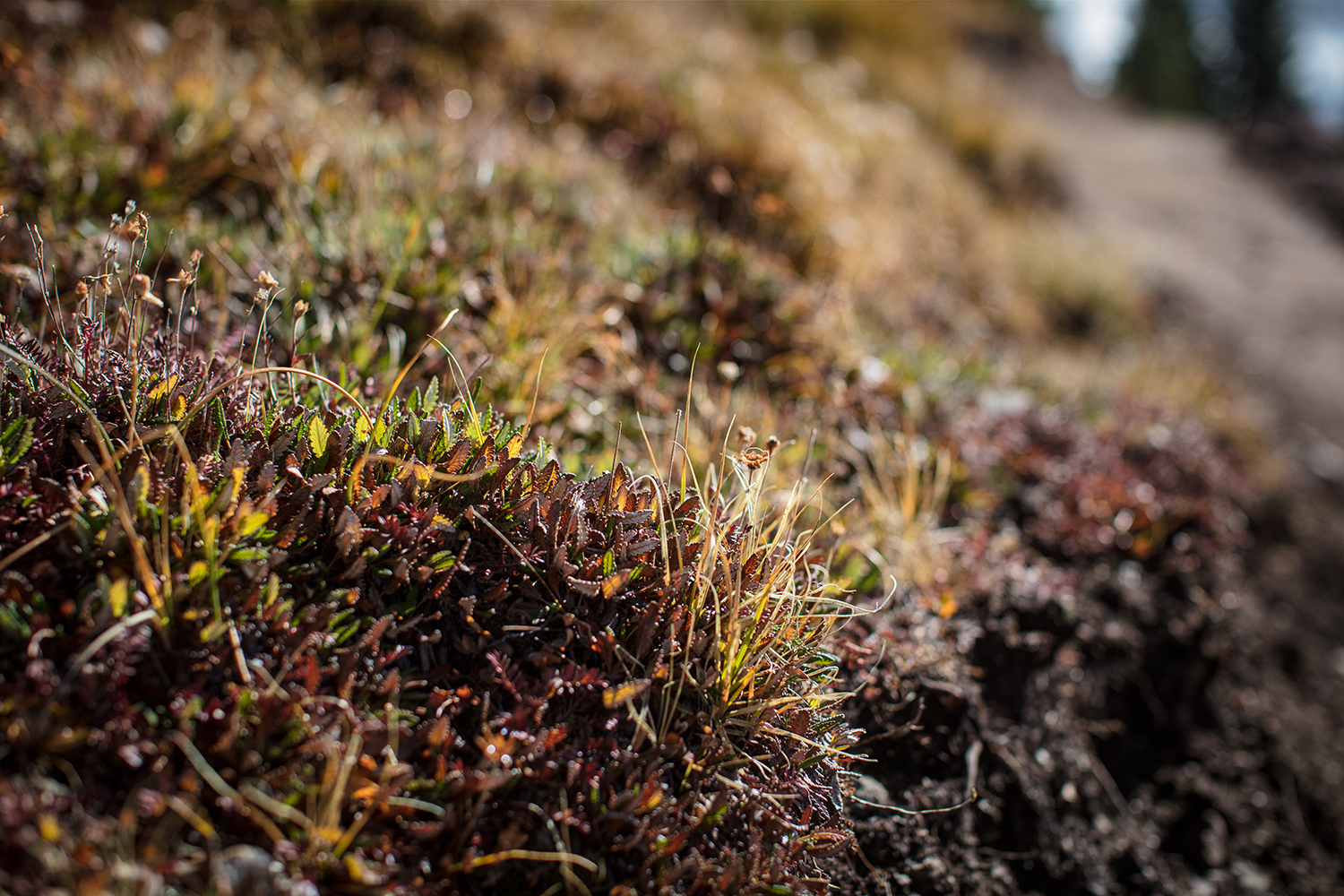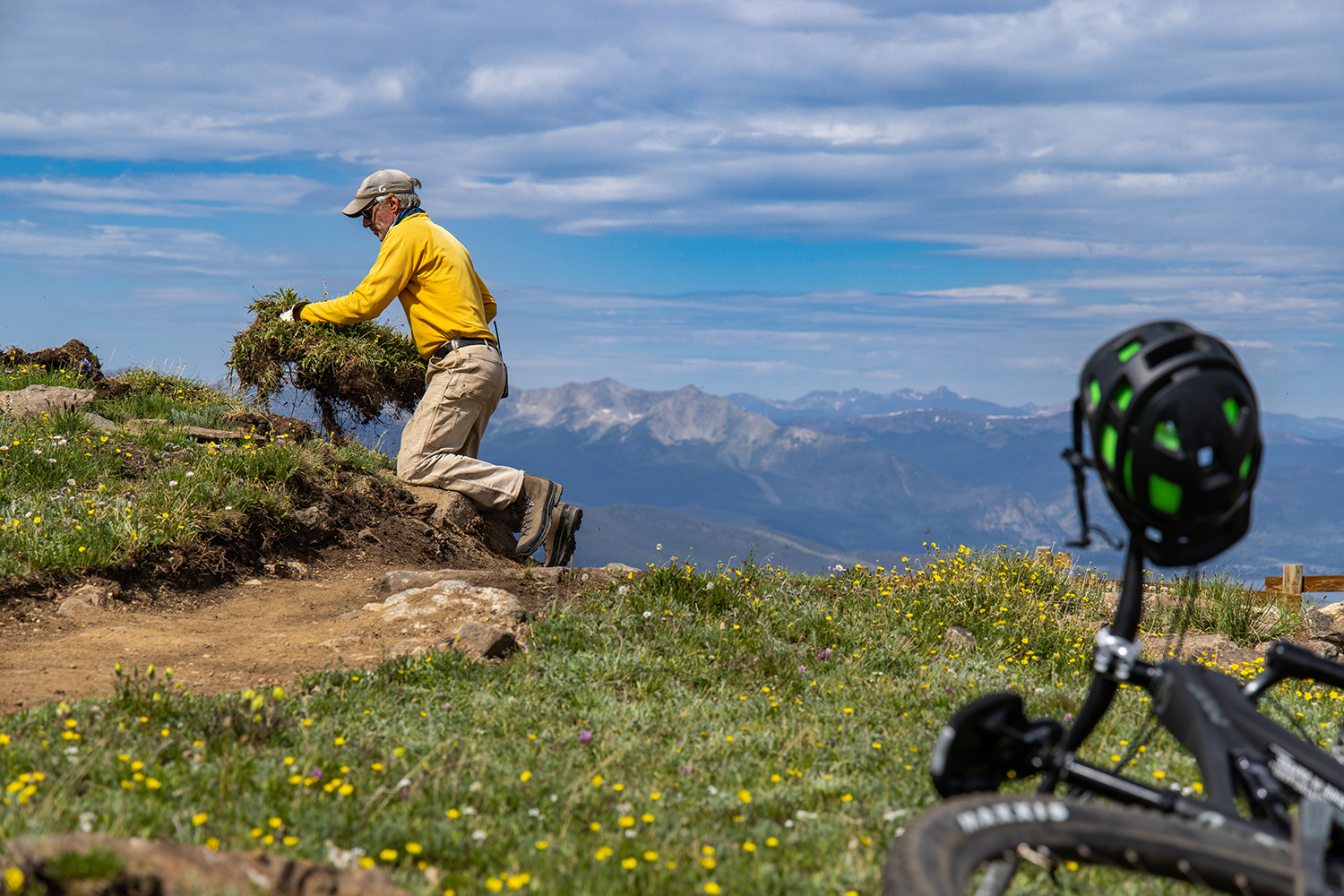 Hand crews used tubs, sleds, and buckets to transport organic pelts and used organic fertilizer to aid in regenerating growth. "[IMBA Trail Solutions] designers were careful to avoid particularly sensitive areas – like seasonal wetlands and small stands of old growth – in their trail layout," added Louis. Crews carefully separated topsoil and tundra plants from excavation areas and preserved the sod layers to expedite revegetation efforts when work was done. Folks also learned to identify and appreciate a plethora of mountain plants and were careful to avoid trampling when traveling to and from work sites.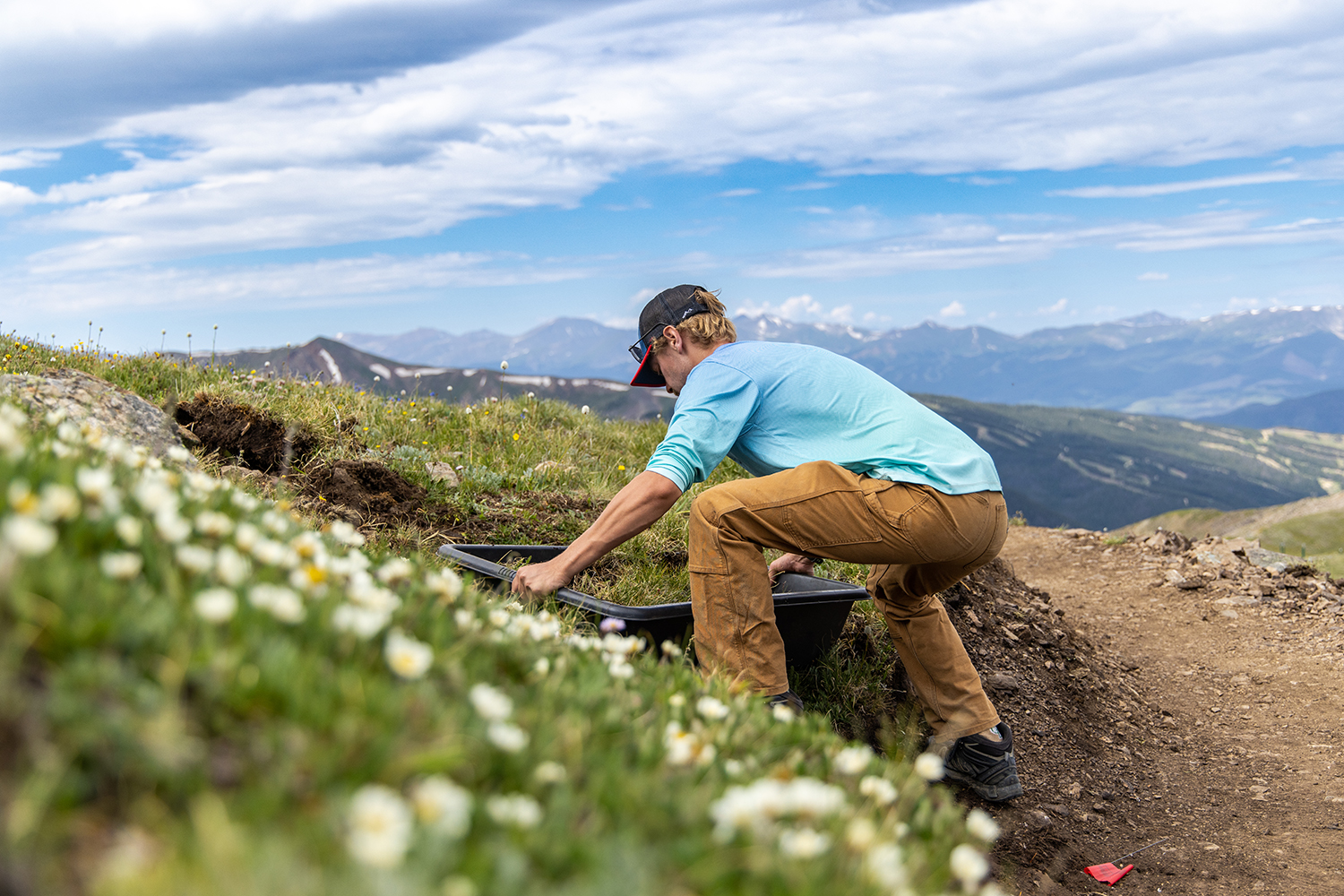 "Being above timberline like this," said Joey, "for three miles [of riding] makes you feel like you're on top of the world." From the vantage point at the Ilrifigo, riders can see Keystone, Breckenridge, Lake Dillion, Grey's Peak and Torrey's Peak as they wind down the 3.3 mile trail that eventually deposits them amongst the evergreens to link up to "Wheels Up," another mountain bike-optimized descent completed by IMBA Trail Solutions and A-Basin crews in fall of 2021.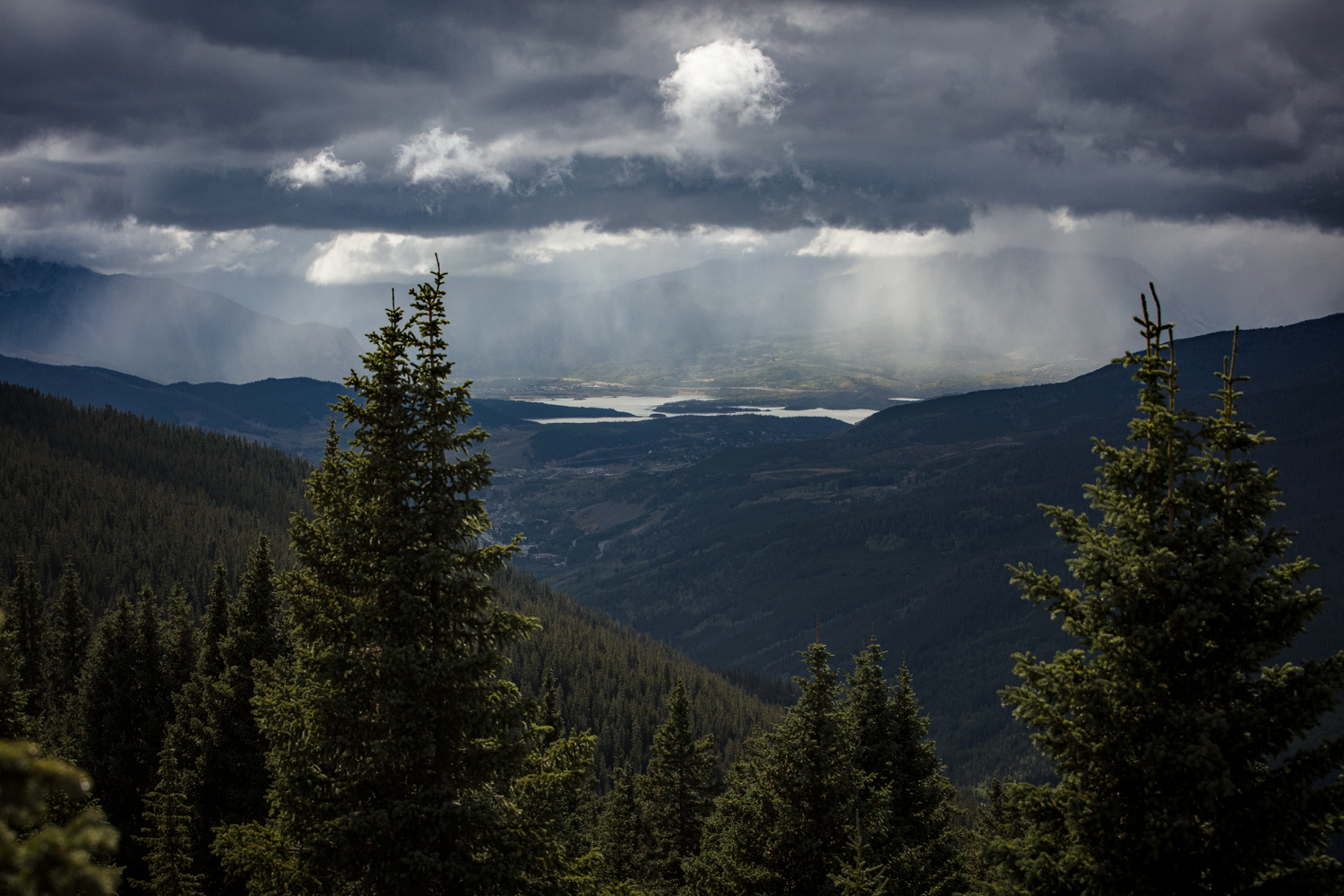 Completing this 5.3 mile, ~1,800-foot descent is only earned through a steep ride up Upper Summer Road…for now. IMBA Trail Solutions planning and design teams continue to work with Arapahoe Basin on future trails, and Trevor's crews that worked hand-in-hand with IMBA Trail Solutions construction teams are starting their independent build of sections of a dedicated climbing trail this summer.
*Note: E-Bikes are not allowed on A-Basin singletrack per U.S Forest Service Regulations. They are not allowed on the Lenawee Trail, either. Guests may ride e-bikes on the summer road. More information about biking at A-Basin.