Remember the IMBA Trail Care Crew of the 90s and early-2000s?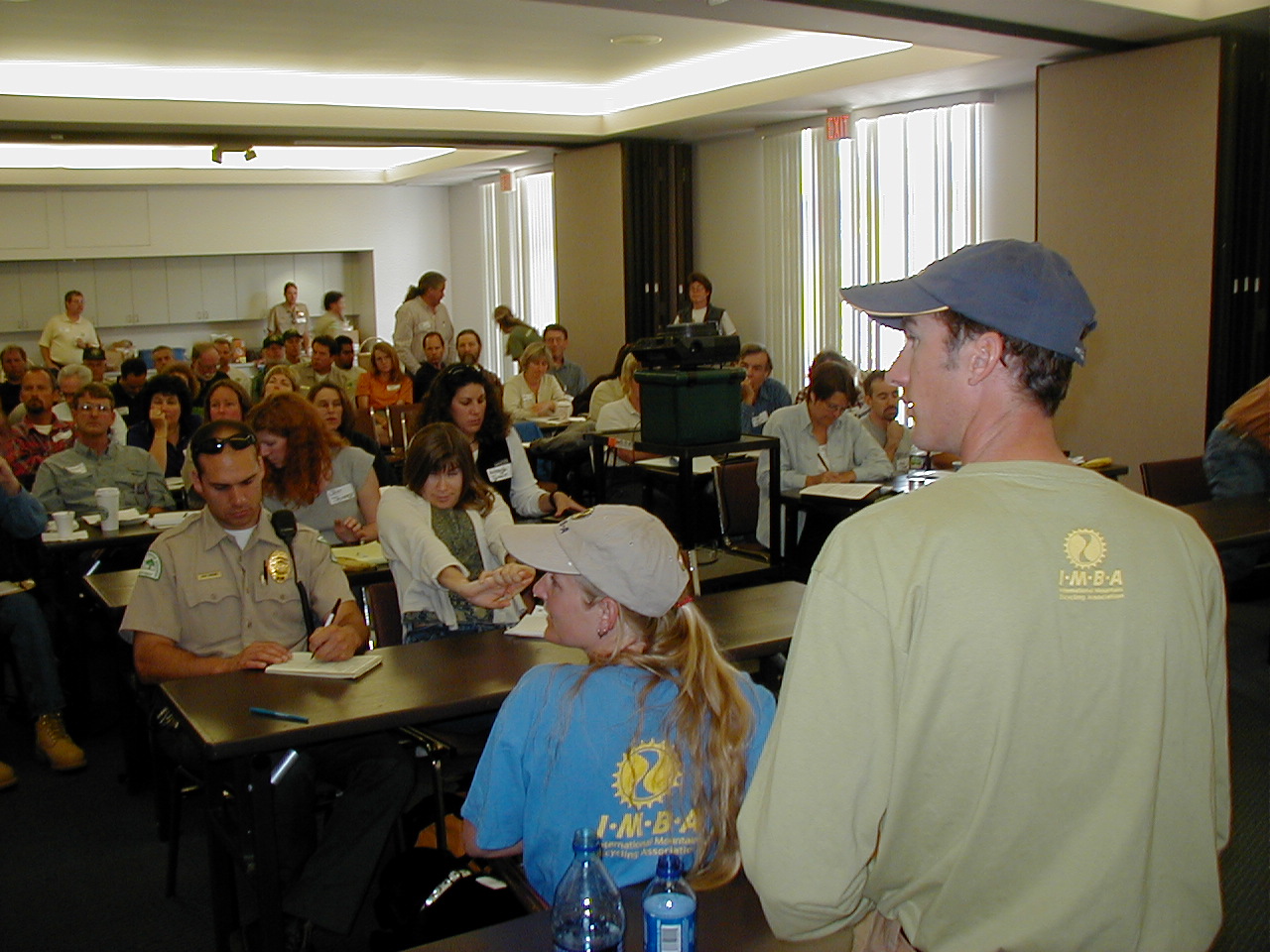 Teams of two traveled around the country and were welcomed into communities hungry for trail stewardship advice and hands-on learning from the likes of Joey Klein, Aaryn Kay, Chris and Leslie Kehmeier, and many more. The hunger for that training hasn't slowed down; instead, it's escalated as mountain biking continues to grow in popularity.
Now, IMBA Trail Care Schools, Trail Management Schools, and Trail Accelerator Workshops are the tools communities are asking for to improve their existing systems, manage steward relationships, and get community buy-in for new trails.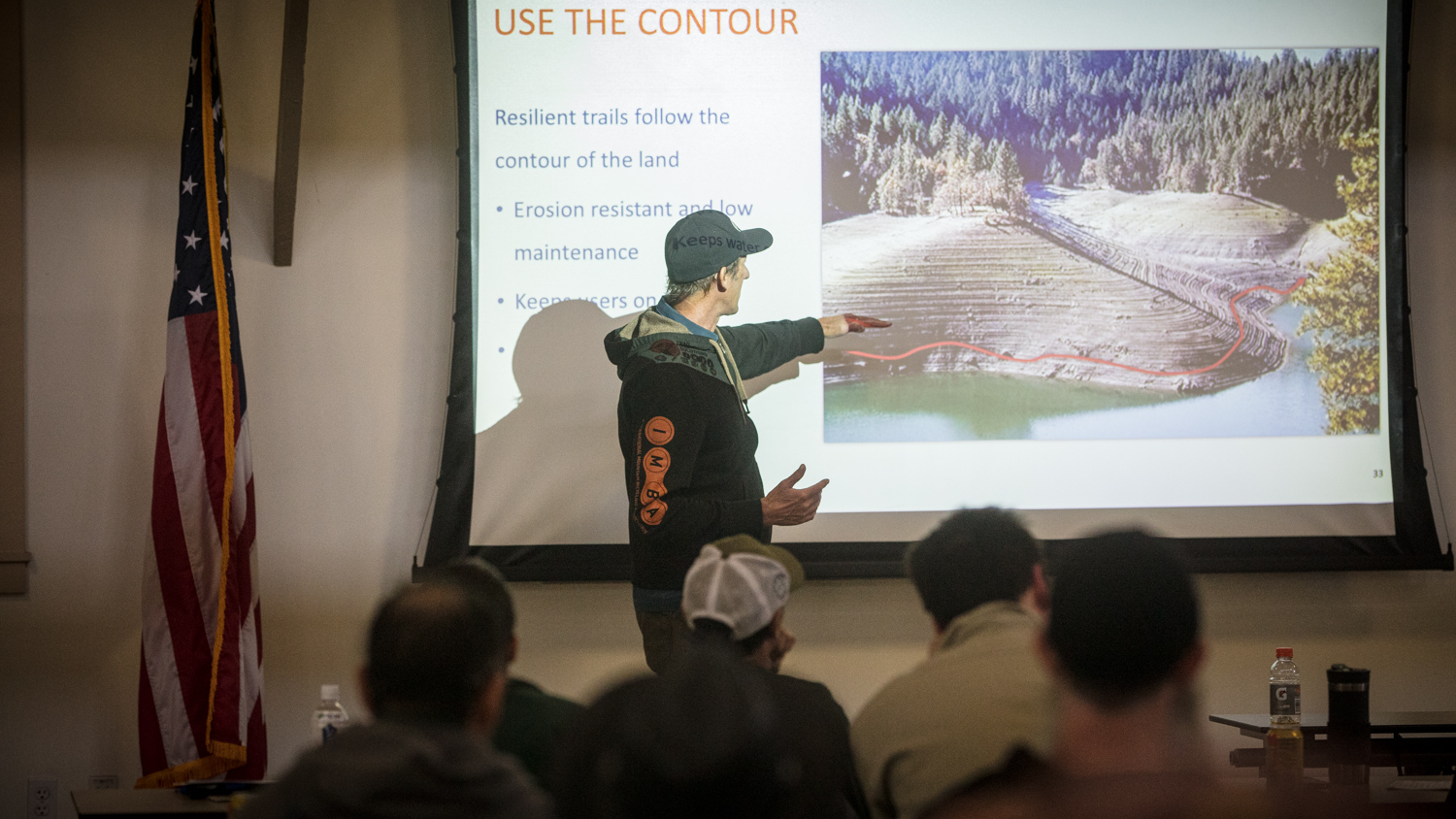 Regarding IMBA Trail Care Schools, not one individual school is the same. In fact, each one is tailored to the needs of the community that has requested it.
Jump to section:
The trails in the Angeles National Forest, just north of Los Angeles, California, were due for a dose of this stewardship training as their volunteer base has expanded since their previous workshop in 2018. Earlier this year, these groups came together to learn from Garrett Villanueva, Chris Orr, Joey Klein, and the leadership of Mt. Wilson Mountain Bicycling Association (MWBA), LoweLifes' Respectable Citizens' Club and Concerned Off-Road Bicyclists Association (CORBA). These groups expanded their knowledge base and leadership potential through the Angeles National Forest Trail Stewardship Summit.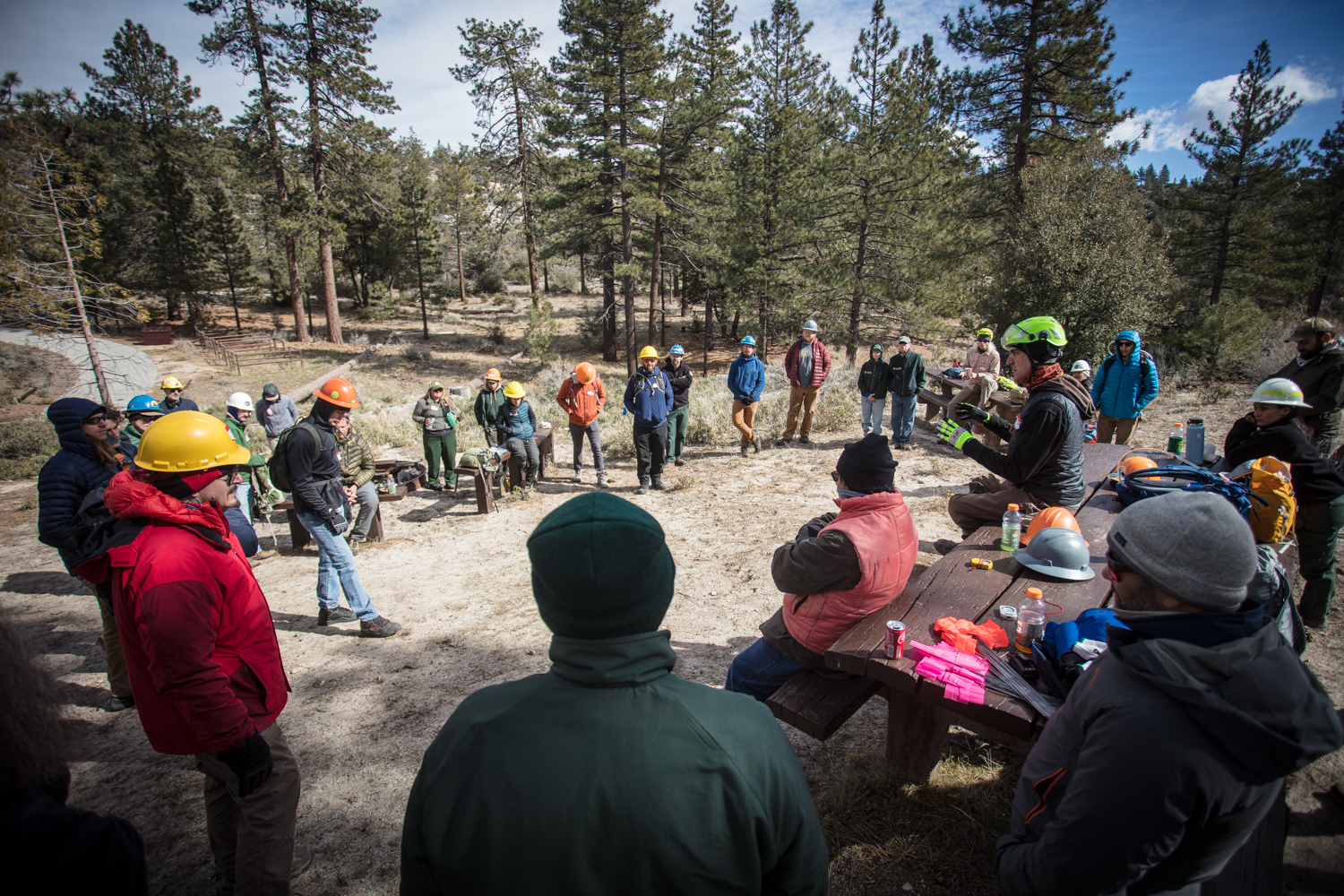 What does a typical timeline of an IMBA Trail Care School look like? Schools involve netting funding, working with the IMBA team on an assessment, hosting a classroom session, and a day of field work.
FUNDING
Like trails, IMBA Education funding can come from many sources. Some use Recreational Trail Program (RTP) grants, some are fundraised, some are privately funded, and others are combinations of these and more. For the Angeles National Forest Trails Stewardship Summit, these trainings were paid for with a challenge cost-share assistance agreement between the Angeles National Forest and the Mt. Wilson Mountain Bicycling Association - an example of how organizations can collaborate with their local land manager to create opportunity. Additionally, in California, IMBA and the U.S. Forest Service Region 5 Trails Program have a challenge cost-share agreement in which a requesting Forest can provide these workshops at no cost to its staff and partners.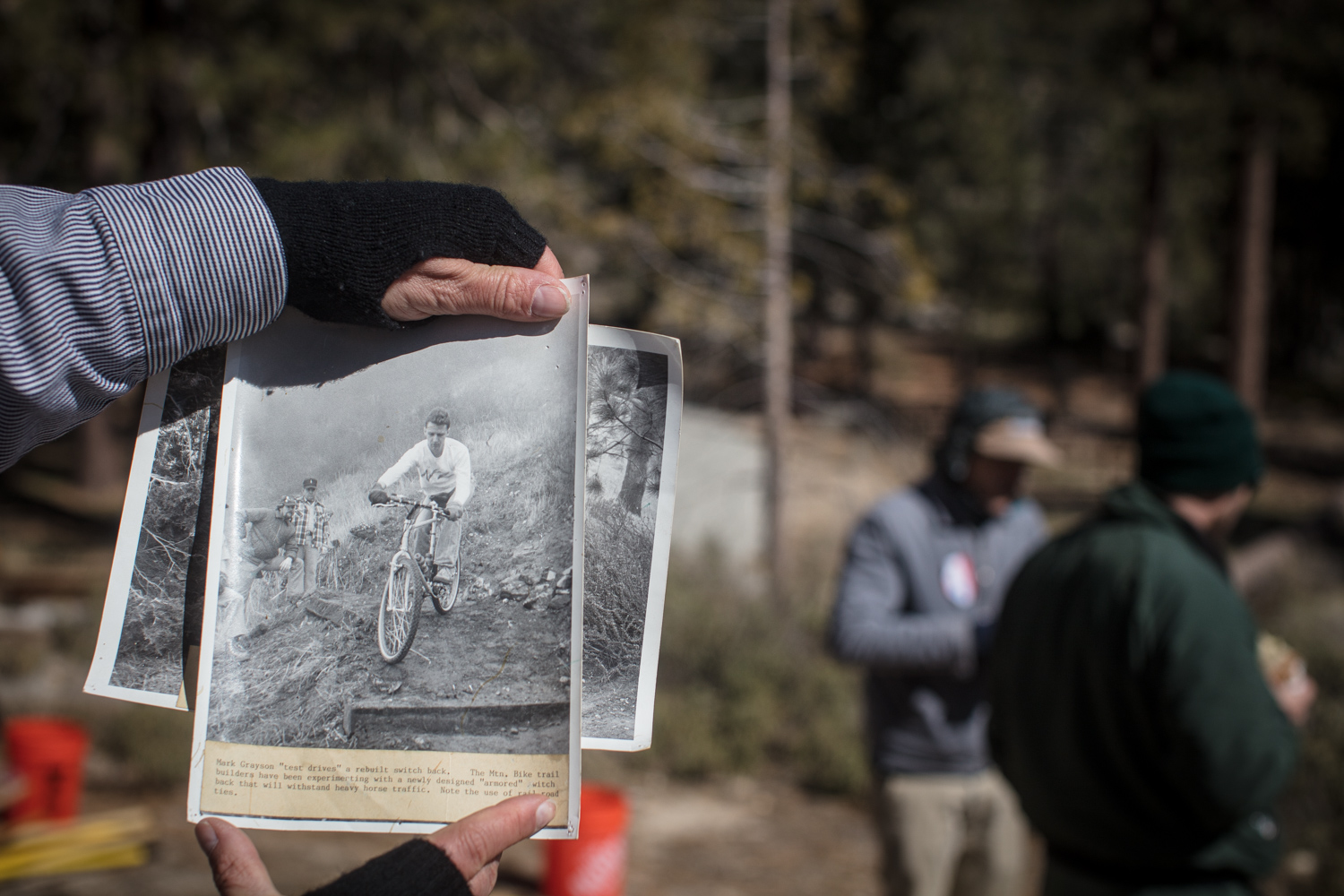 "The purpose behind these agreements is to support the forests with their greatest trail challenges. We want to be able to bring the forest staff and the partners out with us to come up with solutions together," explained Garrett Villaneuva, U.S. Forest Service Trail and Travel Management Program Manager. Because of this agreement, participating Forests and its stewards are eligible for this training at no cost to the partners. "Not only are we fixing a difficult trail problem [during these workshops], but we're also bringing others along with us to develop their skills to improve our trail systems independently and train others in the future."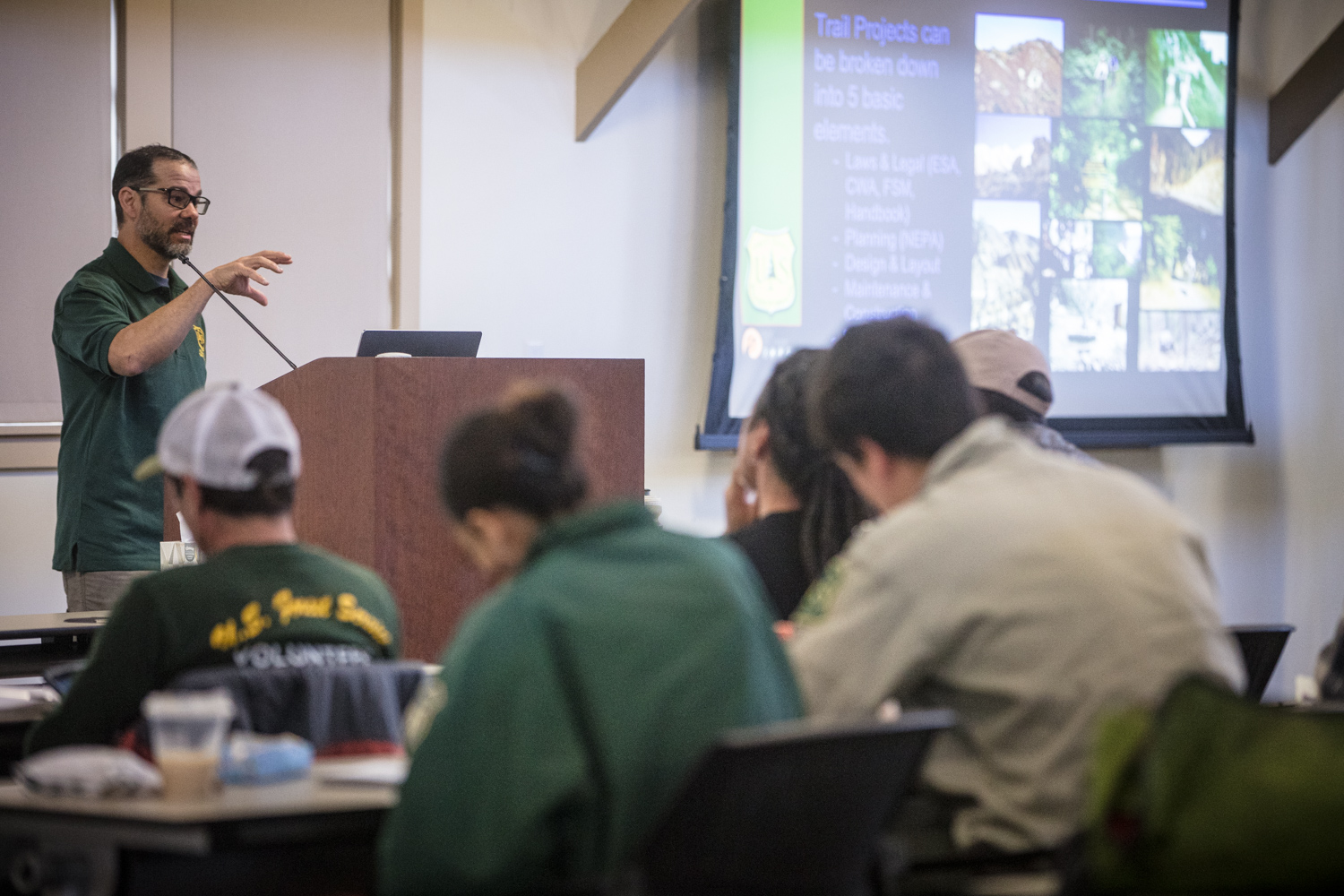 ASSESSMENT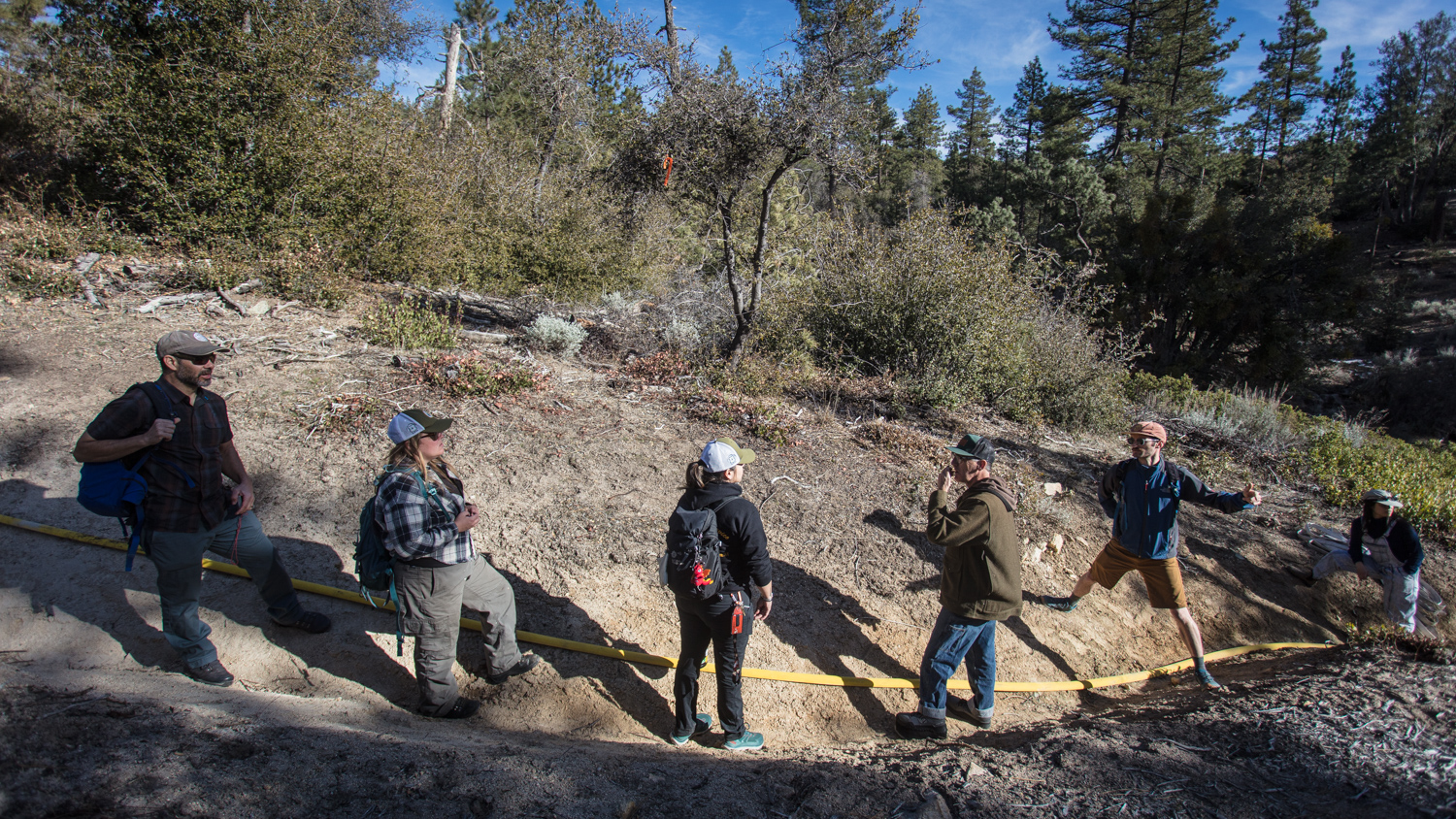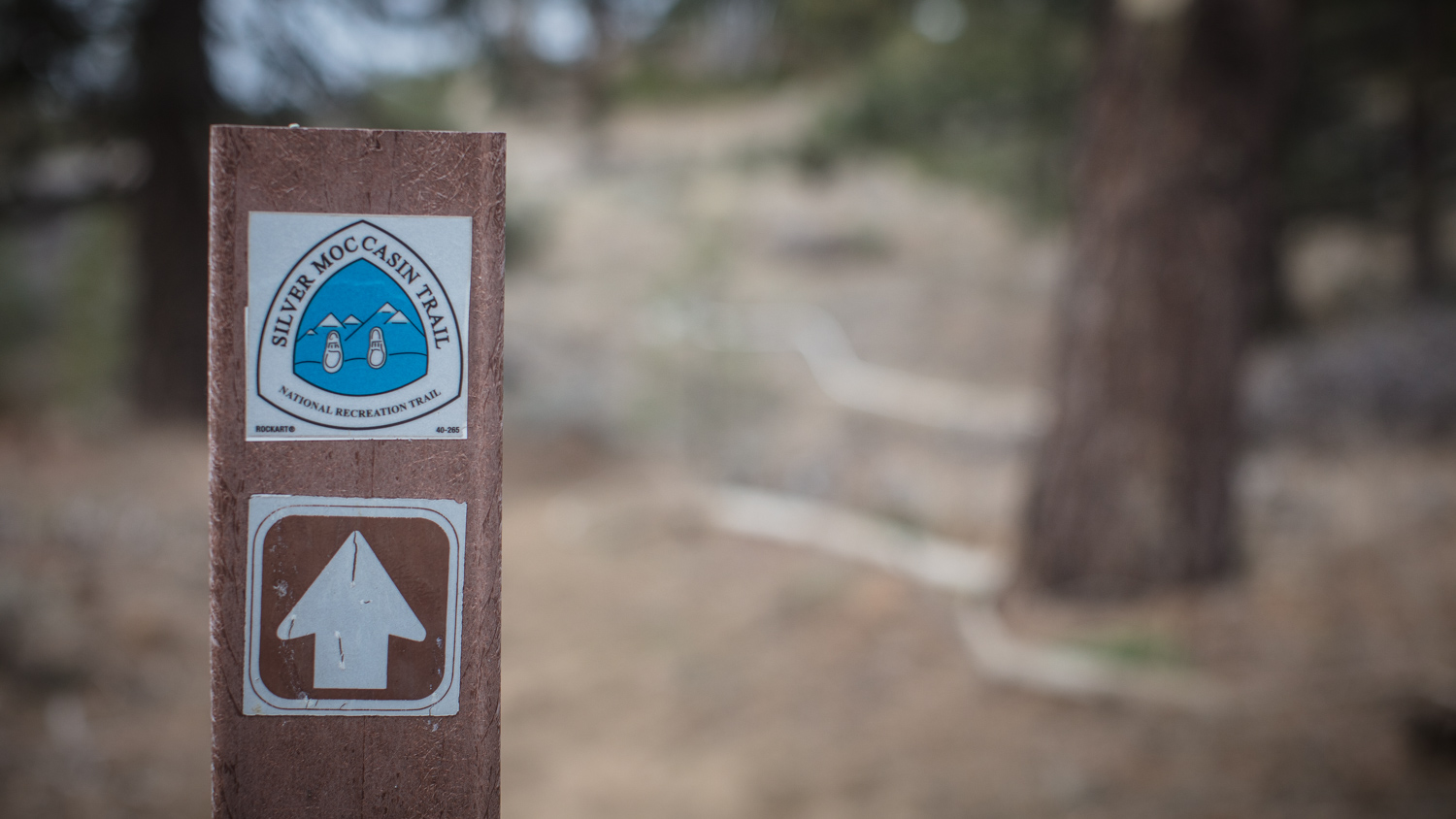 One-to-two days before the presentations are delivered and hand tools are distributed, IMBA Community Engagement Coordinators Chris Orr and Joey Klein ground-truth the area that's of interest to the community. In this case, the Silver Mocassin National Recreation Trail was the ideal candidate for care. At 5800' above sea level, this 13.2-mile trail in the San Gabriel Mountains had fallen victim to intense water drainage issues due to extreme weather events that have plagued California in recent years. Alongside MWBA President Jay Marion, MWBA Vice President Ester Song, USFS leadership and new hires, Garrett, Chris and Joey walked sections of Silver Moccasin discussing what sections would make for solid areas for teams of stewards working together.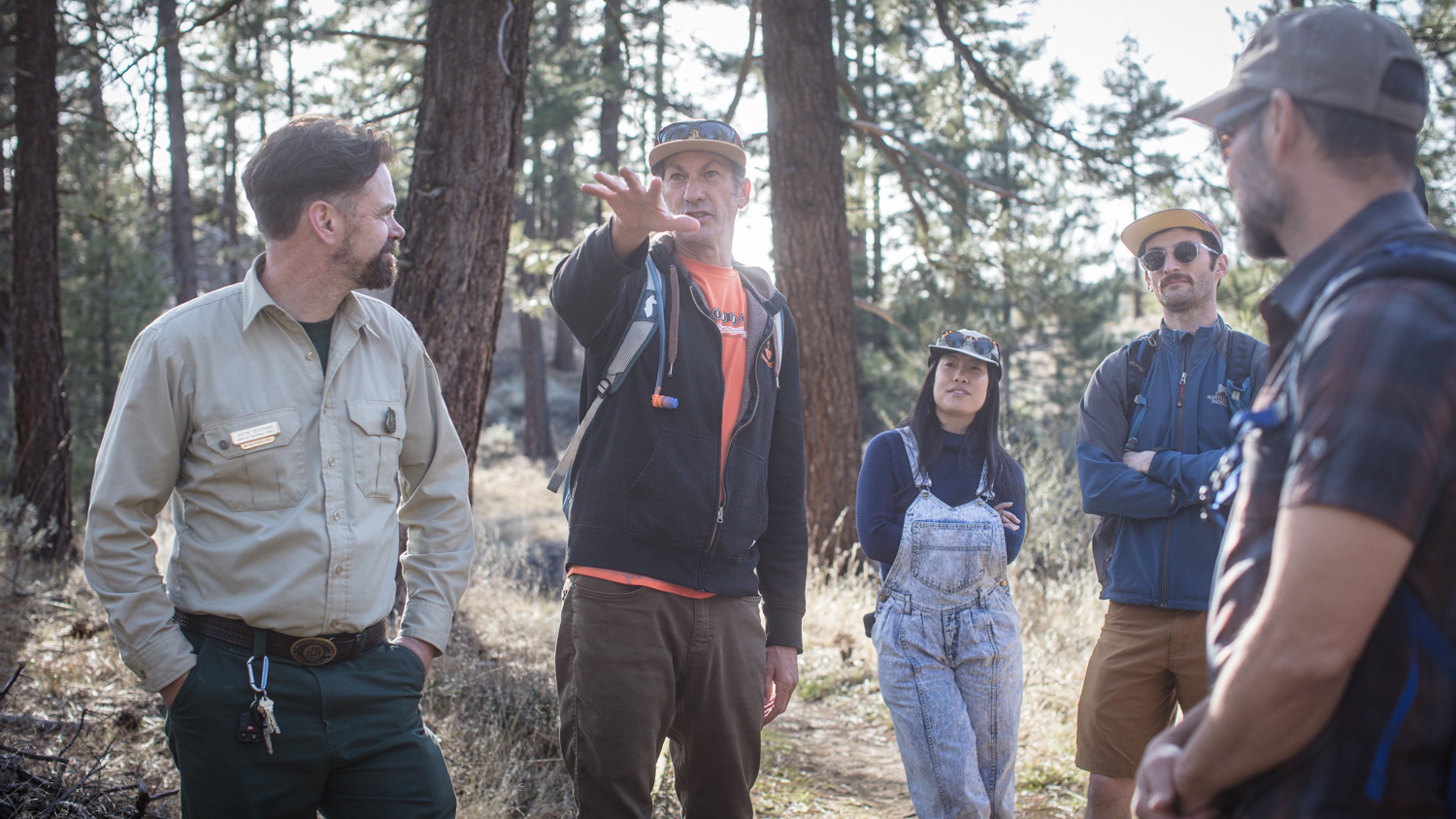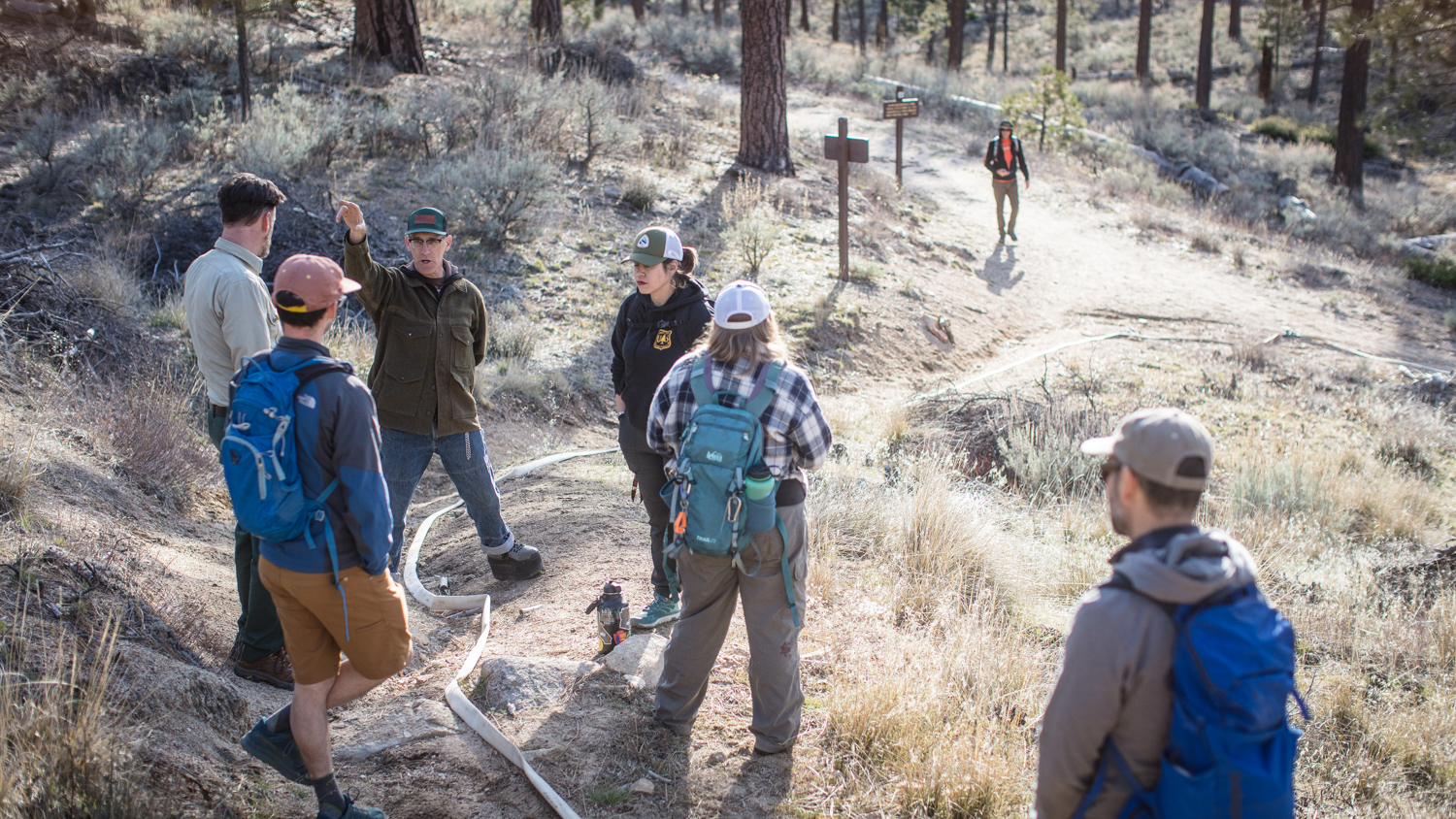 Pro-tip: Does a community have to know what particular trail they'd like assessed and worked on? Not exactly. Having some identified ahead of time are helpful and discussed in the weeks leading up to the school, but some trails eligible for care aren't firmed up until the assessment itself. In instances like these, assessing via two-wheels is preferred so that more ground can be covered.
CLASSROOM
"It's been nice to have people back together again in the same room after years of so much virtual and not being able to make those human connections – it's important to us as public servants to stay connected to the people that we're here to serve," said Justin Seastrand, U.S. Forest Service Public Services Staff Officer.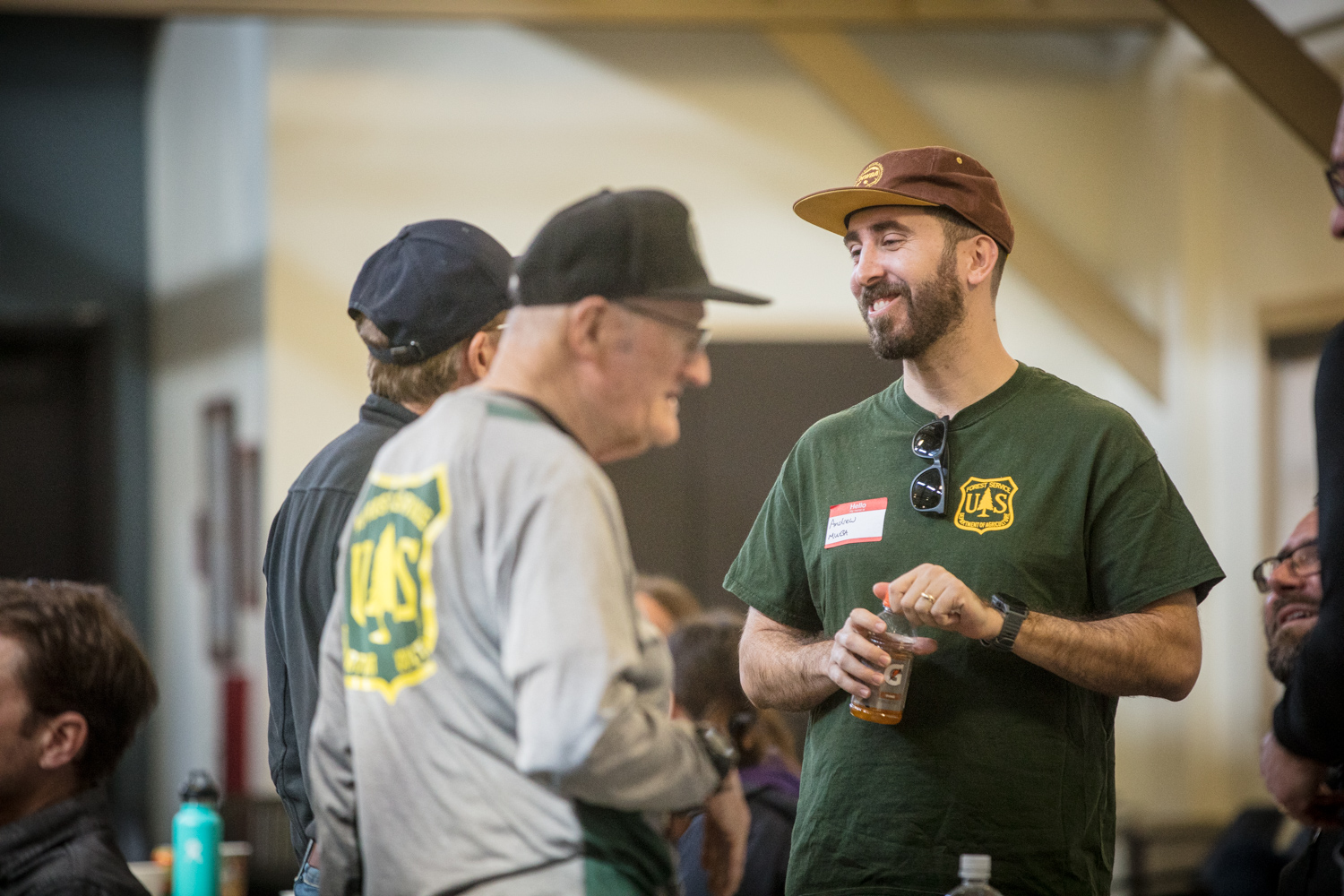 Held at the Angeles National Forest headquarters in Arcadia, CA, more than 50 stewards came together on a Saturday morning to learn what makes trails sustainable. The session opened with an Aldo Leopold quote: "A thing is right when it tends to preserve the integrity, stability, and beauty of the biotic community. It is wrong when it tends otherwise." This wisdom set the tone for the rest of the full day of class time.
Sustainable trail techniques, including lift and tilt, drainage dips and knicks, and other ironclad ideas were presented and reinforced with photo examples during the one-day classroom portion of the Trail Care School. "A lot of the people who attended in 2018 have upped their game and can identify/assess much more confidently than before," added Garrett. Those with this prior knowledge stimulated great conversation between presentations for new stewards which allowed for more in-depth discussions on those key trail triage topics and techniques.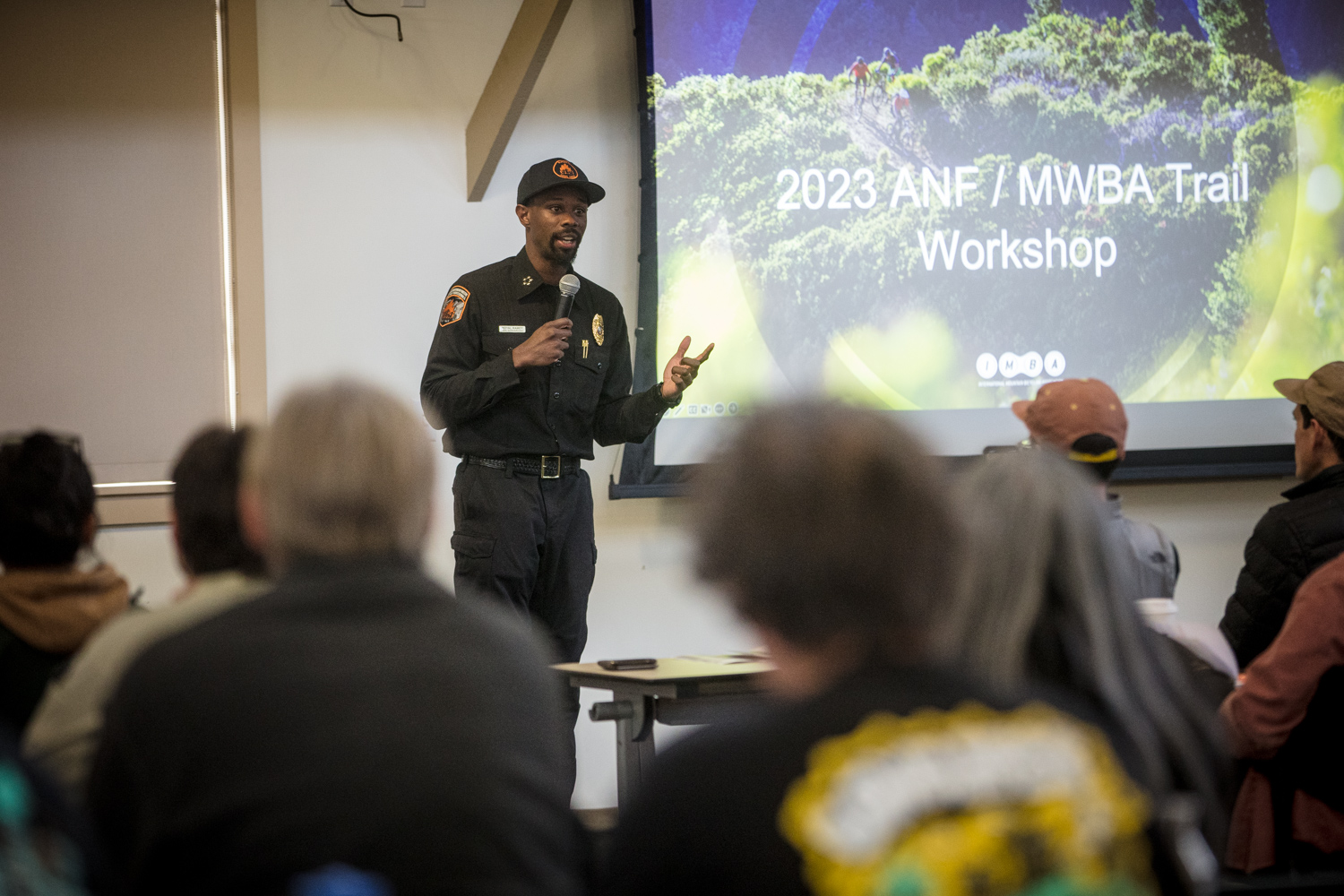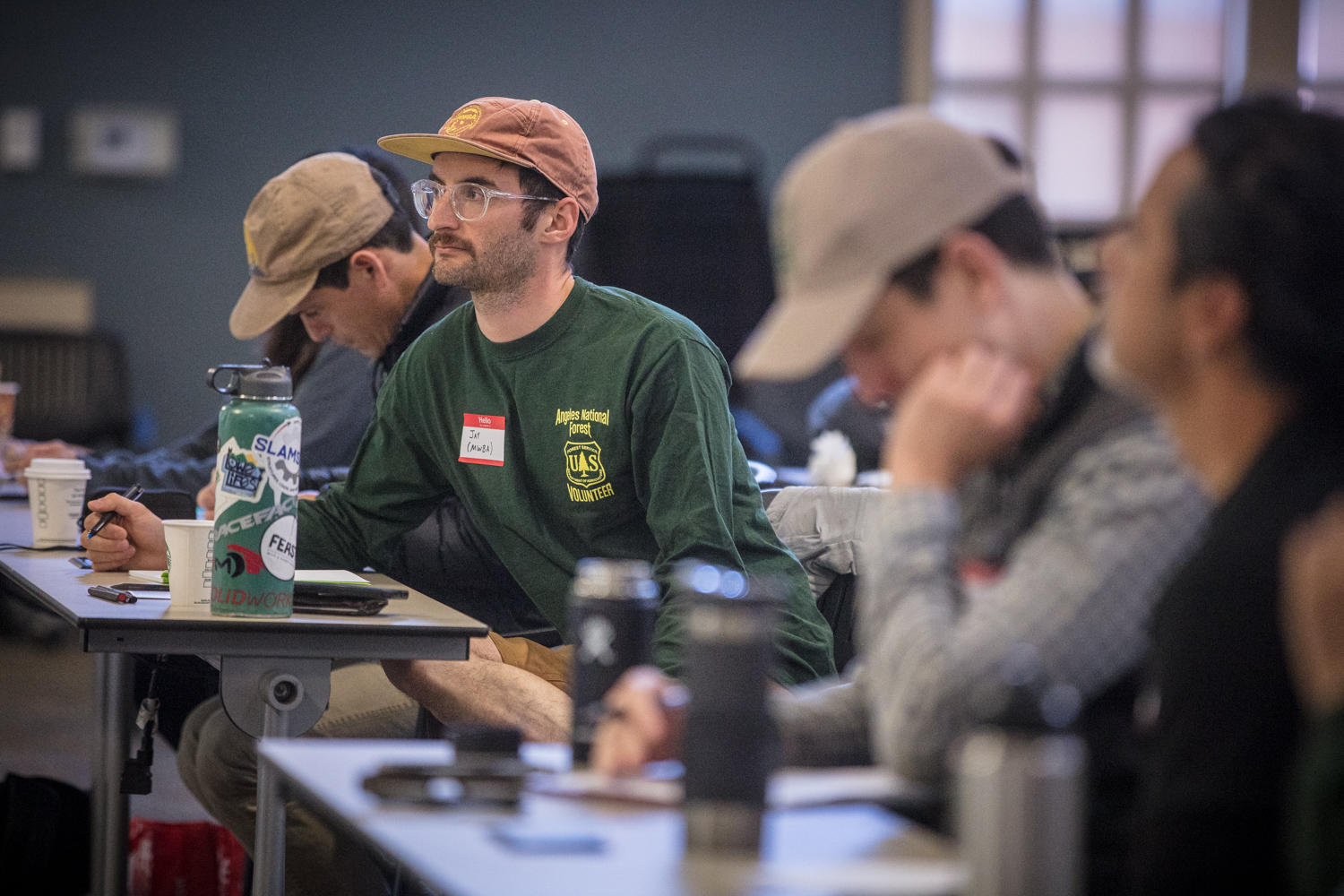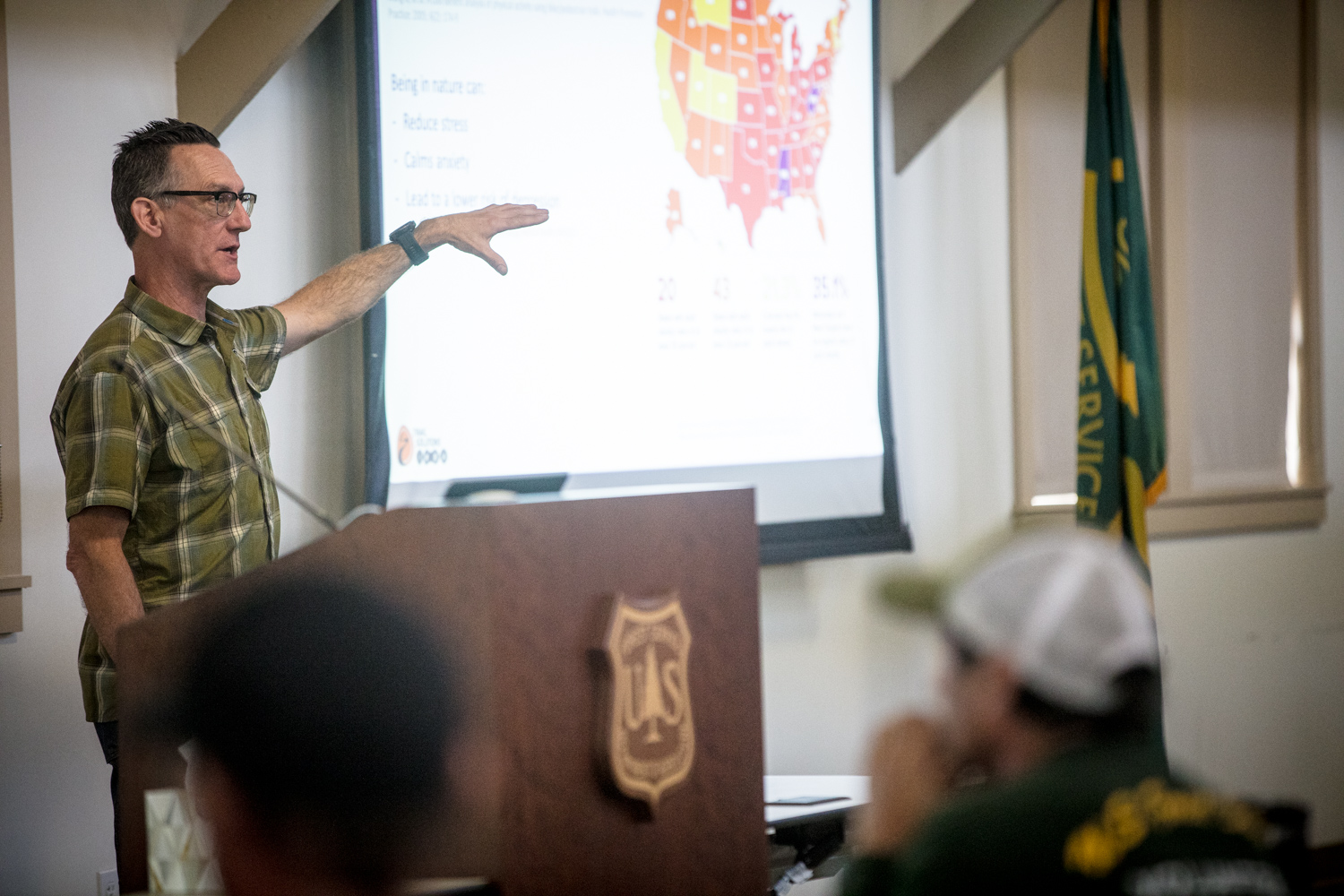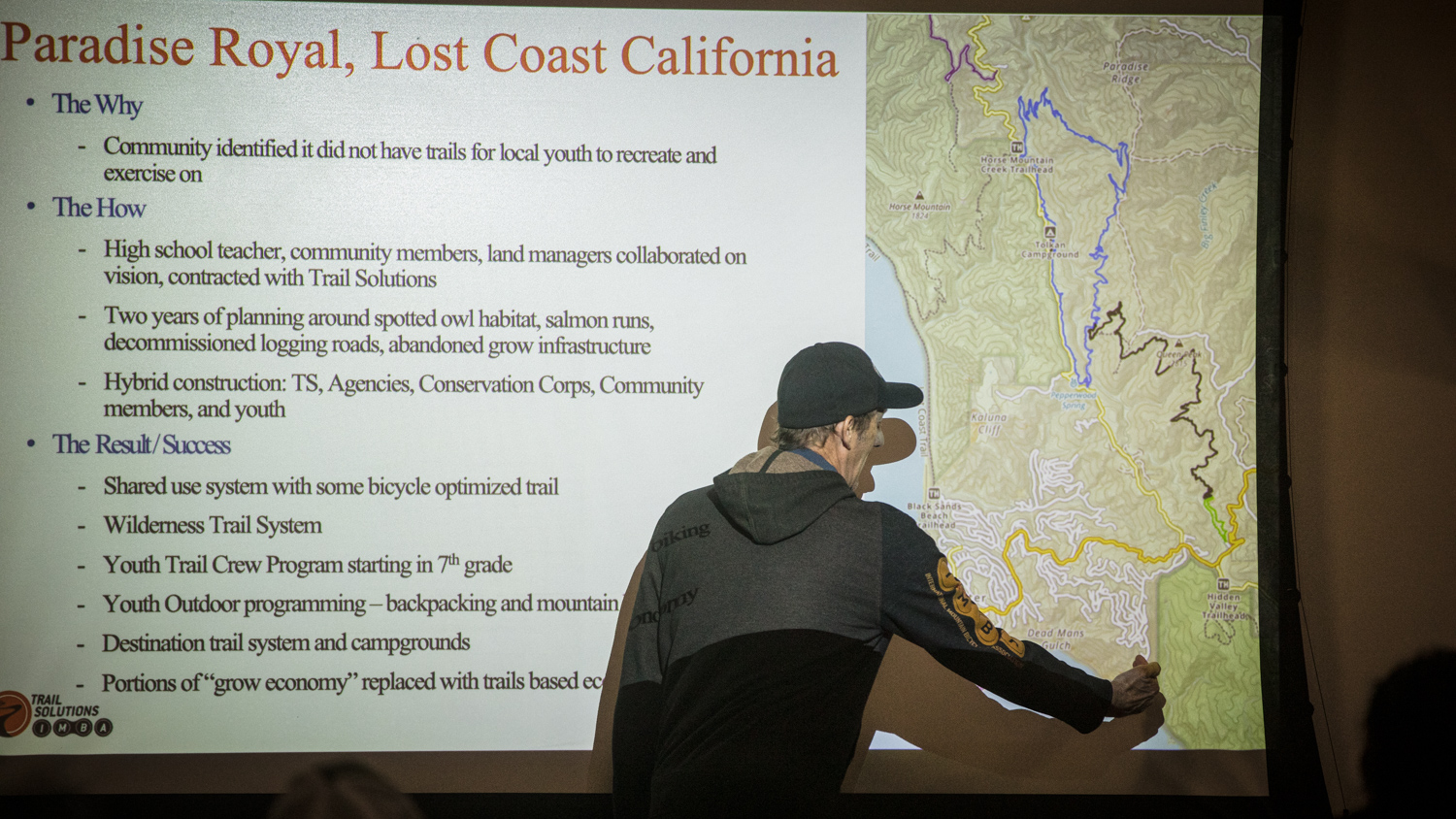 While Chris gave an overview of trail user experiences that got participants in the trail mindset and showed visual examples of before/afters, Joey told stories from the field where bike-optimized trails have resulted in multi-level successes in different communities.
FIELDWORK
"Most of the trails in this forest are over 100 years old or more – these are mostly legacy trails in some of the steepest terrain in the world," said Steve Messer, President of CORBA.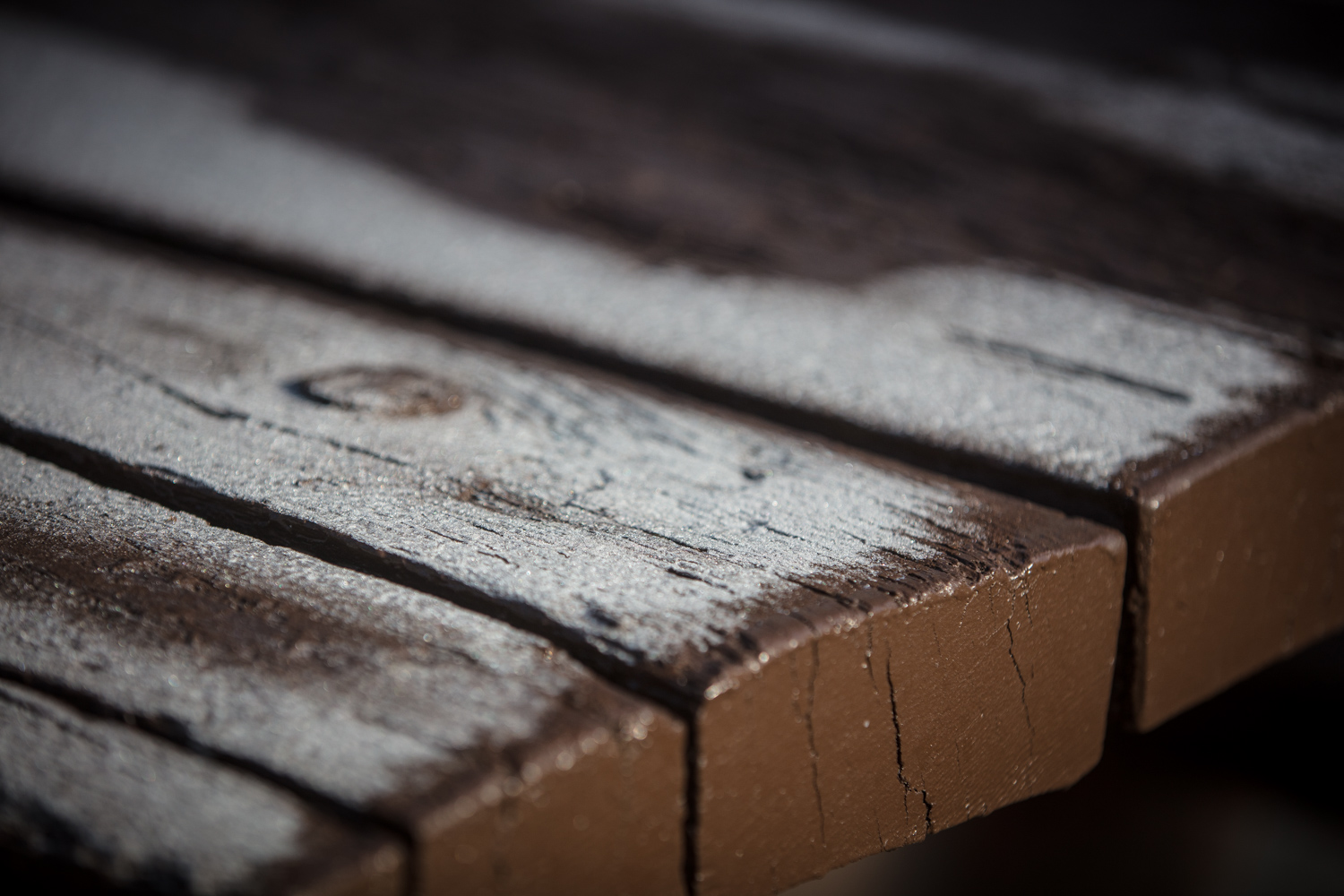 Early Sunday morning as participants made the winding hour-plus long drive up the Angeles Crest Highway to the Bandido Group Campground, deep frost had collected on the picnic benches that dotted the grounds. At 26°, toasted bagels and hot coffee were welcomed creature comforts as Jay, Chris, Joey, and Garrett led the safety talk, tool discussion, and clinometer training.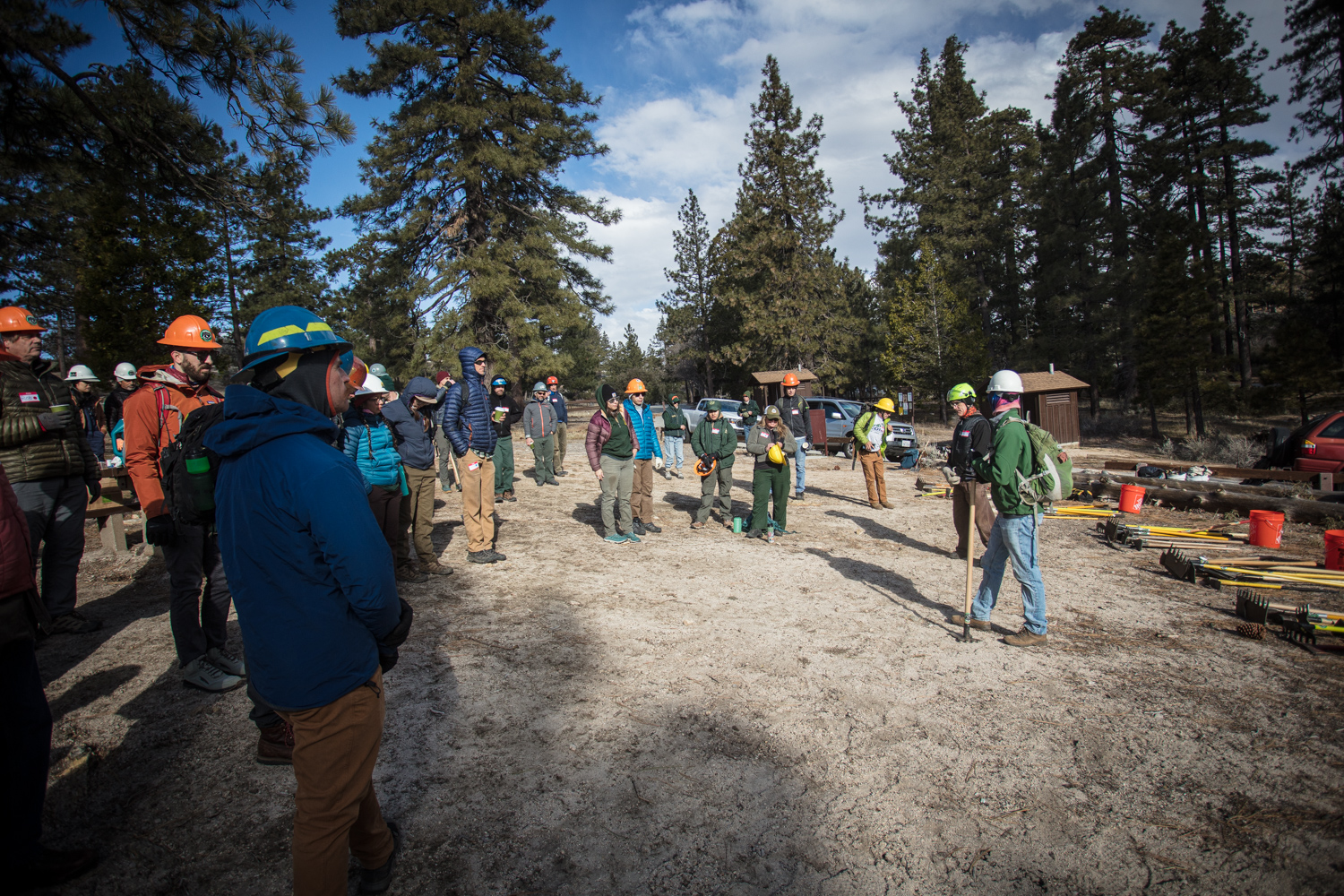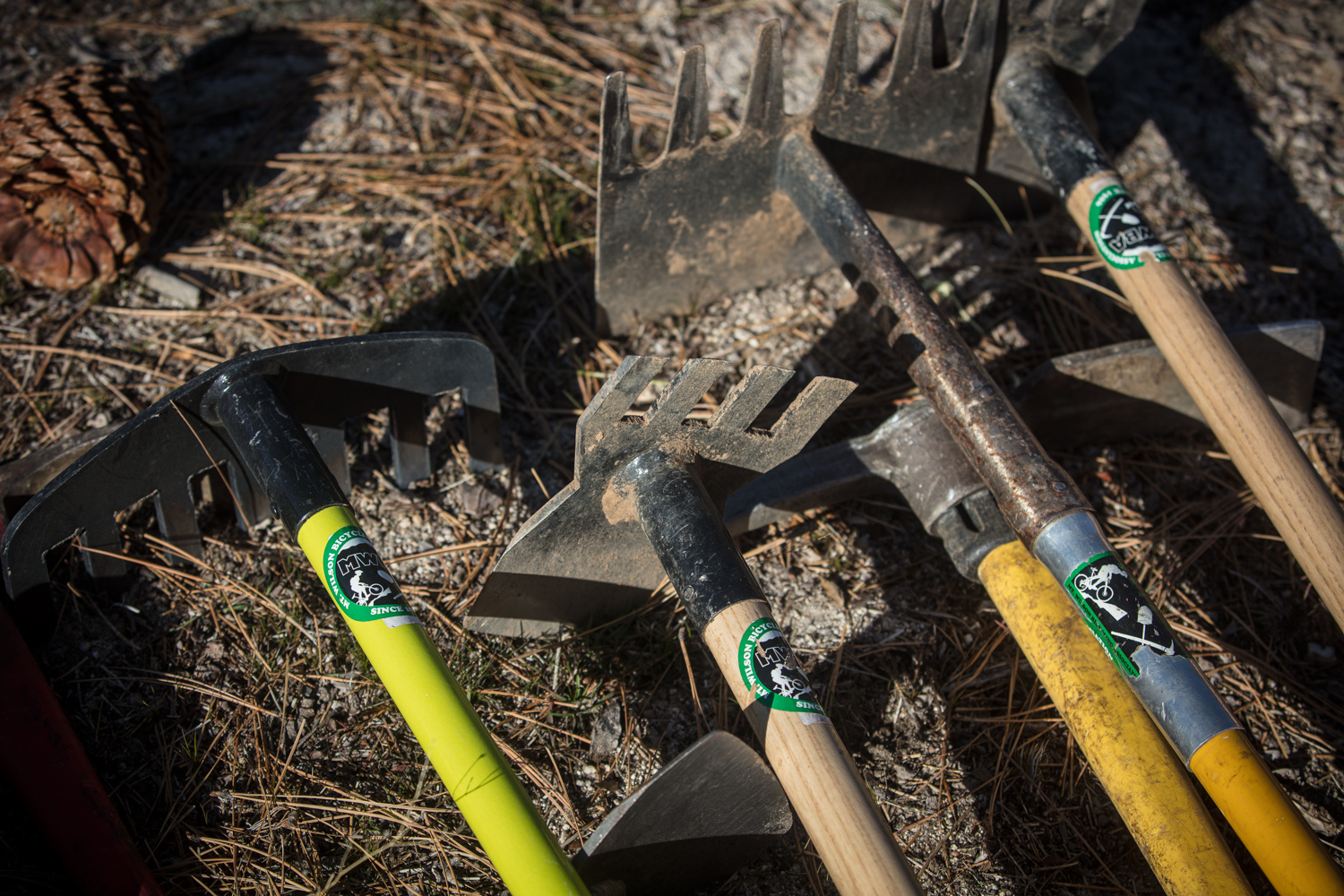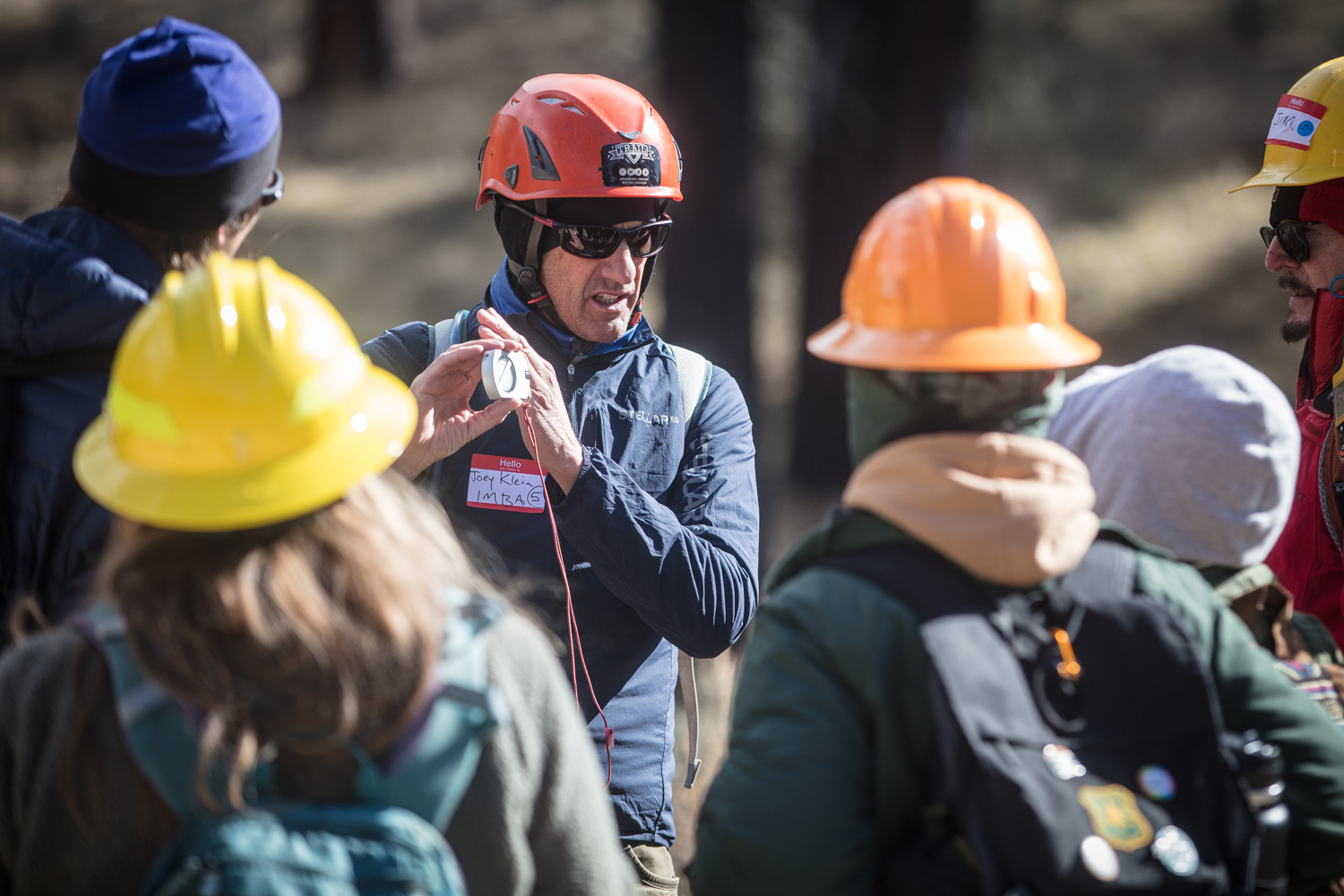 Group leaders were identified, many from the 2018 workshop, and stewards were randomly split up into teams of five to seven. Working along a one-mile stretch of Silver Mocassin, appointed group leaders guided participants through identifying key issues using the knowledge gained the day before.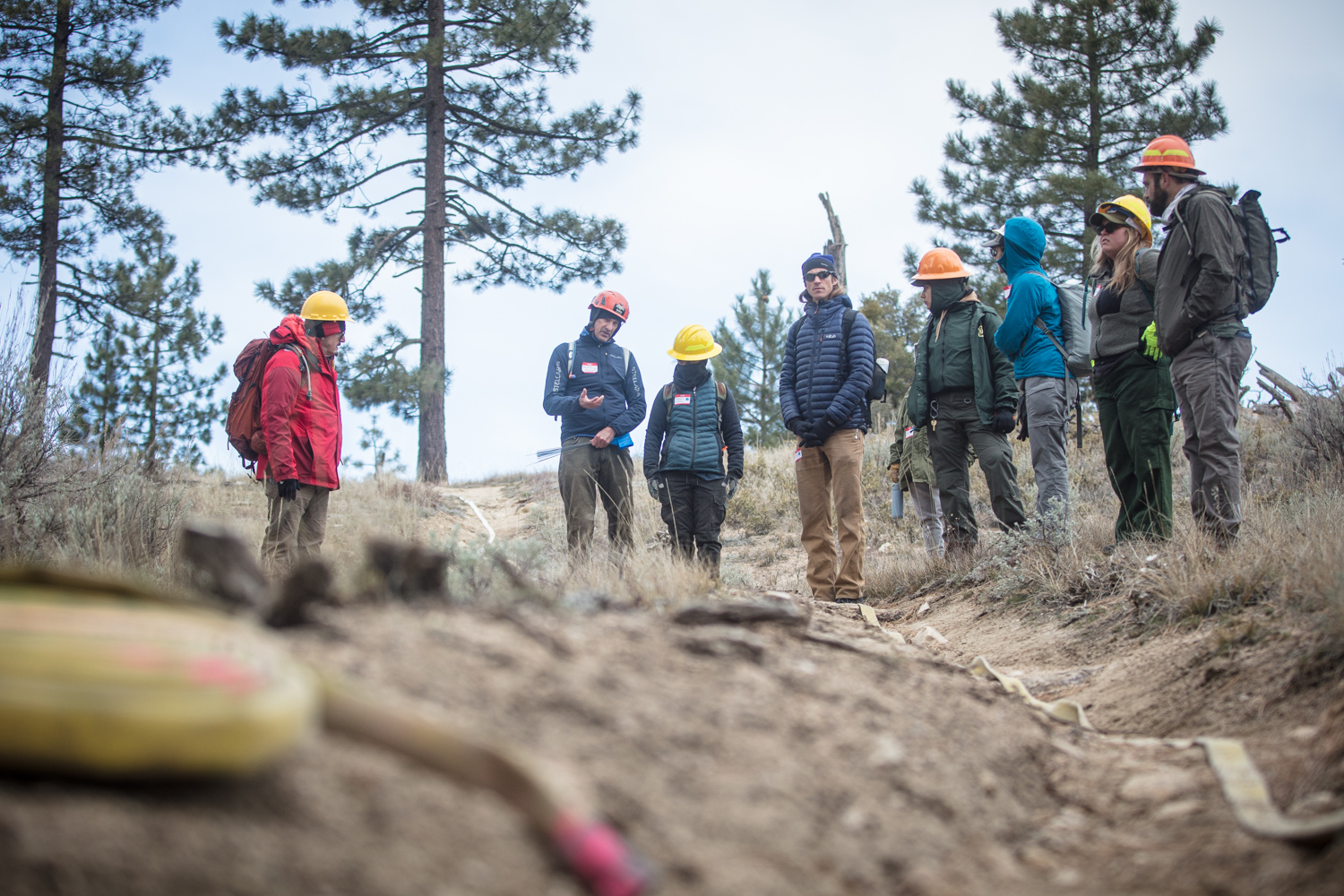 Once segments were flagged, teams walked from segment to segment and "checked one another's work." These discussions, led by Chris, Joey, Garrett, and group leaders proved invaluable as participants began to develop their "trail eyes" for identifying issues and potential solutions.
After lunch and a debriefing about key concepts, teams grabbed sets of tools and began to dig. Working in these small groups over a mile stretch makes for quick work: one person shovels, one rakes, another tamps with a McLeod or Rogue hoe, and others check grades with clinometers.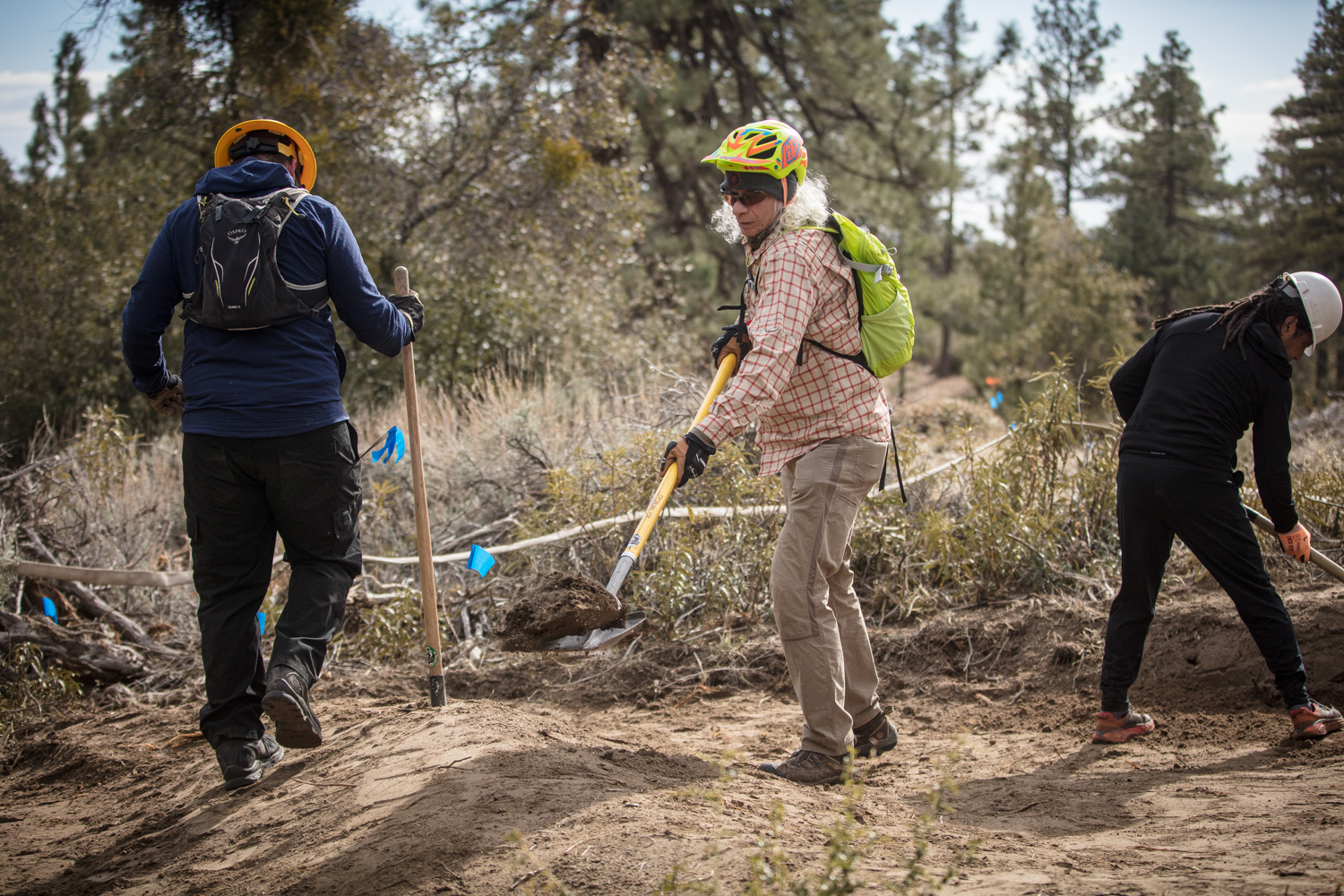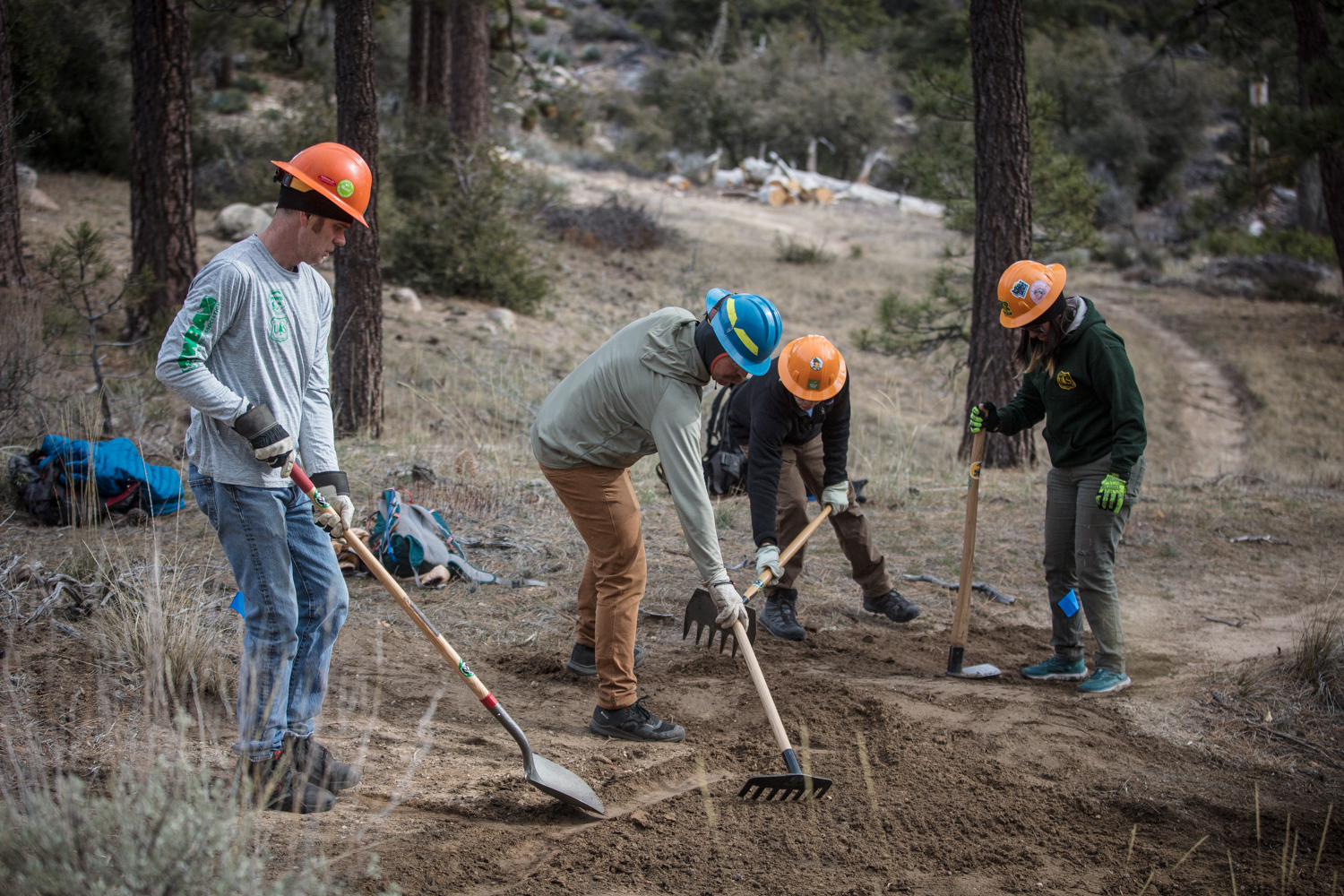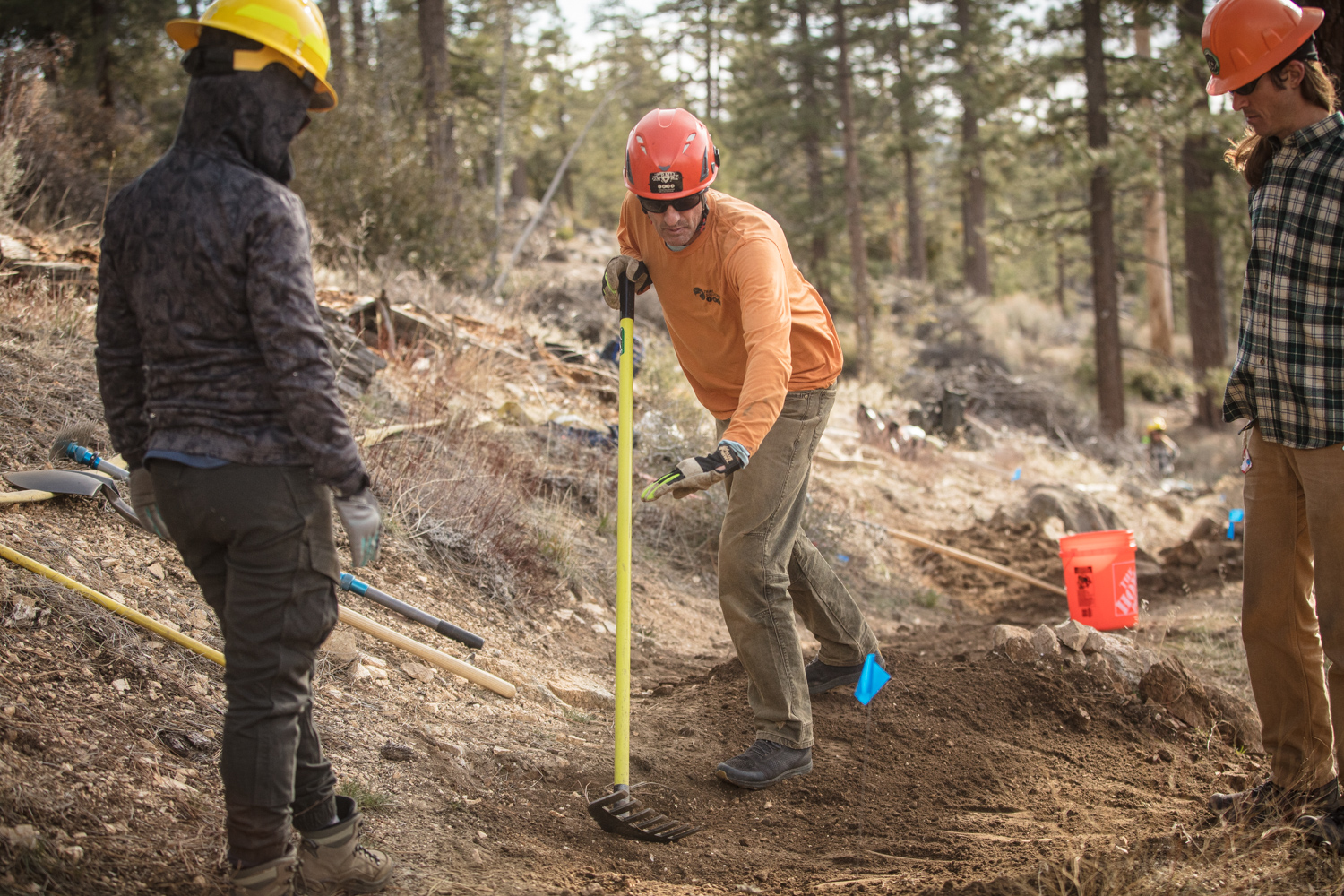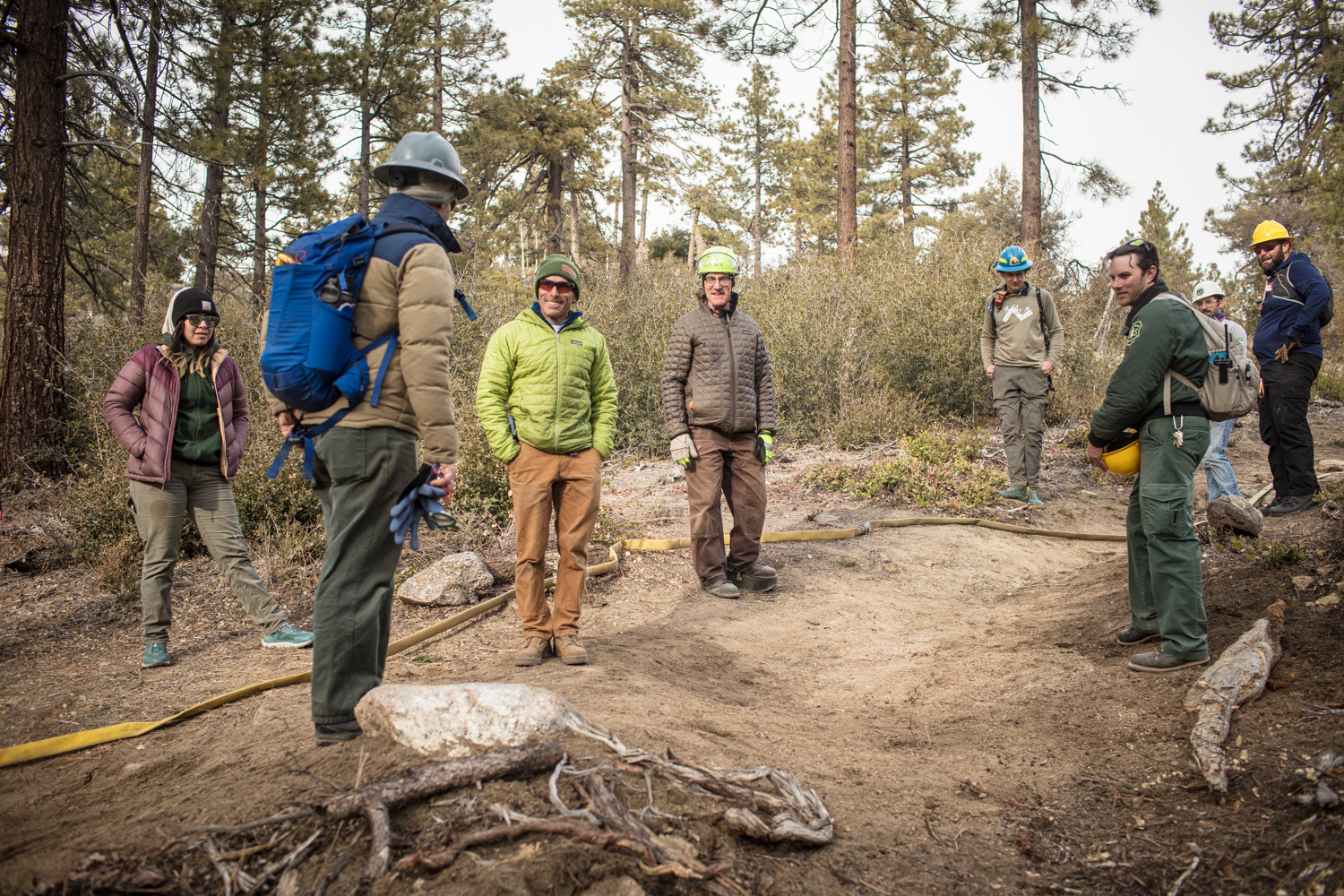 As all the groups wrapped their work and smiles appeared all around in satisfaction, snow began to skim the summit. Quick goodbyes ensued to beat any icy build-up on the long drive back down to the valley.
WHY THESE TRAILS MATTER
"When I discovered that I could go tops of mountains, and when I discovered I could ride [a] bike to the ocean, and knowing that I can get out of the city and experience nature in a way that was challenging and exciting, I was a happier person, consistently," explained Carson Blaker, Board Director of MWBA.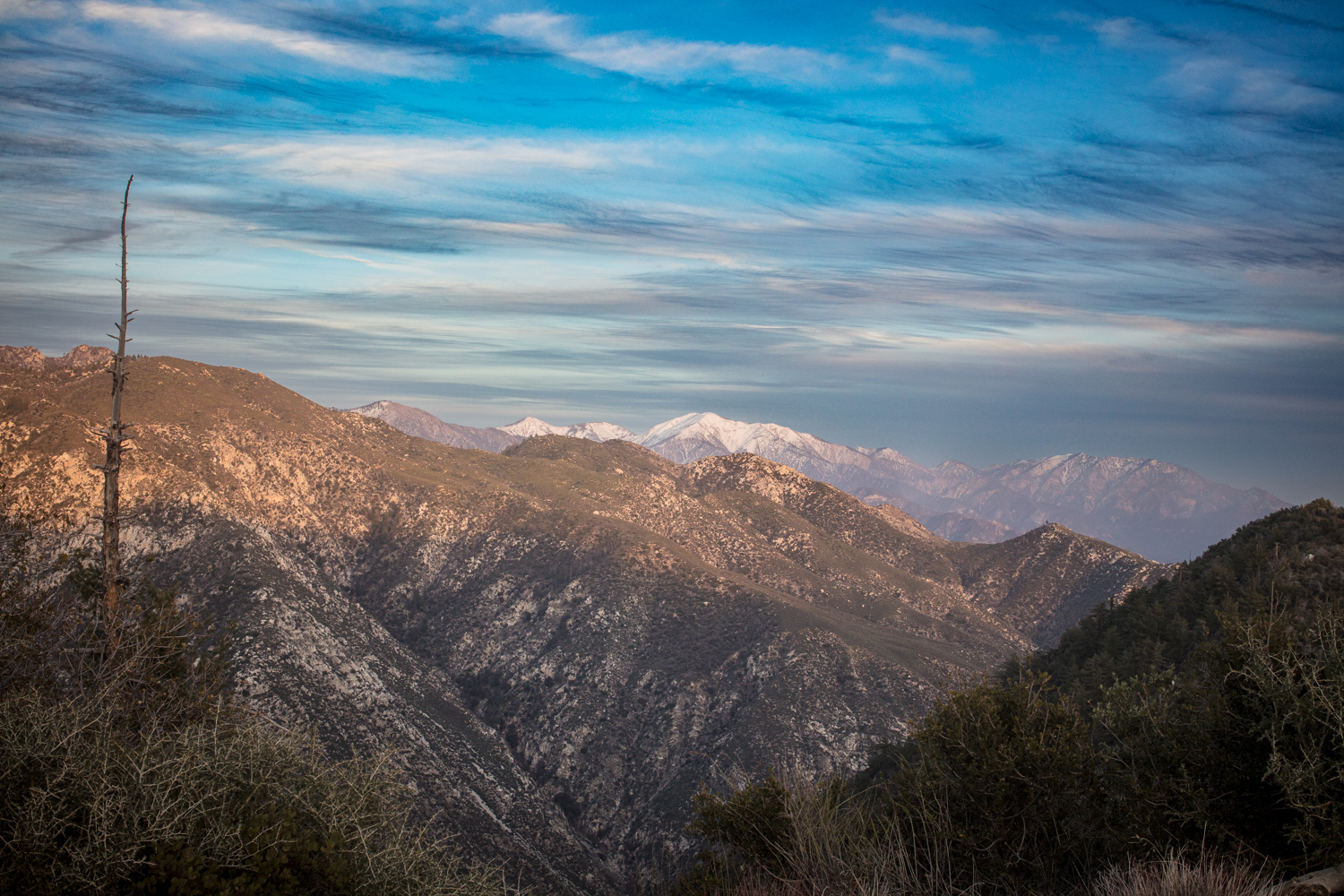 The closer we get to one another, the more we seek out those experiences to escape.
Especially in a city of 4 million people, these trail experiences are essential for physical, emotional, mental, and even spiritual health. More than 100 years ago, when these legacy trails that dot the Angeles landscape were initially trodden, it's hard to fathom that they would make such a lasting impact on the community and visitors of Southern California.
Thanks to the partnership of these stewardship groups, these individuals that want to continue to care for these trails and the stewardship of the Forest Service, they will remain for all to enjoy. And, be far more sustainable.