IMBA Welcomes Chapter Representative to Board of Directors
Contact Eleanor Blick
IMBA Communications Manager
(720) 900-4622
IMBA Welcomes Chapter Representative to Board of Directors
New position will encourage more dialogue, collaboration between chapters and board
(Boulder, Colo. September 28, 2017) The International Mountain Bicycling Association (IMBA) is pleased to welcome Ernie Rodriguez, President of IMBA chapter Mid-Atlantic Off-Road Enthusiasts (MORE), to its Board of Directors. This new board position will add an IMBA chapter voice to board decisions to provide direction and feedback through a chapter lens.

"Having a current chapter leader at the table will be a great addition to our board of directors," said Dave Wiens, IMBA Executive Director. "We're honored to have such an engaged, enthusiastic board working for mountain bikers and I know Ernie's chapter perspective will make our board even stronger."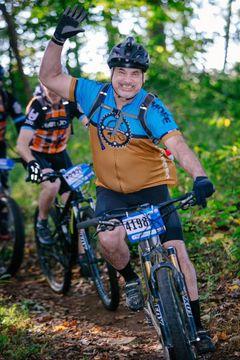 "Like many in our mountain biking community, I began by riding trails I thought magically appeared for my enjoyment," said Rodriguez. "As I continued to ride with friends and attend mountain bike events, I quickly learned it is passionate, committed volunteers with awesome trail building skills who are responsible for gaining land access, securing funding, building and maintaining the places we ride. Like many, I realized it was time to give back by supporting IMBA and my local chapter."

Rodriguez has served MORE, a 1500-member IMBA chapter based in Fairfax, VA, as a ride leader, trail liaison, advocacy director and has been president since 2014. Through these roles he has gained extensive experience in volunteer recruitment, training, mentoring and retention to help further MORE's community of mountain bikers.

Rodriguez sees the potential to do more to leverage IMBA's national presence into support for local trail work, access, programs and the volunteer experience. "I chose to help represent chapters on the IMBA board of directors because I think I can help channel that national reach into more support for local advocacy energy and passion," said Rodriguez.

The Board of Directors solicited nominations for a chapter representative from IMBA Chapter Leaders in spring 2017, and Rodriguez's nomination rose to the top. Rodriguez joined the board for its summer 2017 meeting and was officially voted onto the board shortly thereafter for a three-year term. IMBA board members can serve a maximum of three three-year terms.

The International Mountain Bicycling Association (IMBA) is a 501(c)3 non-profit educational association established in 1988. Its mission is to create, enhance and protect great places to ride mountain bikes. Learn more at imba.com.