The Ride Center™ designation represents IMBA's Model Trail recognition for large-scale mountain bike facilities that offer something for every rider. Bring your full arsenal of bikes to these destination-worthy areas. From backcountry adventures to shuttle-served gravity trails, and from expert-only to family-friendly, you'll encounter the best the sport has to offer. Ride Centers range from renowned Gold Level destinations like Park City and Oakridge to smaller towns that totally revolve around the ride like McCall or Marquette.

Northwest Arkansas Regional Ride Center
IMBA Ride Centers will be extensive trail networks, masterfully designed for mountain bikers of every skill level and built by professional trailbuilders and local volunteers. They will serve as social and educational hubs, where visitors can connect and learn new riding techniques. The centers will provide the full range of mountain biking experiences today's riders crave, from long singletrack journeys to family-friendly loops, and areas with expertly designed technical challenges—including sustainable downhill and freeriding options—to test accomplished riders.
This designation is designed to support local stakeholders and land managers in their effort to create the ultimate mountain biking destination trail system. This designation is just as much about the process as the award itself. The application criteria serves as the blueprint for achieving and improving a trail system and is comprised of multiple factors with both trail experience and surrounding community amenities being measured.
Ride Centers will also bring major economic benefits to their host communities. IMBA has compiled online resources that describe the ways that mountain biking supports tourism and enhances economic development in communities around the globe.
See the menu at right for a complete listing of IMBA Ride Centers.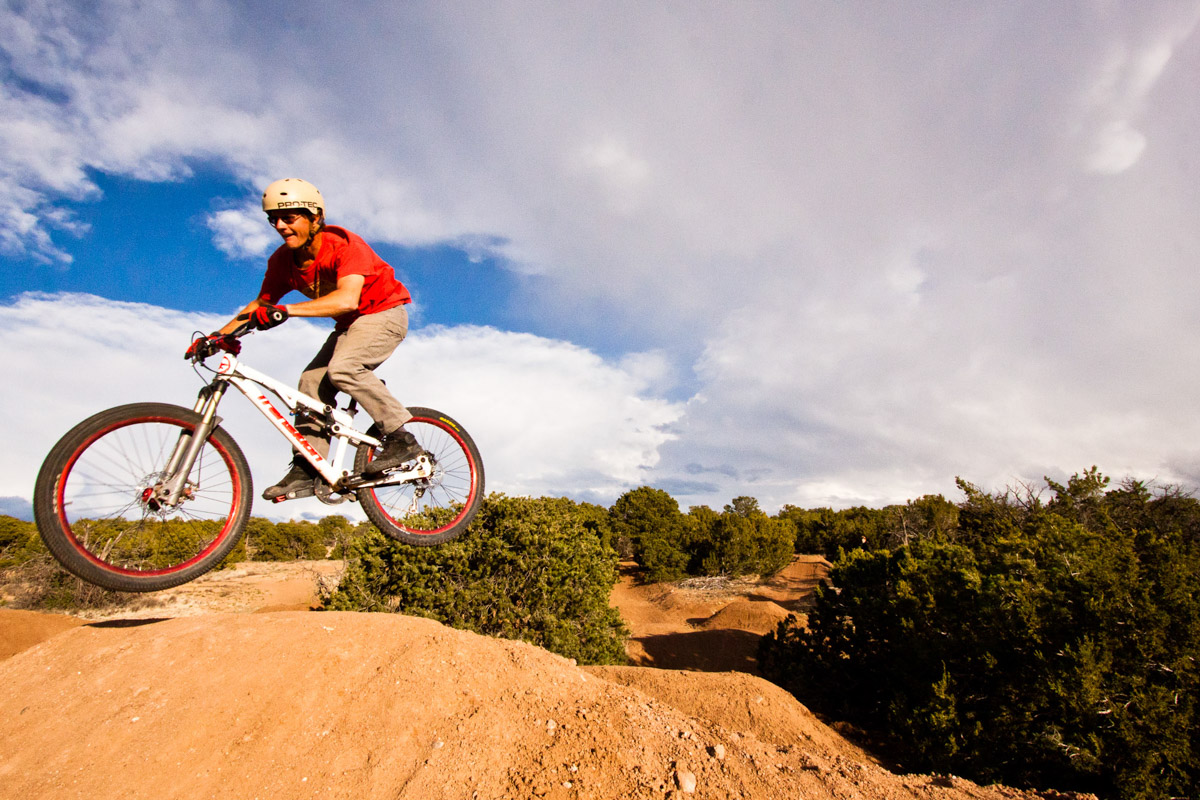 Santa Fe Silver-Level Ride Center
Application Process
Applicants, who can be communities, land management agencies, private landowners, Chambers of Commerce, local IMBA Chapters, cycling organizations, and others, will be encouraged to perform a self evaluation of their trail system to determine if they are prepared take the next step in starting the review process.
While the application and self evaluation will be made available to all interested parties once a community decides to initiate the review there will be fees associated.
There will be a different process for new Ride Center applicants, renewals, and status upgrades.
The 2017 application period for Ride Centers is closed as of August 1. The 2017 materials below are a helpful guide for any community looking for a Ride Center designation.
Rating System
If a proposed Ride Center is approved it will be assigned a rating based on the Evaluation Criteria score and subjective input from the evaluative committee. The ratings given are Bronze, Silver, and Gold. The ratings will allow for gradation, encourage improvement, and foster feedback to applicants without implying criticism.
The status implied by a given rating will be an effective method for attracting riders to a Ride Center. When an existing Ride Center is being reviewed the evaluation committee can confirm, advance, or demote the current rating. This will encourage applicants to continually maintain or improve their Ride Center.
Ride Center Geographic Area
A Ride Center's geographic area shall be all the facilities within a 30-minute drive time radius (as determined by Google Maps) from a determined center point. The legal trail and bicycling opportunities that start within this area are considered the trail system that is being evaluated in the application.
Regional Ride Centers can be created by agglomerating several Ride Centers that exist within a two-hour drive time radius, but the individual Ride Centers cannot have overlapping territories and must stand alone on their own merits.
Evaluation Criteria
The designation and rating (and potential delisting or demotion) of a Ride Center shall be based on clear criteria. These criteria do not need to be objective, and some will necessarily be subjective, but in all cases they will relate to providing great riding opportunities. The evaluation criteria is comprised of key aspects that make an amazing mountain bike destination and include, but not limited to;
Trail Experiences

Services

Community Involvement

Tourism, Promotion, and Marketing

Evaluation and Measurement