After much discussion and out of an abundance of caution, we have made the difficult decision to cancel the April 6-8th IMBA Trail Lab in Bentonville, Arkansas, due to travel concerns amidst the Covid-19 virus. This was a tough call to make as a 40-person classroom experience is not equivalent to a large gathering. But with no confirmed cases of Covid-19 in Bentonville and other Bentonville-based events hosting national guests making the decision to postpone, we felt it responsible to do the same rather than put attendees and the community at risk.  
We are working quickly to secure the October 2020 Trail Lab date, and will honor all April registrations and scholarships at the October Trail Lab. We will follow up with that date as soon as it is confirmed and transfer registrations accordingly. If you are unable to attend in October and would prefer a refund on your registration, please contact James Clark.

We sincerely apologize for the inconvenience this may cause and we appreciate your understanding. We will follow up with more information on the October event shortly.
Thank you
Research shows that trail systems are the No. 1 amenity people want in a community.* Among myriad benefits, trails stimulate the economy, strengthen community, promote active and healthy lifestyles, preserve open space, reduce healthcare costs, and displace negative use.
IMBA Trail Labs are two-day workshops that will teach you how to bring trails and their advantages to your community.  Experts in the field will teach you the keys to building a successful community trail system through:
Planning accessible, enjoyable, and safe trails
Designing a model trail experience
Building high-quality, sustainable trails
Activating stakeholder support for trails
Promoting use and programs
Measuring the success of your trails
Attendees will also tour trail systems, bike parks, town-to-trail connectors, and other components of a thriving trails community.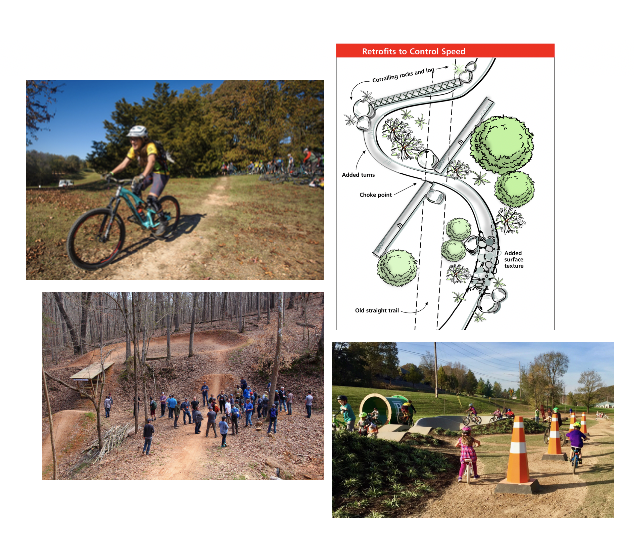 You'll learn how Bentonville, Arkansas, was transformed from a small town with 5 miles of bike trails in 2007 to a regional, and even national, mecca for mountain biking with a trail system of over 100 miles that connects directly to town and includes trails for every interest and ability.  You will interact with and hear directly from Bentonville parks and recreation, tourism, and economic development staff who have a wealth of knowledge from their work in trails for more than a decade.
Industry experts will help you strategize on communications, fundraising, and reaching beyond the recreation world to find support in the greater community. They will tackle the tough questions such as legal issues and risk management as well as share up-to-date market research on how trails impact quality of life, tourism, economic development, and public health.
Land managers, tourism and recreation professionals, community officials, and local trail organizations will all benefit from this in-depth overview of trail systems.  Ideally, teams of community representatives will attend Trail Labs together so that each team member can focus on their area of expertise and teams will return home with the skills to get started making great trails happen in their own backyards.
The cost to attend is $600, which includes registration, breakfast and lunch, shuttles for field tours, and evening festivities.
Scholarships are available, please contact James Clark for scholarship details.
Space is limited to the first 40 registrants. Note that afternoon site visits will be walking and talking tours. You will be ready to build trails, but we will not get our hands dirty during this event (no trail building). Our goal is for you to gain the knowledge and understand the resources needed to begin creating a site-specific trails plan for your community.  
Schedule
(please note this schedule is subject to change)
Monday, April 6
6 - 8 pm Welcome reception @ Bike Rack Brewing, 801 SE 8th Street #61, Bentonville
Tuesday, April 7
7 am - 1 pm Classroom workshop @ Walmart Museum
1 - 4 pm Field sessions @ Local Trail Systems (shuttles will be provided)
5:30 - 7 pm Optional MTB Ride @ Town Square (Guides will be provided)
Wednesday, April 8
7 am - 12:30 pm Classroom workshop @ Walmart Museum
12:30 - 2 pm Field sessions @ Local Trail Systems (shuttles will be provided)
2 - 3:30 pm Classroom Trail Planning session @ Walmart Museum
3:30 - 4 pm Closing Plenary @ Walmart Museum
4:30 - 6 pm Happy Hour @ Walmart Museum World Room
Get there and enjoy Bentonville
TRAVEL
Northwest Arkansas Regional Airport, Bentonville
Tulsa International Airport, Oklahoma (2-hour drive)
Springfield National Airport, Missouri (2-hour drive)
Do not fly into Little Rock, AR, if possible. It's much farther away.  
Greyhound Shuttles from the Airports
From Springfield, MO, and Tulsa, OK, to Bentonville/Rogers, AR
$30.00 to $60.00 | Book on the Greyhound website
EXPLORE
Enjoy a revitalized downtown square, historic areas, world-class art museums, and an abundance of paved-path and singletrack bicycling options. And bring your appetite; Bentonville is a great destination for foodies. The Wall Street Journal named Bentonville as one of its up-and-coming culinary scenes in 2014 and it has only flourished since then. Explore all that Bentonville has to offer.
LODGING
Suggested lodging
Holiday Inn Express, Bentonville, Arkansas
Comfort Suites, Bentonville, Arkansas and Country Inn & Suites, Rogers, Arkansas

$109 Breakfast is included in rate. We have a bike wash.
Please call the front desk and ask for the IMBA Trail Labs Block
479-254-9099 Comfort Suites, Bentonville Arkansas
479-633-0055 Country Inn & Suites, Rogers Arkansas

TownePlace Suites Bentonville, Arkansas
BIKE RENTALS/SHIPPING
Renting:
Bikes can be rented locally. Please note you need to select a specific location with each of these retailers. It is strongly recommended that you reserve a rental before you arrive.
Shipping:
Bikes can be shipped to your lodging destination with BikeFlights
*Robert Charles Lesser & Co. Housing and Community Preference Survey