Dig In: IMBA's National Grant Campaign
Overview
IMBA recognizes that all trails are local, and many great places to ride mountain bikes owe their existence to the tireless efforts of IMBA chapters. IMBA wants to collaborate with its chapters to put as much money toward their projects as possible. The new Dig In Campaign is a fresh take on IMBA's old trail development and legal advocacy funds.
Via Dig In, IMBA will distribute nationally raised funds equally among all participating chapters; provide turnkey marketing tools and a fundraising platform for chapters to use; and leverage its partnerships and reach to run a nationwide promotional campaign encouraging people to donate to mountain bike projects in their area.
The campaign will run October through December. The application deadline for chapters is October 6.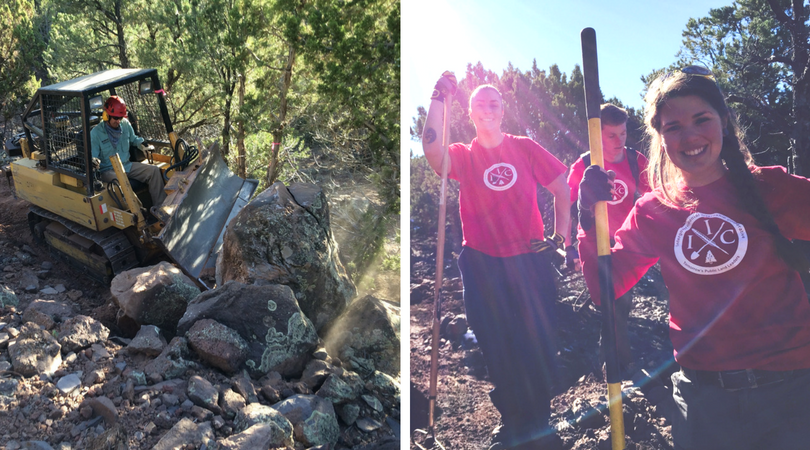 How the fundraising works
The campaign has two parts. First, IMBA will raise national funds from the outdoor industry and others to distribute equally among participating chapters. So, if IMBA raises $50,000 and 50 chapters participate, each chapter will get $1000 just for submitting a project to the campaign (and having it approved).
Part two is local fundraising. IMBA will provide a simple fundraising platform that allows individuals to donate to the project of their choice. Each chapter will get 80 percent of the funds raised for its specific project. IMBA will retain 20 percent of individual donations to heavily market the campaign to a nationwide audience and provide marketing materials for chapters to utilize. IMBA's efforts are designed to raise awareness of local efforts and direct more dollars toward local trail projects. Contributions raised will be distributed to chapters with their Q4 chapter membership checks.
Continue reading for chapter requirements and how to apply.

Chapter requirements
For 2017, applicants to the Dig In Campaign must be an IMBA chapter with an approved trail project in need of funding. The project can be at any stage; funding does not have to go toward physical construction, but proof that the project is approved by the overseeing land manager is required. Funds may be used to support trail assessment, creation of a trail plan or trail maintenance, in addition to trail construction. IMBA staff will vet Dig In applications, which are subject to final approval. Complete details will be provided to chapters via emails and phone calls.
1. Executive summary of the natural-surface trail project (a chapter may only submit one project)
2. Describe exactly what the chapter intends to put Dig In dollars toward
3. Project details to include:
Planning - define
Design - define
Construction - define
Some sort of visual: Pictures of the location, schematics, maps, design templates, concept drawings, plans, etc.
Project timeline
Do you currently have funds available to place toward your project? If yes. How much?
4. Documented agreement or letter of support from the land manager with statement of the nature of the project
5. Partnering land manager with contact information
6. Agree to fundraise for the grant using IMBA's fundraising platform, which will be built specifically for this campaign
7. Commitment to provide two, one-page project progress reports
Award requirements
1. Complete project description for marketing purposes
2. Must use IMBA marketing campaign kit to include logos and messaging templates
3. Must promote via social media and web, etc and provide IMBA with your chapter's social media tags or project tags
4. Continued promotion of the campaign to raise matching monies toward awarded grant (up to the specified dollar amount) via IMBA's fundraising platform
5. Data updates through the campaign period for continued marketing promotion via IMBA
6. Status updates over the next 12 months: (must be completed in order to apply for funds in the upcoming year) 2 x 6 month follow ups via google forms sent from IMBA2 progress reports that include:
Additional funds raised
Volunteer hours toward the project
Status updates
Pictures
Master plan documents
Other relevant info
7. 80% of donations received will be shared directly with the chapter (similiar to membership). IMBA will keep 20% for marketing, promotion and fundraising efforts.