By Heather Cooper, IMBA's Senior Director of Marketing


The International Mountain Bicycling Association ("IMBA") is a 501(c)3 non-profit educational association of 40,000+ individual members, 200+ IMBA Chapters, 400+ clubs and volunteer bike patrols, 700+ corporate partners, 700+ retail shops, 100,000+ subscribers to our messaging and 65 employees including 18 regional staff. IMBA's members live in all 50 U.S. states, most Canadian provinces and in 30 other countries. Our mission is to create, enhance and preserve great mountain biking experiences.

Since 1988, IMBA has been bringing out the best in mountain biking by encouraging   low-impact riding, volunteer trail work participation, cooperation among different trail user groups, grassroots advocacy and innovative trail management solutions. The work done by IMBA's chapters, clubs, members and staff benefits the entire mountain bike community.



Trail Access
Trail Access is a huge topic that mountain bikers are passionate about, and not surprisingly, one of IMBA's four core strategies in our 2016-2020 Strategic Plan. Since IMBA's inception, there have been wins, there have been losses and a lot of mountain bike trail access has remained unchanged.

While the losses and desire for more access garner the most attention and cause the most pain, we also must pause to take pride in the work that has been accomplished over the last 27 years. With our 200+ chapters, we have done more than any other organization for mountain bike access. Today's documented access as seen on MTB project identifies 63,000 miles in 18,000 trails open to mountain bikers with many new trails regularly being recorded, opened or built. In addition, more than 60 specific land protection and trail access opportunities/threats are currently being analysed and worked on by IMBA.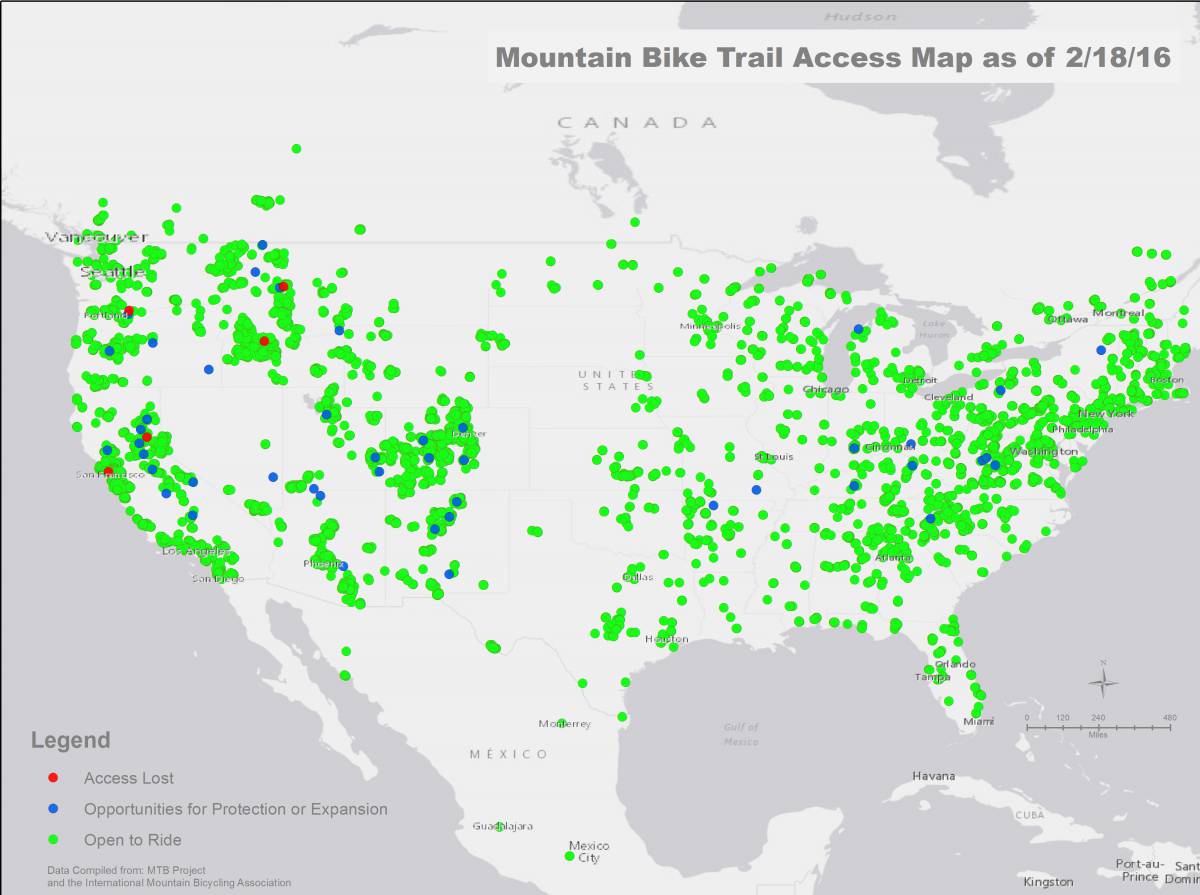 Map by Leslie Kehmeier using IMBA and MTB Project data

The Wilderness Question
Over the past few months the subject of mountain bike access, specifically in federal and state Wilderness, has come under closer scrutiny and question. You may have read one of several articles in a magazine, online, on a blog, through social media or have seen a letter to IMBA.

To get to the point, IMBA has been asked to support an effort to request Congress to open existing Wilderness areas to mountain bikes, and for these access decisions to be made at a local level by federal land managers. Depending on how you personally feel about allowing mountain bikes in Wilderness, you may think this aligns with IMBA's mission, so it's a no brainer, right? It turns out this is an extremely complicated matter that is of keen interest to our members. The topic at hand was presented to our Board of Directors in early February as we worked to refine our government relations and chapter advocacy efforts for 2016. See our Wilderness FAQs for more information.

How Much Land are we Talking About?
Let's put this in perspective, looking strictly at public land (Federal and State owned in the lower 49 States) there are nine acres that are current and potential land for bike use for each one acre of Wilderness. Said another way, designated Wilderness only makes up roughly 2.9% of total United States acreage in the lower 49 States. In addition, there are instances where bicycling may not be feasible or appropriate. There are trails in existing or proposed wilderness that are simply too rugged to ride and sustainably maintain. There are so many other projects for us to be working on, including more than 60 different access projects currently active within IMBA as of February 2016.

The Bigger Picture
By dedicating our resources toward Wilderness, we could potentially be putting our larger mission at risk.

IMBA's government relations and chapter-based advocacy activities are deliberately crafted with long-term, continuous success as a primary objective. Therefore, we believe that aligning with any organization or strategy that threatens our long-term success would not be in our members' best interests. Preserving and improving effective working relationships with the various land management agencies that we have developed over the years is critically important to achieving this. We have been accused of being an organization of compromise, but that is the essence of long-term success in our democracy where many differing viewpoints on federal land protection are heard as a matter of environmental law. Fundamentally, we believe that the trail access results detailed above only validate our winning strategies and tactics. We have been serving our members for 27 years, and we plan to be serving them for another 27 years.  

2016 IMBA Advocacy Position
The International Mountain Bicycling Association's Board of Directors met on Saturday, February 6, 2016 for its 2016 winter meeting. After thoughtful deliberation and careful consideration, IMBA's board reasserted IMBA's longstanding position on trail access, public land conservation and federally designated Wilderness. IMBA's board has determined that IMBA's mission is best served by reiterating our strong commitment to collaboration and further diversifying and strengthening our broad partnerships that serve as the backbone of advocacy success for our chapter network.  

IMBA is taking an increasingly assertive and active stance toward future trail access and efforts to designate public lands for conservation. This public policy and advocacy effort will focus on future Wilderness proposals and recommendations where mountain bike trail access could be lost, where viable alternative land protection designations are appropriate and where local IMBA chapters are present to exemplify trail stewardship. IMBA will continue to respect both the Wilderness Act and the federal land agencies' regulations that bicycles are not allowed in existing Wilderness areas. This 2016 position strategically aligns with our well-established and relevant mission to create, enhance and preserve great mountain biking experiences.

In Summary
We realize that we will not have full alignment of all our valued members and supporters in this 2016 position, but we wanted to publicly state our position and explain our reasoning.

We also want to encourage supporters to recognize that there is room in the public policy arena for you to support multiple organizations. If you are aligned with other mountain bike advocacy organizations' vision, strategies and tactics, please support them. If you plan on mountain biking long term, IMBA values your loyal support too!  This is a win-win for all.
 
Now let's get back to building great trails and riding our mountain bikes.