The heat and humidity greets us as we arrive at the Red Springs segment of the Quachita Trail, an infamous stage at the Ellsworth O'Rock Epic Enduro.
IMBA's premiere National Enduro Series will host 6 stops across the United States this year and the Ellsworth O'Rock Epic at Big Cedar, Oklahoma is the first! This race series will offer mountain bikers a chance to ride some of the most impressive and technically challenging trails around, while also competing for a National title with many of the country's best Enduro racers. 
During this series, IMBA is focused on rallying the racers and riders to sling some dirt and assist with pre/post race trail maintenance workdays for each stop of the series. By teaming local mountain bikers with the event promoter, these well-ridden trails will get the love they need to be top notch and ride ready!
"Trail advocacy is something that is easily forgotten when riders are going to an event." Jesse Livingston, IMBA Trail Solutions.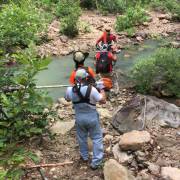 Two days before the race, we meet with a group of mountain bikers to mark the trail, help clear brush and remove fallen trees. Local groups also lend a helping hand with other portions of the Enduro course. Our goal? To make sure the trails are race ready!
Beautifying the trails before race day has its perks! It is an opportunity for racers and spectators to preview portions of the course. It is also a chance to see the stunning scenery that will inevitably be a blur of green, whipping by, on race day. And then finally, there's that warm and fuzzy feeling you get from volunteering for something you love so others can enjoy it as well.
A storm is brewing during the Friday pre-ride. As I ride Stage 1, I feel clumsy. I slide over slippery rocks, and it hasn't even rained yet. Riders are injuring themselves and their bikes before the race even starts. Oh boy…
The storm rolls through late in the night and campers wake up to wet gear and foggy brains  from a lack of sleep. We learn that two stages have to be removed due to the wet conditions  and fallen trees. Despite some setbacks, riders don't let this unexpected weather phase them. I can see the eagerness on their faces and as they gear up and load the shuttle!
"I like the camaraderie of it. Love being able to hang out with people and then go for it and do what you're going to do as hard as you can. It's just you and your bike and the trail. And I like that a lot." Darlene Streeter, Rider
Day 1 starts on the Goldville segment and ends on Red Springs. It's a day full of slick rocky sections, an insane amount of switchbacks and some grueling climbs. Most of the day is overcast and by lunch it starts to rain. Riders eat provided grilled cheese sandwiches and take in the amazing overlook as a thick fog settles in the trees, making the trails a little more elusive.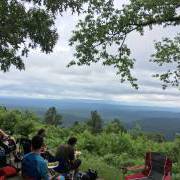 Day 1 totals 28 miles with roughly 4,000 ft. of elevation gain. Some of the "not-so local" riders had quite a learning curve with Mid-West terrain! The more technical trails threw some riders off, and many had to adjust their riding skills to adapt to the diverse and changing trail conditions. A creek crossing, which was about knee high, is a sign that the day is over. I look around and notice that nobody really wants to cross it. Instead, as they make their way through the high water, it is so cold and refreshing that all is forgotten and some folks lay out for a soak.
Another 28 miles and 3,800 ft. of elevation gain are in store for Day 2. Surprise! There are more rocks, even larger jumps and an eight-mile gravel road transition! After getting beat up by the rocks and suffering mechanical issues of all sorts the day before, the riders are more dialed for the second day of racing. Fortunately, the trails have dried out and the day is full of enthusiastic racers as they soak up the sun! 
Riders descended roughly 9,000 ft. over 50 miles during this two-day, action packed Enduro! If you know anything about backwoods Oklahoma riding, you agree, this is quite impressive!
"It's a long day on a bike, it's more of an adventure." Steve Friedman, Rider
Showered, fed, and nursing wounds, riders gather for the closing ceremony. Awards are announced in a timely manner, and many walk away with great raffle prizes from sponsors. I won a case of Tupps Texas Shade Wheat beer! Score!
My final thoughts: Trails that are as epic as O'Rock, will thrive if the mountain biking community bands together assists with trail maintenance. If we don't take care of our local trails before and after events, access will decrease. Whether you're a pro racer or just love riding your mountain bike, lending a helping hand for the sport you love is crucial if you want to keep peddling.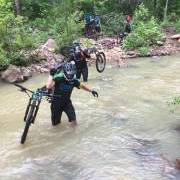 A big high five to all the kick ass ladies and gents who came out this weekend!
Click here to see race results.