"There's a ripple effect when women learn about their power to create change in their communities through advocating for better bicycling. When they tap into that power, they're more engaged in how all decisions are made where they live. Advocating for bicycling gives women a platform at city council meetings to share their experiences and shape the future of their community … Bikes empower women to lead." --- League of American Bicyclists Women Bike Outreach Report, 2015
Here are IMBA, we are genuinely interested in helping our chapters and partner groups create successful women's outreach and engagement initiatives in mountain bike communities across the U.S. Unfortunately, there are no add-water-and-stir answers to propel these efforts, but there are a significant number of good examples. To that end, we at Dig In have begun interviewing women's mountain bike groups to understand their best practices, and will soon share those stories with you, here. But today we start with something for social science and data nerds.
The League of American Bicyclists (LAB) Women Bike program recently released a study of efforts to engage more women in cycling. The study focused on transportation cycling and, specifically, a women's cycling program run by the Washington Area Bicyclist Association (WABA), of which I was a proud member when I lived in Washington, D.C. Though WABA is road-focused, there are valuable lessons in the report that I feel are worth sharing.
So that you don't have to wade through the full LAB report, I picked out a few findings I think are relevant to our dirt-loving community. This is not everything in the report, nor the end of all good advice, just a small sample of valuable points to consider.
THERE ARE BARRIERS TO OVERCOME
One significant finding of the study are the four, primary categories of barriers to riding a bike (for women). They are not unique to transportation cycling, and many of you have probably experienced some of these either personally, or witnessed them in a friend. And if none of these barriers resonate with you, you still need to know they exist. If you truly want a broad, large contingency of local female mountain bikers, you can't ignore their vast and varied experiences, perspectives and the personal challenges they face. Here are four important things to consider--and seek to overcome--whenever starting any women's mountain bike program: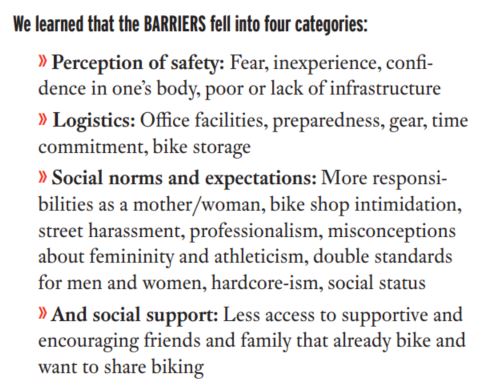 DEVELOP THOUGHTFUL GOALS
In the first year of having a women's cycling program, WABA crafted specific goals for engaging more female riders. These goals are easily transferable to any IMBA chapter or women's mountain biking group:
1. Recruit and train "official" mentors
2. Create educational materials and make them easy to find
3. Work with existing groups/organizations that have missions to empower women
4. Ensure that marketing and outreach touched a diverse audience
5. Coordinate multiple regional events that are a mix of rides, social gatherings and skills clinics.
6. Actively encourage event participants to continue riding
7. Keep track of lessons learned
WABA also utilized its existing members to offer diverse educational opportunities that went well beyond just group rides or fix-a-flat classes: "We invite experts within our group to lead our workshops and lend support to our rides. We've hosted workshops on women's health, street harassment, bike fitting, maintenance, family biking, and more. It's been a great way to facilitate new leaders and organizers within the group, to partner with other organizations, and to tackle sensitive issues that can be tough for bike organizations to address."
The idea here is that you don't have to stop at just hosting group rides, and that group rides alone may not net you new advocates or vocal, active members. If you want to engage women in the leadership of your mountain bike community, then actively empower them by doing things like hosting women-only advocacy workshops and specifically inviting them to get involved with local trail campaigns. Encourage female peer-to-peer invitations to city council meetings and IMBA chapter membership events.
"Bicycling is no longer seen as merely the leisure pursuit of the Lance Armstrong generation or the transportation choice of eccentric environmentalists. Mayors across the United States continue to make investments that recognize its widespread value in creating a healthy, economically vibrant city."
That's as far as I'll go for now, but when considering a women's MTB program, recognizing barriers that might need to be overcome and setting goals are two of the most important places to start. Join us here next week for an interview with two founders of Dirt Dolls, a women-only mountain bike ride group in Idaho. 
For a much deeper dive into the research and more detailed steps for accomplishing engagement, read the full report. It's easy to scan through to find what you're most interested in.
--- Katherine