Story and photos by Leslie Kehmeier, with contributions from Joey Klein of IMBA Trail Solutions and Peter Thomas of COMBA
The Denver-based Colorado Mountain Bike Association (COMBA), Jefferson County Open Space (JCOS) and IMBA Trail Solutions recently came together on an exciting collaboration to extend one of the Colorado Front Range's most iconic trails. Dakota Ridge, a gnarly ridge-top traverse, is being pushed south to extend a challenging experience for mountain bikers that is already regaled as a proving ground for area riders. 
"If you could ride this loop, you could ride anything," said Joey Klein, Trail Specialist for IMBA Trail Solutions.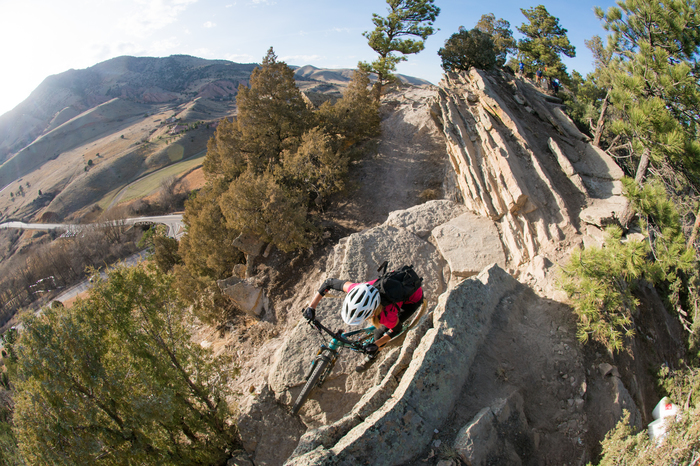 The loop he refers to has attracted riders since the mid-90s and incorporates singletrack that winds through the sandstone monoliths of Red Rocks Amphitheater before traversing the rugged trail on Dakota Ridge. The Dakota Ridge section was built by JCOS in the mid-80s and is considered by many to be the most technically challenging natural trail on the Front Range. 
Also known as Dinosaur Ridge, the prominent hogback is a well-known geologic feature that was 200 million years in the making. Lucky for mountain bikers, all that uplift and erosion leads to the quintessential landscape for technical riding. Despite its rugged nature, the Dakota Ridge trail attracts thousands of outdoor enthusiasts every year.
"There are a lot of people mountain biking here, the sport is growing like crazy and new people are coming every day. The riding here is really technical. It's rocky and it's hard but it's fun." -- Alex Smiley, Trail Specialist for JCOS.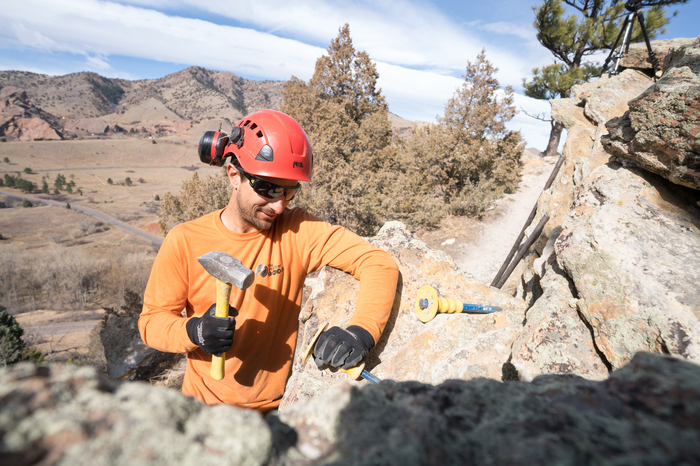 JCOS has long provided great places to ride. In the 1990s, when several nearby counties banned mountain bikes on their trails, JCOS welcomed two-wheel travelers on the 150 miles of trails it managed during that decade.
Today, JCOS has 236 miles of natural-surface trails to manage and a dedicated pool of volunteers and organizations at its disposal to help build and maintain those trails. COMBA, the local IMBA chapter, is an integral part of the mountain biking scene, spending thousands of hours every year helping to keep the area's iconic and heavily trafficked multi-use trails in great shape.
"COMBA volunteers work with Jefferson County on a lot of different projects. They do trail maintenance and, over the years, have dreamed of adding bike-optimized sections to the trail network. This project is the first chance to do that with hopes for more of these projects in the future," said Gil McCormick, a super advocate and trails lead for COMBA.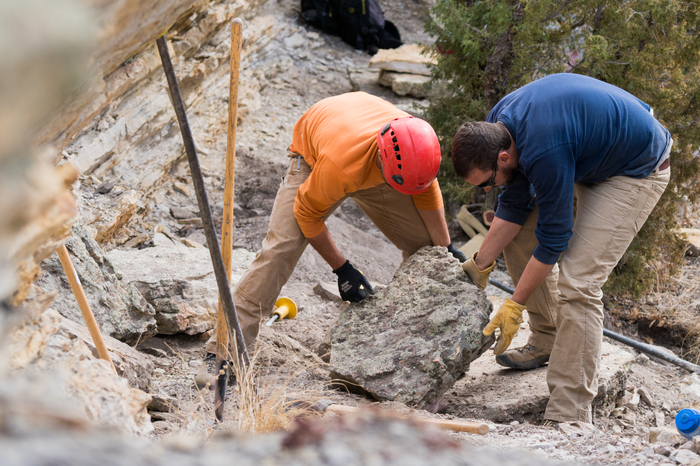 The creation of a bike-optimized, multi-use trail that showcases the natural features of the ridge--one that sits in close proximity to a growing urban population--results in a challenging set of design parameters. But it also showcases what incredible things can be accomplished with strong partnerships made up of groups that are willing to learn and collaborate.
The inclusion of IMBA Trail Solutions as an outside contractor set a precedent with JCOS and raised community awareness of the project. Trail Solutions was also brought in to help solve specific, high-level challenges. When faced with a difficult section to cross over the ridge from east to west, JCOS and COMBA decided to bring in rock experts from IMBA's professional corps. In addition to Joey Klein, Tyson Swasey was invited to lead the most difficult construction section.
Swasey, who was one of the key builders for the Captain Ahab Trail in Moab, described the project in detail: "I was brought in as a rock specialist to work on a very tricky rock build. The crux of the feature goes through the middle of the razor back ridge. On the lower end we had to build up the feature four to five feet with an insloped rock wall to join with the upper rock berm. It will catch people and set them up for drop into the lower section."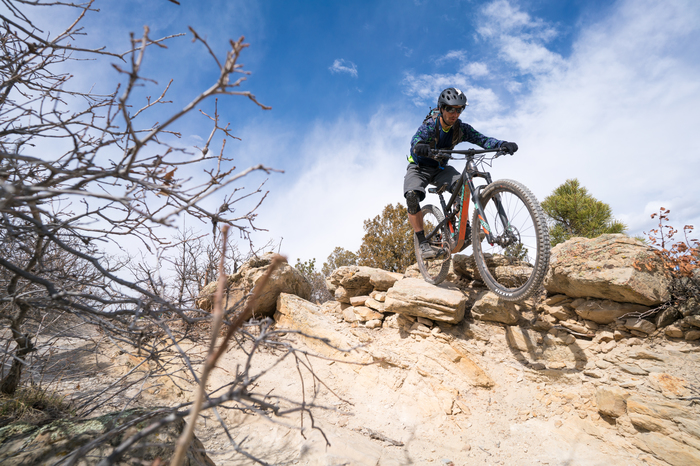 Over the course of a week, the team worked methodically to transform a section of the ridgeline into an advanced, mountain bike-optimized feature. Using rock bars, a grip hoist and many shared decades of experience and skill, the group made the new section of trail look like it had been there forever. Doing rock work isn't easy, but the team rallied to created something that's unique and brings out the best of natural landscape. 
"One of the challenges of doing this type of project is looking at the landscape and trying to visualize what the trail will look like," said Alex Smiley, Trail Specialist for JCOS. "Then, you take that to try to manipulate these large rocks to try to match what your vision looks like. A lot these rocks are so big you really only want to move them once. It's important to try to get it right the first time. Ultimately, it starts with a good prep and then the big rocks get moved into place. It's really hard work, it makes your back hurt, but when it's done, it's really cool."
Work on the South Dakota Ridge extension is continuing well into the spring. Phase 1 will be complete this month (June). Phase 2 will push the trail into even more technically challenging terrain, providing a longer ride to test willing mountain bikers.
The trail is open to ride even while construction is ongoing, providing mountain bikers with a sample of what the finished product will be. What they will find are new features that match the spirit of the existing trail: a rugged, toothy and gnarly experience that makes all the other area trails seem easy by comparison.

Please support this kind of work! WHEN YOU JOIN IN JUNE, you'll be entered to win a new Yeti mountain bike! More importantly, your joint IMBA-chapter membership will support both local efforts and the efforts of IMBA's professional advocates to support the work chapters are doing on your local trails in your backyard. Thank you!